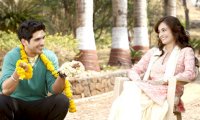 Hearing Zayed Khan talk is a revelation. I mean, this man doesn't have to try too hard. He isn't making up stories and he isn't talking bull****. Zayed Khan the actor loses himself in every role - thus the consequences - He's a flirt and women love him and that makes him the 'most hunted'. Then looking at his body language you can surely debate that he is some kind of a messiah who's been sent on the planet for some reason. The slack, smiling mouth was made for pulling on beers and backseat snogging, which ?ts his prom-king manner of speech: a rugged tumble of casual phrasing. He exudes the effortlessness that got him here - an all-star's easy lope from obscurity to fame. And yet he knows what he has got, and he's happy to share; in the middle of conversation, almost as a gift, Zayed will spring up a surprise. He will sip his coffee, as if treating you to his most prized possessions: the women he is surrounded by in his world. UK's Harrow Observer columnist and Bollywood Hungama's London correspondent brings you Zayed Khan on women, more women and his cute little baby boy Zidane, who too, is walking in his father's footsteps. Presenting you Part 2 special of Love Breakups Zindagi, Zayed style!
"A man fancies a woman who is mysterious, a woman who can play him"
A man is never born to fall in love again and again. A man fancies a woman who is mysterious, a woman who can play him, a woman with a hundred watt smile. Men are commitment-phobic. I had three sisters with ten year old relationships. I couldn't believe it. For me, it's love at first sight. It changed my body chemistry. If ever I had to fall in love, it had to be that particular woman I had always imagined because I was never going to get bored of her.
"People say - Do you flirt? And I say yes I do when I am working"
Because I am married and I have this beautiful wife and two kids, it gives me a sense of responsibility. People say - Do you flirt? And I say yes I do when I am working. It's legal and no one's going to question me on that (laughs). It's great because what I am in real life, I can be this other person that I can be on screen. When I am doing a film I think - What if I was to go with these guys or this girl and I ponder and then I laugh at it. It's fun.
"My son Zidane loves women. My wife is worried but I am not"
My mother saw the first half of Love Breakups Zindagi without any background score and she loved it. My father is my ultimate critic. I don't know but I have to go to Mars and come back before he gives me a compliment. That's how his nature is and he sees me more than I am and I think I would see the same in Zidane, my son. I think it's a natural relationship. And of course, Zidane is into women from a young age and I am really happy for him (laughs). When my wife says - You know what he did with my friend the other day? I say - Was it a girl friend? Well, then he's doing well (laughs).

"My wife connects with me on a soul level"
What I love about my wife Malaika is that she isn't just a girl who I constantly fall in love every other day but she connects with me on a soul level. She connects with me so well. Women can screw a man up so badly. Not Malaika. I think she is like this wonderful beautiful person who doesn't get intimidated by any other fact that I am working with some actress. In fact, she becomes very good friends with all my actresses (laughs). Now she is a very silent spectator. I know when she likes the film and when she doesn't. Her silence is golden (laughs).
"Sahil can absorb an idea and pen it down ten times better"
Sahil is really with it. He is a guy who has studied in New York and has come back with his own intakes on relationships. He is very rooted, very sure and has an eagle eye over everything. He takes suggestions and incorporates them. What I like about him is his ability to absorb an idea and pen it down ten times better. He has his head on his shoulders. He is truly an outstanding person with great values and he can be naughty at times too (laughs). He doesn't let anybody take his core and central belief. He feels LBZ. He is like Farah of Main Hoon Na. Sahil possesses the same talent. He is sincere in what he does.
"We affectionately call Dia 'Ammi Jaan'" Dia is like the heart and soul of this company. We affectionately call her 'Ammi Jaan'. She reminds the boys what the schedules are, what to do, etc. She is truly like a much sorted woman. She is a self made woman. She is hard at times but she does it for the betterment of us. I mean which boy doesn't like being mothered? Every boy sees a little mother in his girlfriend. I like a woman to have colours like that. I don't like a woman who takes me to Harrods, smokes joints; take me to parties and all.
"I could see my own story in Friends With Benefits"
Just the other day I was watching Friends With Benefits and what a film that is. It was so relatable. I was watching my own self in it (laughs). It's universal culture that's cropping up. Every person in the world goes through the same breakup, love or relationships. It just cuts through differently. But do such relationships and such people exist? Yes, they do. They do in India too.
BOLLYWOOD NEWS
Catch us for latest Bollywood News, New Bollywood Movies update, Box office collection, New Movies Release , Bollywood News Hindi, Entertainment News, Bollywood News Today & upcoming movies 2020 and stay updated with latest hindi movies only on Bollywood Hungama.