Globetrotter Priyanka Chopra, who recently wrapped up the third season of Quantico in Ireland, is currently on a promotional spree showcasing some of the most interesting fashion choices. Taking her promotional tour to The Tonight Show Starring Jimmy Fallon, this was the fourth appearance on the show to promote the season 3 premiere of Quantico.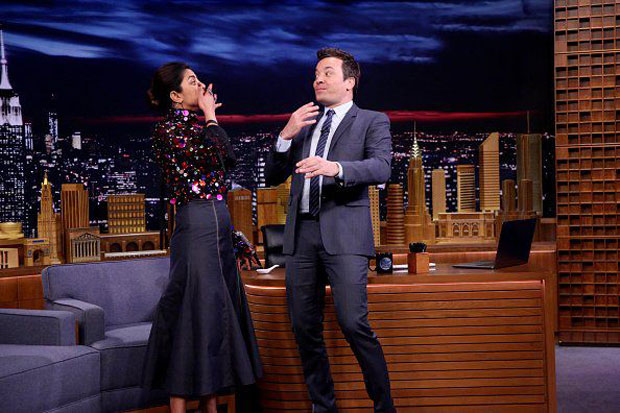 When you are on the show, there is no way host Jimmy Fallon would let you leave without participating in some fun contest. The last time Priyanka Chopra was on the show, she participated in hot chicken wings eating contest, a game of bobbing for apples and Tandem Sculptionary contest.
This time, Priyanka took on the skittles challenge that she was doing it for the very first time. She takes on Jimmy in the Skittles Challenge to see who can eat a mouthful of 10 Skittles the fastest! As both of them are very competitive, both ended up eating the skittles at the same time. Jimmy then tweeted and gave her the win. He wrote, "It is actually hard to chew 10 skittles and swallow as fast as you can. Props to @priyankachopra and I'm gonna give her the win even though I win. #FallonTonight."
Priyanka Chopra even participated in magic tricks by David Blaine. She completely grossed out when David sewed his lips together. Then, came the interesting part when he threw up a frog from his mouth leaving every single person in the audience including Priyanka, Jimmy and Questlove in shock.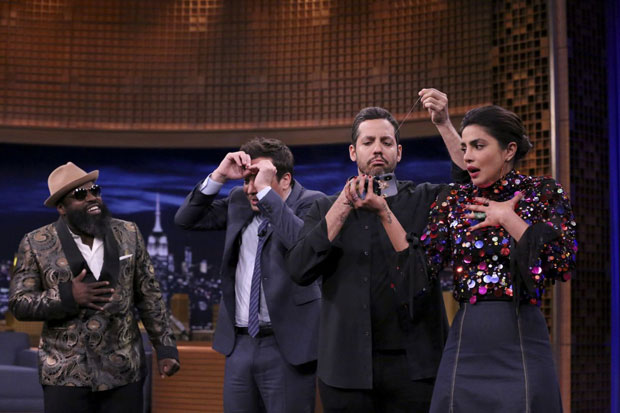 Meanwhile, Priyanka Chopra's Quantico season 3 will air on April 26, 2018, in the US. The show will premiere in India on April 28 at 9 pm on Star World. Reprising her role as Alex Parrish, the small season will have 13 episodes. Quantico stars Priyanka Chopra as Alex Parrish, Jake McLaughlin as Ryan Booth, Johanna Braddy as Shelby Wyatt, Russell Tovey as Harry Doyle, Alan Powell as Mike McQuigg, with Marlee Matlin as Jocelyn Turner and Blair Underwood as Owen Hall.
Besides this, she will also be seen in two films- A Kid Like Jake which is set for 2018 release and Isn't It Romantic which will release on February 14, 2019. Priyanka Chopra will also return to India to kickstart shooting for Ali Abbas Zafar's Bharat alongside Salman Khan.
.@PriyankaChopra takes on Jimmy in the Skittles Challenge to see who can eat a mouthful of 10 Skittles the fastest! #FallonTonight pic.twitter.com/rryfuJGGNV

— Fallon Tonight (@FallonTonight) April 26, 2018


Also Read: It's Official! Priyanka Chopra signs Salman Khan's BHARAT