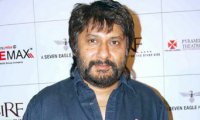 After the success of Hate Story, director Vivek Agnihotri is moving on to his next film which deals with a Naxal issue. Titled Buddha In A Traffic Jam, the film is now being readied for its theatrical release.
"Yes, the film is progressing well into its post production and now a right date is being identified to bring it on screens. It is a very different kind of a film, especially when you compare it with Hate Story or for that matter my previous film Dhan Dhan Dhan Goal", says Vivek.
With Anupam Kher spearheading the film's cast (he plays a professor in the film), the film features Arunoday Singh and Mahie Gill as the lead couple. Also starring Pallavi Joshi and Vivek Vaswani in principal roles, the film was incidentally shot much before Hate Story but would be released only now.
"It was a part of the strategy to bring Buddha In A Traffic Jam after Hate Story", clarifies Vivek, "The film was almost ready when Vikram Bhatt spoke to me about Hate Story. Since he was the producer there and wanted to start the film early, I decided to wait instead of rushing up both the films. In any case, Buddha... is my own film which is being produced by me along with students of Indian School of Business (ISB) and Phoenix Multidimensions. I didn't want a conflict by working on both films at the same time."
Meanwhile his fascination for films that make a strong socio-political statement continues with Freedom which would be going on floors soon.
"It is one film which is very close to my heart", says Vivek, "It is a political thriller that gives a blow by blow account of modern day India during last three decades. I can't wait to get behind the camera for this one. It is going to be an interesting bunch of actors coming together. Await an official announcement."