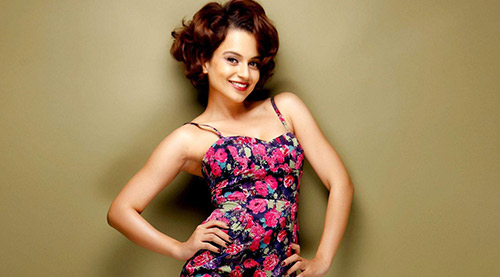 In an industry called Bollywood, it is always said that 'One cannot survive without a quintessential Godfather or a powerful surname'. Well, the extremely Kangna Ranaut, broke
"There are people who are waiting for me to fail" – Kangna Ranaut
all the norms and the rules of Bollywood and made it to the top, purely on the basis of her talent. Period. So much so that, today, she is rightly called as the 'Queen' bee of Bollywood. After
having delivered back to back hits with Queen and Tanu Weds Manu Returns, all the eyes are on her upcoming film Katti Batti.


Satish Sundaresan of Bollywood Hungama met up with Kangna Ranaut for a freewheeling interview. Here are the excerpts:


What is Kangna Ranaut feeling right now? Are you feeling excited, nervous, bored, impatient or are you in a very 'been there, done that' mode?

I am not indifferent. I am very excited. For me, every film is a test. I understand that my career now will be like 'pre Queen' and 'post Queen'. I am very confident and convinced
about the way Katti Batti has shaped up. Lets' see…


You come with a background of having delivered back to back hits with Queen and Tanu Weds Manu Returns. Are you planning to score a hat trick with Katti Batti?

It won't be surprising if that happens.


In the same breath, let me ask you as to, are you feeling the pressure to deliver with Katti Batti?

I know that there are people out there with daggers (laughs). I do not pay attention to how skeptical many people around me have become, the ones who are jealous of me and the ones who cannot
digest my success. For me, these people just do not matter. There are people who are waiting for me to fail, but it WON'T happen (laughs heartily).


What was your immediate reaction when you heard the title Katti Batti?

I immediately liked it. Even though in the north side, we call it as 'katti' and 'abba', I did get the film makers' point about the film's plot.


In a nutshell, what is the film Katti Batti all about?

Katti Batti is a film wherein Imran's character is seeking answers. Suddenly, his life gets turned upside down when the woman he loves disappears suddenly. The film is about him solving the mystery that gets unfolded eventually. There are many shades in the film. My character of Payal will be a revelation in the film. In the start of the film, you see her as today's girl. But, as the film progresses, you will get to see many shades of hers.


How much do you identify with Payal in personal life?

It is very hard to identify with Payal. You will get to know the reasons why, only when you see the film. Her life is extremely unusual.


What kind of preparations and homework did you undergo for your role in the film?

I have undergone many, many preparations and homework for my role in the film. But, the film makers want the details of my character to be closely guarded till the release of the film. And that is
the marketing strategy.


People have nee raving about the 'Bijli' tattoo. Is it permanent or temporary?

It was my stylist Sheetal's idea to have that. And yes, it is a temporary tattoo.


Almost all your contemporaries have given a shot or two in singing. Don't you ever feel to exercise you vocal cords for a song?

I would love to (sing), if people want to listen to my songs. But the question is that who wants to listen my voice! (laughs uncontrollably)


How was your working equation with Imran Khan?

I am usually very, very disconnected with my co-actors. It was only during the film's promotions that Imran and I got to know each other that much. Having said that let me also tell that Imran is indeed 'Goody Two Shoes'.


Do you have any 4 am friend?

In Bollywood, I do not have any 4 am friend/s, but, in personal life, I have many 4 am friends.


What's your take on live relationships?

To each his own. If it works for you, it is really great. But, I think, even before committing into a live in relationship, make sure that you have lots of trust and faith, especially when you hail
from small town cities. For those who hail from small town cities, please see to it that others do not have any ulterior motives.


Is it true that, by the time Katti Batti's shoot ended, you told Nikhil Advani that he had made such a 'rondu' (tearjerker) film?

I do not usually cry watching a film. But, in the case of Katti Batti, I cried seeing myself. That's when I told Nikhil that he has made such a 'rondu' film.


Your favourite song from the film?

I like the 'Lip To Lip' track.


What next after Katti Batti?

We are starting Rangoon, for which workshops have already started. After that, I have other films lined up.
BOLLYWOOD NEWS - LIVE UPDATES
Catch us for latest Bollywood News, New Bollywood Movies update, Box office collection, New Movies Release , Bollywood News Hindi, Entertainment News, Bollywood Live News Today & Upcoming Movies 2023 and stay updated with latest hindi movies only on Bollywood Hungama.