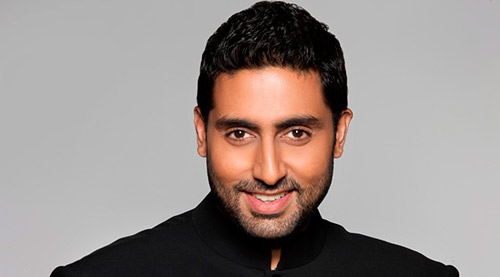 Abhishek Bachchan speaks to Subhash K Jha on why All Is Well means the world to him.

The camaraderie between you and Mr. Rishi Kapoor in All Is Well is palpable?
If you feel there is camaraderie between us, then I am happy. Because it really exists. Though it was our job to look convincing as a father and son, and we had to do it as diligently as possible, there are certain things that can't be lied about. It's very difficult to fake genuine camaraderie. I am immensely fond of Chintu Uncle. And it makes me feel very happy when people comment about the wonderful chemistry between the two of us. I've to give the entire credit for that chemistry to Chintu Uncle.

Why only him?
I'll tell you why. For an actor of his stature, seniority and skills, it is completely his prerogative whether he'd like a junior actor like me to treat him with a certain informality. The kind of upbringing I've had and the kind of person I am, I'd never cross the line between formal and informal unless the senior actor takes that leap towards informality.

So the two of you really hit it off?
Yes. But it didn't help us much with our characters, because in the film we play a father and son who can't stand one another. But through that façade of antagonism there had to be an underlying emotion. Our characters haven't spoken to one another for ten years. But somewhere you feel you want the relationship to finally work out. To project that kind of a camaraderie in spite of the outward hostility was not easy. We pulled it off because of my love and respect for Chintu Uncle

Did you delve did into your own relationship with your real life father to play the son in this film?
That wasn't required. My rapport with Chintu Uncle was so strong that our on-screen relationship needed no augmentation. Somewhere my sense of professionalism kicked in and it worked out just fine.

People seem to be drawing a parallel between Piku and All Is Well?
I completely understand why they feel that way. But until audiences see the film they won't know that there are only three similarities between the two films, namely a road trip undertaken by a warring pair of parent and child...secondly both fathers in Piku and All Is Well are obsessed with bodily functions. And thirdly both films have a Bachchan in them. That's where the similarity ends. Piku is a straightforward slice-of-life film. All Is Well is not.

Your last film Happy New Year was a completely different world?
It may sound brash. But it's my job to make that leap between two antithetical roles. Having said that it's my job to do roles so different from one another I've to also admit that the process of doing different parts excites me. How wonderful for me that I can play two different characters at the same time. Thank God I am an actor at this time.

All Is Well suffered a setback when Smriti Irani opted out?
Well, yes. I started shooting forAll Is Well at the same time as Happy New Year three years ago. All Is Well got stalled. We had go through a caste change when Smriti Irani had to leave. She is a friend and wonderful actor. But she had a higher calling and a duty to the nation. We all were with her on this, as she had something far more important to do. To her credit she tried to do the film. It was very gracious of her to ask us to replace her.

Then you got the lovely Supriya Pathak to be your mother?
I joke with her. I call her my Nirupa Roy. This is the fourth time we've worked together. She played my mother in Sarkar and Sarkar Raj, and my would-be mother-in-law in Delhi 6. The joke on the sets was, both the boys (Rishi Kapoor and Abhishek) do any and every thing while the two ladies (Asin and Supriya Pathak) are far more selective.

How would you describe All Is Well?
If you see director Umesh Shukla's last film OMG Oh My God! it was a very niche subject and yet it appealed to everybody. The same will happen again this time. Umesh makes a very pertinent point in the film. It talks of family dynamics and family values. When I heard the script I felt a sense of guilt towards my parents.

But you are a very good son?
I am a fairly good son. But after doing All Is Well I feel there is more that I can do. We all so wrapped up in our work and competitiveness, when was the last time you called from your work place and asked your mom if she had her lunch? When we leave home moms always say, 'Beta, khana time pe ka lena.' But do we care enough? Till date when I go out my father asks me to not be too late in coming back. What would it take for us to tell our parents we love them. But do we?
BOLLYWOOD NEWS
Catch us for latest Bollywood News, New Bollywood Movies update, Box office collection, New Movies Release , Bollywood News Hindi, Entertainment News, Bollywood News Today & upcoming movies 2020 and stay updated with latest hindi movies only on Bollywood Hungama.