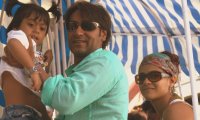 "My family went for the trial and I recall Tanisha calling me and telling me that she has come back home," Kajol informs me. I enquiringly ask, "Was it that bad?" That's when the Kajol we know talks, "No, it wasn't that. She said that she couldn't watch me cry in the film as we've cried together many times." Those were the first reactions she received after We Are Family released. She laughs out on a comment by Tanisha, which, many of them would've taken it as an emotional one. But that's our Kajol, ever smiling; ever so humorous, ever so spirited even when you know that she is taking deep breaths while talking to me over the phone. She still doesn't hesitate to do this interview knowing the fact that she would rather prefer more time with her better half (at the point in her life that she is expecting her second child anytime now). Add another synonym to her: dedicated and tough. When you come out of the theatres watching the film, you appreciate that her physical transformation is astonishing - it's a wonderful impersonation of her own self we saw years ago, nothing has changed - but what makes it all the more impressive is that she seems to add a new dimension to what we know about Kajol. She suggests so much while saying so little - anger, desperation, mercy, loneliness, humour - all through the tiniest movements of a tight-lipped mouth. UK's Harrow Observer columnist and Bollywood Hungama's London correspondent talks to Kajol who probably, hopefully and definitely will remain as India's most loved actress after Madhubala.


"Seamless is too big a word to describe me"


I wouldn't call my performance in We Are Family as seamless. Yes, I love the adulation which is pouring in from all corners but to say that I am flawless is in itself a flaw (laughs). I know the kind of hard work that went into it and it's good to know that the hard work has shown on the screen. That's the whole point of being a good actor.



"Siddharth brought more willingness backed with patience"


The best part of doing We Are Family was that we treated it as a completely different film from Stepmom even though it was an adaptation. There were a lot of dynamics in the film which were different. There was so much more to it. What we all brought together was that we all worked well together which does not happen very often in our industry. Siddharth Malhotra brought to the film a very open mind and a willingness to look at it from every point of view because I know that I had a lot of questions and discussions with him on and off the sets. Yes, Sid has a lot of patience and that worked for the film.


"The time right now is to spend with Ajay; it's 'We Are Family' time" – Kajol
"I'm more of a bookworm than a movie buff"


I'm not a big movie buff basically. I don't watch a lot of movies. I've never have and I don't think I ever will. I am a kind of person who is more into reading books. I will spend half a day in a library or a book store more than spending time in a theatre. I haven't till date had any emotional experience watching a film. I've enjoyed some films from childhood till now which I've really liked.


"Acting in an adaptation from a book isn't happening"


Even if I am a bookworm, I can't think of acting in an adaptation from a book. I don't approach films like that. I've always learnt to look at scripts in its entirety and look at it objectively. Don't compare it with its predecessor.


"I'm not a person who gets Friday shivers"


Everybody likes to know that their movie is doing well. It's a great feeling to know that We Are Family is slowly but surely getting accepted by a lot of people. I am not a person who gets Friday shivers.



"The time right now is to spend with Ajay. It's We Are Family time"


Nysa hasn't seen We Are Family. I don't think she could take a movie like that. It's not meant for her at this point in time. Even my better half (laughs) hasn't seen the film yet. But he will for sure, someday (laughs). I think the time right now isn't for movies; the time right now is to spend in the company of each other to bring in more joy and happiness ready to be delivered anytime now.


"Kareena has matured more as a person than as an actress"


Kareena has definitely grown up and she is much thinner than what she was earlier (laughs). But I think it's the experience that counts really at the end of the day. She was pretty normal on the sets. Kareena handled the scenes with lots of maturity in We Are Family, more importantly, when I conversed with her off the sets, I found out that she has matured more as a person too.


"Having the best child actors makes a mother-child relationship more special on screen"


I have to give Siddharth credit for finding the best child actors of our industry. Honestly, I really can't imagine my daughter sitting down and acting out all the scenes that the three children have done in the movie. All children were absolutely brilliant. Sid used to sit down with the kids in the morning for hours and rehearse the scenes. That's what makes the mother-child relationship special.
BOLLYWOOD NEWS - LIVE UPDATES
Catch us for latest Bollywood News, New Bollywood Movies update, Box office collection, New Movies Release , Bollywood News Hindi, Entertainment News, Bollywood Live News Today & Upcoming Movies 2023 and stay updated with latest hindi movies only on Bollywood Hungama.