Grammy winning artist Taylor Swift received an honorary Doctorate of Fine Arts degree from New York University on Wednesday morning and gave a commencement speech for New York University's class of 2022 at the graduation ceremony.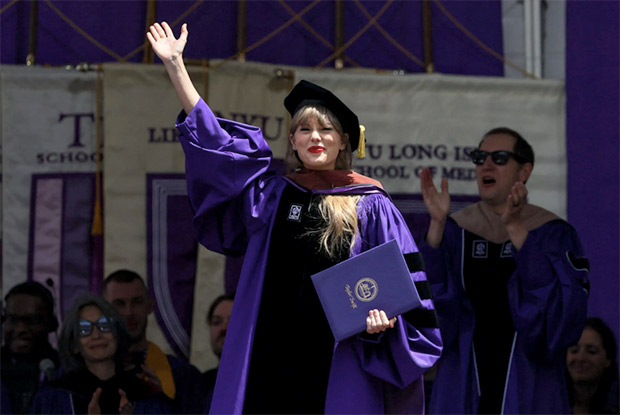 Taylor Swift gives commencement address to NYU class of 2022 – "My mistakes led to the best things in my life"
"I'm 90% sure the reason I'm here is because I have a song called '22'," Swift joked, according to Variety, before adding, "Last time I was in a stadium this size, I was dancing in heels and wearing a glittery leotard. This outfit is much more comfortable." Throughout her speech, Swift offered words of encouragement and motivation to students as they embarked on the next chapter of their lives while also acknowledging the unconditional support loved ones may have offered along the way. The speech was full of references to her hit songs, as well as jokes about her doctorate. At one point she addressed out-of-town relatives and friends of the graduates with "Let me say to you now: Welcome to New York – it's been waiting for you."
"I'd like to thank NYU for making me technically, on paper at least, a doctor," Swift joked. "Not the type of doctor you would want around in case of an emergency, unless your specific emergency was that you desperately needed to hear a song with a catchy hook and an intensely cathartic bridge section. Or if your emergency was that you needed a person who can name over 50 breeds of cats in one minute." After attending public high school until 10th grade, Swift recalled finishing her education by "doing homeschool work on the floors of airport terminals. Then I went out on the road on a radio tour, which sounds incredibly glamorous but in reality, it consisted of a rental car, motels, and my mom and I pretending to have loud mother-daughter fights with each other during boarding so no one would want the empty seat between us on Southwest."
View this post on Instagram
"As a kid, I always thought I would go away to college, imagining the posters I'd hang on the wall of my freshman dorm. I even set the ending of my music video for my song 'Love Story' at my fantasy imaginary college, where I meet a male model reading a book on the grass and with one single glance, we realize we had been in love in our past lives — which is exactly what you guys all experienced at some point in the last four years, right?" she joked. The artist then acknowledged that students recently had to endure the normal stresses of college while also being in the midst of a global pandemic. "I imagine the idea of a normal college experience was all you wanted, too. But in this case, you and I both learned that you don't always get all the things in the bag that you selected from the menu in the delivery service that is life."
"You get what you get," she affirmed. "And as I would like to say to you, you should be very proud of what you've done with it. Today you leave New York University, and then you go out into the world searching for what's next. And so will I." Swift continued her speech by offering "some life hacks I wish I knew when I was starting out my dreams of a career, and navigating life, love, pressure, choices, shame, hope and friendship." Her "life hacks" included reminders that "life can be heavy," to "learn to live alongside cringe. No matter how hard you try to avoid being cringe, you will look back on your life and cringe retrospectively. Cringe is unavoidable over a lifetime. Even the term cringe might someday be deemed cringe." She promised that even some of the things students are doing or wearing today are things they will "find revolting and hilarious… For example, I had a phase where, for the entirely of 2012, I dressed like a 1950s housewife. But you know what? I was having fun. Trends and phases are fun. Looking back and laughing is fun."
Swift also took a moment to reflect on her career and the varied music genres she has experimented with, explaining that though "it can be really overwhelming figuring out who to be, and when," the students in the audience are in control of their own trajectories. After her public career jump-started when she was 15, Swift also reflected on how that early success "came with a price," which was "years of unsolicited advice." The singer-songwriter also shared that she's "a big advocate for not hiding your enthusiasm for things." She added, "It seems to me that there is a false stigma of eagerness in our culture of unbothered ambivalence. … Never be ashamed of trying. Effortlessness is a myth. The people who wanted it the least were the ones I wanted to date and be friends with in high school. The people who want it most are the people I now hire to work for my company."
Swift continued saying: "As long as we are fortunate enough to be breathing, we will breathe through, breathe deep and breathe out. And I am a doctor now, so I know how breathing works." The speech finished with a nod to a lyric from her song, "22": "I hope you know how proud I am to share this day with you. We're doing this together. So let's just keep dancing like we're … the class of '22."
Also Read: Helen Mirren and Harrison Ford to star in Yellowstone prequel 1932 set at Paramount+
BOLLYWOOD NEWS - LIVE UPDATES
Catch us for latest Bollywood News, New Bollywood Movies update, Box office collection, New Movies Release , Bollywood News Hindi, Entertainment News, Bollywood Live News Today & upcoming movies 2022 and stay updated with latest hindi movies only on Bollywood Hungama.