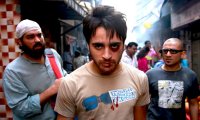 The energy and the profanity spill out of this new-age film on male-bonding. Leaving behind the borderline coyness of Farhan Akhtar's Dil Chahta Hai, director Abhinay Deo (who last made the staid and sedate Game) does a screen version of a full-frontal. No holds -or holes-barred.


Welcome to the land of the sacrilegious. The world of Delhi Belly is a womb of gangsters and bowel movements. Roars of country-made guns and the rumble of upset stomachs mix in an irreverent but tangy synthesis of the parodic and the profane.


This is as good a place as any to mention Ram Sampat's music which is cheeky, over-the-top and unpredictable. Just like the picture-show. This farce-on-speed takes a perverse delight in showering abusive language on audiences who obviously haven't heard such a torrent of profanities even in the fishmarket. Teri bahen ki...


Meet the foul-mouthed characters of this unabashedly irreverent flick about the seedier side of Delhi where, we are to believe, packages containing smuggled diamonds get accidentally exchanged with a stool samples. Blame it on half-sleepy flat mates who zip-zap through the roads like zombies on heat. This unsavoury barter obviously creates some kind of a stink .Look before you poop.


The film's central characters are three a**holes (excuse the language) who can't seem to speak a line without abusing mothers, sisters, wives and other female members that are often attacked by…er, male members. Horniness and corniness are the cornerstones of this succinctly-written romp-raunch where bodily functions acquire a life of their own.


Independent of the ga*d and l*nd lingo, the film has a sharp spiky edge to its storytelling. You can't miss the bite. The acerbic humour circumvents the goings-on in a swirl of devilishly-written sequences that leave us aghast with their cheeky disregard for cinematic conventions.


Writer Akshat Verma pulls out all stops to give Delhi Belly the texture of a tightly-wound sex comedy. The gags and episodic humour are so brazen they often leave us speechless with embarrassment. Sample this: to escape being caught out by a jealous ex-husband debutante Poorna Jagannathan clambers on top of Imran Khan in panting glory. When she gets off we clearly see a bump in front of his trousers which is NOT a gun.


There we have it. The first mainstream hero displaying an aroused tool. Trust Aamir Khan to push the envelope…into places where protection doesn't help.


Guns meet guffaws in this film that re-defines the parameters of permissible profanity without causing any deep-rooted damage to the moral fibre of our cinema or society.


While most of the adrenaline-pumping humour emanates from Akshat Verma's writing the film, one suspects, would not have worked without the impeccable casting. Every actor is just correct for the film. But Kunaal Roy Kapur, Vir Das and Vijay Raaz score higher by a few points. Maybe they got out of the wrong side of the bed faster than the others.


Imran Khan makes a deft transition from poster-boy to potty-boy. He fits in comfortably with the writer's smutty scheme of things.


The film makes us wince with its bowel jokes and toilet titters. But the characters seem so relaxed doing the sleazy stuff we just can't help falling in love with their innocent luridness.


Shot in congested lanes of Old Delhi, the film almost makes us smell the sweat mingling with the oil as hungry masses dig into unhygienic roadside food. Delhi Belly gives you instead belly cramps. And that's not the food. It's the laughter. A breathless ode to audacity and profanity Delhi Belly effortlessly jumps over all the pitfalls of its fiercely unorthodox storytelling and hits the roof with a whoop of irreverent joy. The sound of stomachs rumbling in protest and pelvises groaning in pleasure have never mingled so defiantly on screen before.


Go for the kill.
BOLLYWOOD NEWS
Catch us for latest Bollywood News, New Bollywood Movies update, Box office collection, New Movies Release , Bollywood News Hindi, Entertainment News, Bollywood News Today & upcoming movies 2020 and stay updated with latest hindi movies only on Bollywood Hungama.