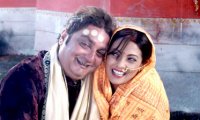 Now that's funny. A young much in-love couple finds out on its honeymoon that the compatibility tests in the magazines were not quite the thing to determine a life together.
Deepa Sahi has clearly found her forte beyond acting. Her directorial debut oozes a kind of understated confidence as she pulls off scene after scene between the squabbling couple with an elan that elevates an otherwise-routine premise to the level of an engaging treatise on gender domination and noisy abomination within the marital parameters.


Tere Mere Phere is written as a series of well-crafted episodes... Boy Meets Girl at a shaadi (the sequence where mom Sushmita Mukherjee forces her sonny-boy to try on the groom's sherwani is priceless), Boy Proposes Girl Giggles...Boy & Girl Take Off On A Honeymoon In A Trailer, Meddlesome Mother (Sushmita Mukherjee, delightful) Trails Them On Cellphone....


Into this world of wretched disenchantment comes the stranger, a love-smitten Vinay Pathak gets caught in crossfire, a hapless victim of 'road rage' as Rahul and Pooja discover that there's more to marriage then romantic love.


What really works for the film is its tongue-in-cheek dialogues. The words ring true even when the couple raises its voice to be heard above the background music. That the two newcomers get into the thick of things without losing sleep over flattering camera angles, only adds to the charm of this cute and clever rom-com.


Shot as a road film across the rugged panoramic mountainous terrain of Himachal Pradesh Tere Mere Phere is a rarity. A punch-filled desi rom-com that actually manages to be intelligent and funny. Deepa Sahi's writing and direction sparkle with a giggly exuberance that never gets corny or annoying.


Yes, the goings-on get out of hand towards the end when the four principal characters are in hot pursuit of a formal climax. That apart, the writing and the narration are in-sync with the two protagonists' world of wedded blisters. The cast of veterans and newcomers act with rare vigour and a contagious gusto.


Jagrat Desai as the bitter-half in this honeymooning horror tale is suitably over-the-top. He is a find. His co-star Sasha Goradia gets a hang of her role in portions. The two are definitely a welcome addition to the insulated world of Bollywood's who's who in star-lineup. The film gives us talented actors and two hours of space to smile and chuckle at a couple that has just discovered the flip side of love and romance.


Go for it. Tere Mere Phere is the funniest marital comedy in ages.