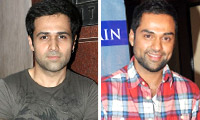 Even as there is an ongoing tussle between Hrithik Roshan and Ajay Devgn about occupying the coveted Republic Day weekend with a film of theirs, two relative youngsters who are happy standing in a corner and smiling at all the 'tamasha' are Emraan Hashmi and Abhay Deol.


"Their Shanghai was first to announce 26th January next year as the arrival time even though Aamir Khan's Dhuaan had made it's intentions clear for this date. Tezz came in later while Karan Johar suddenly decided to push Agneepath for the same day when Dhuaan got postponed. There have been quite a few closed door discussions that have happened during last fortnight. No one wants a two way clash between Agneepath and Tezz", says a source.


While this is pretty much a known issue and resolution doesn't seem to be round the corner any soon, what is interesting to note though is that no one seems to taking Shanghai as a major threat.


"In a way this is good news for this Dibakar Banerjee film because no one wants it to move away from its slot. The competition is between the big guns and basically Hrithik Roshan and Ajay Devgn have to fight. It is also going to be a fight of egos because just a week after Hrithik's Zindagi Na Milegi Dobara, Ajay's Singham had hit the screens. In comparison to Rs. 90 crores earned by the former, latter went on to score a century with a Rs. 100 crores total. The battle lines are drawn but Shanghai is comfortably sitting on the fence and watching the show", the source continues.


It makes sense as well for the Emraan Hashmi-Abhay Deol starrer because it is a given that either Hrithik or Ajay would have change in plans.


"Shanghai would start worrying only if both Agneepath and Tezz stick on their release plans. This is when it would be impossible for a third film to squeeze in. Possibility of that happening is quite feeble though because producers Karan Johar as well as Ratan Jain are experienced players in this game. None of them would consciously want to eat into each other's business. Shanghai can then feel comfortable in the limited space provided to it regardless of whether Agneepath or Tezz is the one it has to take on", says a trade guru.


When contacted, Dibakar appeared to be open minded about the situation ahead. He says, "Of course we are much smaller in comparison when it comes to budget. However, the fact is that we are quite confident about our film which is a good thriller. Also, we are safe in terms of cost and size. Eventually it all boils down to the story of David and Goliath. We will take a call when the right time comes."