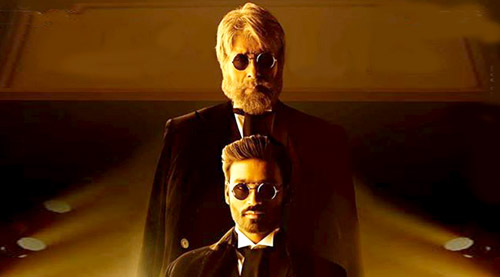 Balki must really stop doing this.


This is the third time he has stunned us with his originality and audacity and engagingness. He's spoiling us silly.


R Balki's third feature film is perhaps his most audacious cinematic journey yet. The writer-director takes the voice of Mr Bachchan (in other words, the voice of the nation) and puts it on Dhanush, that intelligent Tamil actor who is rapidly emerging as the inheritor to Kamal Haasan.


It really can't any more audacious than this...though admittedly there's no telling what Balki would dare to do next.


Shamitabh opens yet another door to Balki's creative resourcefulness. There are only three main characters in the film: the film-obsessed mute Danish, Amitabh Sinha(!!),the autumnal cauldron of discontent who gives voice to Danish's dream, and the very cute assistant director Akshara (Akshara Haasan) who plays a reluctant and rather frail mediator between the two raging men. She is really not up to the task. But then, life never plays fair.


Given the inventive premise of the plot and the sheer charm of the three principal actors Balki could have comfortably allowed the narrative to work itself out. Blessedly there is no lazy writing in this powerful film. Almost every narrative twist is cleverer and wiser than it would outwardly seem. At times, you may think the film is trying to act smarter than it actually is and in the process it may seem as though the narrative is getting carried away with itself.


But no. Every action has a profound cause. There is a grand design behind every seemingly spontaneous movement in the plot. You may wonder why Amitabh, the embittered alcoholic actor with a voice that could move mountains, lives in the graveyard (with an entertaining sidekick-cum-confidante)...A bit of a metaphoric indulgence, you would say. But wait for the film's stunning finale: death is indeed a grave matter, especially in lives that have seen better days.


Balki's characters light up the present with their stubborn eccentricities. Not coincidentally all the three path-breaking characters that Mr Bachchan has played in Balki's films so far have been relentlessly stubborn characters. Going many steps ahead of his vain chef's character in Cheeni Kum and the arrogant progeric boy-man in Paa, Mr Bachchan in Shamitabh is a raging volcano of ill-tempered defiance.


Early in the narrative we are told (in that mesmerizing voice that plays the main lead in the plot) that once upon a time The Voice had been rejected by not just the film industry but all popular mediums. This, as any Bachchan fan would tell you, is a fact from the superstar's real life.


Balki is a Bachchan fan and a director. He picks out many real-life incidents and character-traits from Mr Bachchan's life (for instance, that smirking monologue about why we choose ape Hollywood by calling our film industry 'Bollywood') to create a character whose splendid surliness sweeps across the plot's canvas creating a man who has never quite come to terms with his failure and now suddenly gets one last chance to be famous as a wannabe superstar's voice.


It's a compelling premise transported to illuminating heights by the writer-director's insight into human nature. Balki never flinches from looking at the darker zones of human nature. Yet, he likes to keep the surface amiable gentle and very viewer-friendly. His cinematographic ally P C Sreeram paints an almost Shakespearean autumnal ruin around Mr Bachchan's character. Wisely the colour palate gets more eye-catching and vibrant when the camera is around Dhanush and Akshara, the wannabe star from rural Maharashtra who goes on to become, ahem, the first Marathi superstar of Bollywood.






The journey is mapped with immense warmth and tenderness. The child-actor who plays Dhanush's film-crazy character in the prologue is so in-character you wonder if Balki stole him away from a nearby movie theatre.


The boy's obsession with movies is captured in enchanting visuals: he hops on to a bus to Mumbai and is quickly whisked off and brought back a village-gent on a scooter. But we know he is unstoppable. Dhanush plays the mute star-aspirant with astonishing understanding. His role gets progressively complex, as his on-screen persona must mesh with the Bachchan baritone in a way where the merger looks convincing. Dhanush manages to pull the character, dragging kicking and, er, screaming (in a manner of speaking...or not speaking, as it happens to be) into the realm of the utterly believable.


The chemistry between the alcohol-laden Voice and the dream-drenched Face is the film's focal point. Dhanush's rapport with Akshara's character never quite gets there, partly because she is a little too young and inexperienced-looking for the part, though nonetheless a prized discovery. The growing romantic fondness between the two doesn't get your attention. Neither does some of the songs, specially the romantic number where the commode plays a pivotal role. Ilayaraja's background score is far more evocative than the songs which strive to be 'cool' rather than compelling.


But you are really not listening. Not to the songs. Not to the characters. But to the sound of their aching arching hearts reaching into a space beyond what God and technology have created for them.


Nothing prepares you for this astonishing film. It's absolutely original plot and spellbinding aesthetics make compulsive viewing. The delicacy and dynamism of structure and movement are indicative of Balki's mastery of the medium.


For this creator of modern-day morality tales cinema is not about making the right noises and creating pretty pictures. He does both, and then finds space for another dimension of discovery where the characters find the center of their universe by overcoming the pain that must be borne by all non-conformists.


Shamitabh is not just a homage to the great Bachchan baritone it is also a magnificent ode to the theme of human mortality. The love of Bollywood (sorry, Mr Bachchan) runs across the plot in frenzied rhythms. The two principal actors play out their conjoined karmas with a passion that burns your soul.


Mr Bachchan rages and towers over the proceedings as only he can. Is there no end to his brilliancy? Dhanush's synchronicity with the Big B, so crucial to the plot, proves him to be an actor of remarkable resources. Thankfully, like Balki Dhanush is a Big B fan later, an honest artiste first. Akshara Haasan holds her own between the two seething squabbling co-stars, though the sequence where she chastises both the men in a kindergarten class falls pretty flat. Not her fault. Akshara never allows us to know this is her first.


What an idea, Sirjee!
BOLLYWOOD NEWS
Catch us for latest Bollywood News, New Bollywood Movies update, Box office collection, New Movies Release , Bollywood News Hindi, Entertainment News, Bollywood News Today & upcoming movies 2020 and stay updated with latest hindi movies only on Bollywood Hungama.