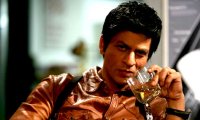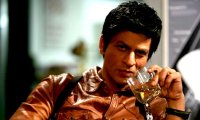 The King says he is back. Long live the King. King Khan, or Shah Rukh as some of us prefer to call him, is seen at the pinnacle of precociousness in this pitch-perfect tongue-in-cheek homage to the espionage thriller.


But this is not your average 'Don-returns-because-he-had-to' kind of predictable sequel. Farhan Akhtar with the keen participation of his ebullient writer Ameet Mehta and Amrish Shah, comes up with a cool concoction that prefers to let the action speak louder than words.


There are enough throwaway lines given for Don to make him fly high as a superhero of the underworld even when he's locked away for life…Like Tom Cruise in Misssion Impossible 4 last week, Shah Rukh's journey into valiant viciousness begins with a jailbreak. It then speeds into a kind of con caper which could go anywhere. It goes to Switzerland where the action is relentless. And it's not only about the flying bullets and speeding cars.


Don's world is governed by a kind of subverted moral censorship where he, and nobody else, decides right from wrong. Into this world of win-win wickedness where Don reins supreme, Farhan Akhtar infuses an intelligence that isn't only connected to agencies.


Queerly, Don doesn't encourage human ties. And since Don decides the destiny of the plot the relationships within the plot therefore do not grow substantially. Farhan portrays human attachment almost as an embarrassment, a hyphen in a film that is punctuated with exclamation marks. The only tender moment in the screenplay occurs when an affable computer hacker (Kunal Kapoor) caresses his pregnant wife's belly. The moment passes quickly. And we move to Don's next level of purported ingenuity.


The relationship between Don and his 'junglee billi' Roma (Priyanka Chopra, hair, makeup and clothes and not much else in place) is barely given a nod by the screenplay. You wonder how Don calls her Junglee Billi since she's so immaculate and impervious all through. Maybe it's a private joke between them. We will never know. Or would we?



Watch out for Don 3. Hopefully Don would be married to Roma and growing vegetables in a village in Spain while the Interpol follows his trail in Pakistan.


Not all of it makes sense. Some of it, you suspect, is pointless to even Don himself. But the film exudes a kind of uber-chic temperament that we've hardly ever seen in our films.


Precocious and audacious, with his tongue wedged stubbornly in his cheek, Don is back in edgy laconic look back in rancour. The chase is restrained. The thrills are austere, almost severe. Farhan Akhtar is determined not to go over-the-top even as his evil protagonist does just that.


Don 2 cuts to the chase effortlessly. And then leaves us with a sense of having witnessed cinema that takes us into a world where Bad is Good. But no offence meant.


First Day First Show Of 'Don 2'