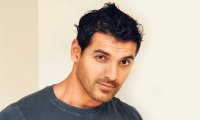 Sanjay Dutt and Sanjay Gupta had a massive fall-out after which the Dutt and Gupta camps became seriously polarized.
For obvious reasons the Dutt camp was star-studded while Gupta had to struggle for two years after his professional and professional breakup with
Dutt to put his next project together.
Finally it all came together for Gupta when Anil Kapoor and John Abraham set the ball rolling by agreeing to be part of Gupta's Shootout At
Wadala.
John gets deeply emotional when talking about Gupta who stood by the star when he was almost denied bail and sent to jail for a road offence.
Says John defiantly, "I'm going to stand by Sanjay Gupta. I'll work with him as many times as he wants me to. Everyone in this industry is
opportunistic, and justifiably so. When I was in a crisis, Sanjay Gupta stood by my side like a rock. When I was in court I felt all alone. There were
twenty cops surrounding me and there were these two young girls who work for me trying to support me, that's it. Then I saw Sanjay Gupta there. It
was a moment I'll never forget. As far as I'm concerned we're friends for life."
Asked why Gupta was the only friend with him at the time of his crisis John laughs uncomfortably. "I don't think anyone knew I was going to end up
almost going to jail. Even I didn't. So how could I expect anyone to be there? That's why Sanjay Gupta being there meant so much for me. Just a few
days earlier he had been through a major legal crisis on the same court, and with the same lawyer. So he understood my plight. And he knows I'm a
law-abiding citizen."
The next day after he was finally granted bail, John shot a sequence for Sanjay Gupta's film where he had to be in jail. "The very next, can you
imagine, I was in prison clothes shooting a prison scene. Sanjay Gupta said, 'I don't have to brief you. You're in character'. Then we both laughed
and I gave one of my best shots. Let me assure my audiences in advance. The emotions they'll see in the prison scene of Shootout At
Wadala are real."
John feels Shootout At Wadala would be game changer for him. "I feel it. It will change my career. It would do for me what Vaastav
did for Mr. Sanjay Dutt. I know Shootout At Wadala would project me as an actor of substance. So far I think my looks have preceded my
performance."
Added Sanjay Gupta, "The question should not be whether John is wanted for another project or not. The question is, does John want to do another
project at the moment? His entire focus and concentration is on Shootout At Wadala. People who were too taken up by his physicality would
be shocked by John's transformation. He is not going to sign any other film until Shootout At Wadala releases and definitely not one where
he will play second fiddle to any other actor."
When we asked him about the resentment regarding the new John-Gupta dosti, Gupta said nonchalantly, "There will always be people who
can't bear to see two people in this industry getting close. Today John and I have learnt the hard way the value of a true friendship. He has sworn to
stand by me and I by him."