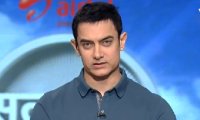 The birth of a child is considered to be one of the most joyous occasions in a couple's life. And equally devastating can be the situation when the parents realize that their child is not able to see or hear or speak or move his/her limbs. Our society is not very friendly to this section of population and thus begins a long battle for the parent and the child to be able to blend in with the 'normal' people. Satyamev Jayate, in the sixth episode, throws light on such people, the problems they faced and how they have excelled despite difficulties. Compared to the previous episodes, the latest episode was less negative in the sense that it didn't delve much into the wrongdoings of the society and government regarding the disabled. Instead, a major part of the episode focused on the unbelievable achievements by the handicaps. Interesting watch!


The episode commences with the introduction of Sai Prasad Vishwanathan, who went for skydiving, a huge feat for someone who couldn't walk. His discussion with Aamir Khan about his education, experiences, work at Infosys and finally treatment meted out to him at United States immediately caught viewer's attention. Especially the bit where he says how the authorities at American university, taking note of his disability designed the room in such a manner that he would face the least hassles possible! Can we expect something similar in India? And sure enough, a number of cases discussed on shows were about parents sharing the difficulties they faced because of their child's handicap. Not only in the education sector, life is not easy for a disabled even in other areas. Ketan Kothari neatly sums it up with some really funny instances. Javed Abidi provides some startling statistics and facts which clearly proves government's lackadaisical approach towards the disabled.


Thankfully, there's ray of hope. Besides Sai Prasad, there was Krishnakant Mane who inspite of being blind has 15 people working under him in IIT and it was a real treat listening to him! And he had a love marriage! Amar Jyoti School in Delhi is specially and wittily designed for the handicapped children. Nisha, who has totally deformed face, was adopted and given a very fine upbringing by her parents. Designmate, a web portal for e-learning, has more than 200 employees who are disabled and is doing great business. And surprisingly, there's even a gym for the handicapped people.


We often have pre-conceived notions about the disabled that they need support, sympathy from cradle to grave, have difficulty finding love and so on. But the instances on Satyamev Jayate not only shackle these myths, but would also motivate the 6% handicapped population of our country. It also served as a wake-up call for the government and various schools and colleges that haven't been so kind to this special and wonderful section of our society. And obviously, the usual performance of a singer and the music team wouldn't have been a good idea to culminate the episode. And rightly so, the song for episode 'Chanda Pe Dance' boasted of a performance of handicaps of Ability Unlimited Group which was marvelous! The episode definitely put a smile on the faces and gave an all important message - Everyone Is Special. Be Proud Of How You Are!


Karte Hai Roz

Chanda Pe Dance

Aye Duniya…!


Watch the video: Satyamev Jayate: Persons with Disabilities - We Can Fly! (Episode 6)