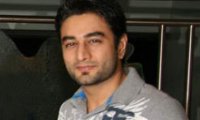 If an Indian film is compared to a bird, then the wings belong to Vishal-Shekhar. India's most popular music director duo takes any film they're given to an all time high with their indisputable music. So if hell is full of music amateurs, down here is heaven. Because down here is Vishal Shekhar. I call them 'the truth' because their music doesn't lie. From their first ever musical blockbuster Jhankaar Beats to the unique Bluffmaster to the recent most popular I Hate LUV Storys, the duo have enthralled us all since a decade. UK's Harrow Observer columnist and Bollywood Hungama's London correspondent Devansh Patel met up with Shekhar Ravjiani to know more about their association with Puneet Malhotra's debut film, rom-com's, Vishal and Shekhar: the singers, the importance of background music, diminishing live orchestration, his partner Vishal Dadlani and an indispensable place which Shekhar has to visit twice a year and without which he cannot create music - London. Over to the man who doesn't create music...he simply weaves it.


Rom-Com


With any genre, whether it's a rom-com or a thriller or a love story, we always try and push the envelope and try and make sure that something new happens. It should excite us more than our audiences. If that happens, audiences are going to love it to the core. A lot of it comes from the director's vision.


Puneet Malhotra


He is a very cool guy. It's his first film and we sat through the narration with him and loved his idea of the film. He has worked with Dharma Productions for many years now as a chief assistant director. He knows the whole game. I just saw the film a couple of days back and you'll fall in love with it. It's a lot of fun exchanging ideas and knowing what's coming from a new mind. A director listens to a certain kind of music and we give him exactly that in his film, to what he listens to, and yet it sounds different.


Vishal Shekhar - Singers


When we compose songs and put down our scratch, it so happens that our voice just locks with the song. If Vishal has sung a certain song and it fits well with the lyrics and the way he sings it, we don't need any other singer, and vice-versa. We never think as music directors that we should be singing as many songs as possible. That doesn't happen. The song chooses us more than we choose the song.


BGM - Background Music


In the West, they have OST (Original Sound Track) where a lot of artists come together and do a lot of tracks. Ninety Nine percent of the films in Hollywood work on Background Score. In India, our industry works on songs which form a very integral part of our films. Now a lot of people know the difference between score and songs. In this part of the world, people think that the music directors are the ones who have done the background music for the film. That's not true. There are background score specialists in our industry. We have Salim- Sulaiman who are very good, there is Sandeep Chowta who's good. Vishal Bhardwaj does it himself too which is a rare thing.


Creating sounds


We do work from the samples which we have but most of the time we try and create our own sounds. We tweak the samples in such a way that they should sound completely different from what they originally used to sound and give it a slight edgier feel.


Vishal Dadlani


We are a great combo. Vishal and I write songs together. If one of us is at home or the studio, it doesn't matter. Our phones are on all the time. Sometimes we compose the track in the middle of the night or sometimes very early in the morning. Sometimes we are sitting at a coffee shop close by where we hum a few tunes and both of us come up with something. We just jam together and music flows.


Favourite Vishal Shekhar song


Every song that comes out from our album is special to us. We are very closely connected to it. To name my top three favourite songs I'd put - 'Allah Ke Bande' one number one, 'Tu Aashiqui Hai' on number two and the song which I wrote for my wife, the first ever song I composed and sang 'Dil Se Mere Door Na Jaana' from Pyaar Mein Kabhi Kabhi.


London


London is one of my favourite destinations in the world. Every three to four months, I go to London and stay there for a week. I go to Hyde Park, walk around the park, sit near the lake and write a few songs. It's a different vibe all together. If you are a music director, you should go to London and walk around and you'll come home with music plentiful in your bag. That's what happens to me. London is so lively and has music all around the place. I went to London for the research of our film Om Shanti Om's climax song where I wanted to give it that whole orchestral vibe to it. So I went to see the musical called 'The Phantom of the Opera'. You learn a lot of things from watching people play live music in musicals, concerts, Broadway. So we decided that the climax song should be as powerful as the theme track of Phantom of the Opera. I came to India, wrote the song with Vishal and we went to Prague to record the song with about a hundred and eighty people who formed the entire orchestra.


Orchestra


I don't think that the demand for the orchestra in India is diminishing. It has gone down a bit due to the different samples coming in. But there are certain songs which require that kind of a live orchestra. For example, there is a song in Om Shanti Om called 'Dhoom Tana'. There were two hundred musicians who played that song live in Mumbai. That song was arranged by Pyarelal of Laxmikant-Pyarelal. We got drums, chorus, cellos, etc. That song required the magnanimous sound and that's what we created. But it entirely depends on song to song. I personally prefer organic and live stuff. Even in a song which requires guitars, we make sure that we live record that guitar piece.


Recent favourite sound tracks


Delhi 6 was an outstanding sound track. Rock On was a very popular sound track, Ishqiya was great. I specially loved the song 'Dil Toh Bachcha Hai Ji'. I haven't heard a song like this in a long long time. It's an unbelievable song. Kaminey was good too.
BOLLYWOOD NEWS
Catch us for latest Bollywood News, New Bollywood Movies update, Box office collection, New Movies Release , Bollywood News Hindi, Entertainment News, Bollywood News Today & upcoming movies 2020 and stay updated with latest hindi movies only on Bollywood Hungama.