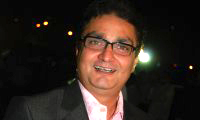 Having played a supporting actor in many films, his stellar performance as Bharat 'idiot' Bhushan in Bheja Fry made Vinay Pathak an overnight star. He is known for his impeccable comic timing and poignant performances in films like Dasvidaniya, Rab Ne Bana Di Jodi, Aaja Nachle, Mithiya, Chalo Dilli and more. Vinay, who has already had seven releases this year is back again with a rib tickling rom-com Pappu Can't Dance Saala.


Bollywood Hungama's Divya Rajani talks to the supremely talented Vinay Pathak about his upcoming films, working with co-star Neha Dhupia, being stereotyped as a simpleton and more.


Tell us something about your character in the film Pappu Can't Dance Saala?

I play the role of Vidyadhar Acharya, who comes from an educated upper class family in Banaras, he is well read and educated. He gets a job in Mumbai so he moves there. As everyone knows, the living arrangements in Mumbai are a little tricky if you don't have a house of your own. He goes through a lot of turmoil in order to rent an apartment and finally he finds one and that's where he meets his neighbour Mehak Malavde (Neha Dhupia), who is diametrically opposite to what he is. She is a bindas young girl who loves enjoying her life, she keeps having parties and keeps calling her friends over for drinks and dance. They keep judging each other for their choice of profession and the place they come from. Vidyadhar doesn't like Mumbai, he feels that the people in Mumbai have no understanding of language, it's a very crowded city, he has problems with everything because he is like a fish out of water who is trying to adjust in a big city but is finding it very difficult.



I play the role of Vidyadhar Acharya, who comes from an educated upper class family in Banaras

How is Neha as a co-star?

Neha is a wonderful co-star, we have been friends and have done many films together but this one is special because this film is about us and the turf is ours. Its like two kids have been shown a playground full of toys and they are told that nobody is going to play but you, so you can imagine how happy those two kids would be. We felt exactly like those two kids.


Don't you think you are being stereotyped as the simpleton/ common man especially in those films where you played the lead?



Well you could say that Shah Rukh Khan is also stereotyped as the simple lover boy except for a few films, so how can this tag be put on me? I have played different roles in all my films like Dasvidaniya, Johnny Gaddaar, Khoya Khoya Chand. Even in Chalo Dilli, I didn't play a simpleton, I played a crass, loud mouth and uncouth guy. Would you want to be seated with a guy like that in an airplane? But you wouldn't mind getting seated with somebody like Amar Kaul (Dasvidaniya) or an entertaining person like Bharat Bhushan. I think it is a little unfair to tag me as a simpleton; you need to look at the character, the film and the story. Ninety nine percent of the Bollywood films have the male characters as a simpleton. That is just a distinction of the class and community he comes from, that is not the character. If you see even the films Mr. Amitabh Bachchan did in the 80s and 90s that gave him the tag of 'Angry young man'. That doesn't mean that he was typecast, it just means that he had an image and that image and persona were exploited by different story tellers in different stories. If I am doing the loud comedy in every film you can definitely accuse me but you have to see my films to realize that I have selected all the stories that are very different from each other be it Khoya Khoya Chand, Johnny Gaddaar, Straight or Jism. Just because Bheja Fry and Bheja Fry 2 were superhits and Chalo Dilli also is also a comedy, you can't tag me like that.



Shah Rukh Khan is also stereotyped as the simple lover boy

Why is it that you work with the same set of people like Rajat, Ranvir and Saurabh all the time?

Not true again, it's a speculated image in the media. If you look at all of us together we might have 8 to 10 films together but in our careers everybody has done more that 35 to 40 films individually, so isn't that a wrong accusation. Besides, people love it when we are together because they can see the amount of fun we have and tell a story that everybody wants to be a part of. If you actually do a research, there are about 200 films between us and we have worked together on maybe 10 films together so that makes it only 5 percent. Now don't you think that it is unfair to tag us like that? Having said that, I would like to add that from our gang, two of our friends and fellow actors are filmmakers and there are three-four actors wanting to be filmmakers, we are like-minded people who share similar sensibilities, enjoy each others company and we are best friends so why wouldn't we want to hang out, have fun and make cinema together which we love the most


What about your upcoming film?

The next film I start shooting for is Anant Mahadevan's Gour Hari Dastaan, which I am very excited about as it is based on a true live event. I have also done a cameo in Midnight's Children.


Any plans of turning director?

Aap ke mooh mein ghee-shakar and Godiva's best dark chocolates. Hopefully soon I will be directing a film.


Check out the video:


BOLLYWOOD NEWS
Catch us for latest Bollywood News, New Bollywood Movies update, Box office collection, New Movies Release , Bollywood News Hindi, Entertainment News, Bollywood News Today & upcoming movies 2020 and stay updated with latest hindi movies only on Bollywood Hungama.