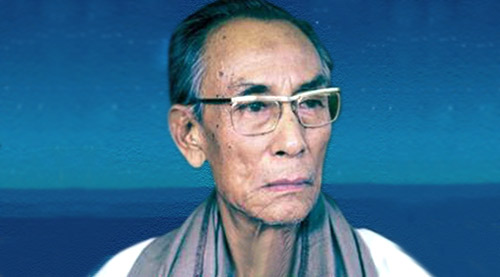 Had mankind be gifted with immortality, Sachin Dev Burman aka Dada Burman, who was from the royal family of Tripura, would not have had his 40th death anniversary on October 31, and would have
completed a sprightly and musically youthful 109 years on October 1!


Yes, Dada was one of the endless treasures of Hindi film music that were discovered by actors, a list that began with Vasant Desai being given a break by V. Shantaram and extends into the
millennium. And multiple music observers, fellow composers, lyricists, singers and even actors consider him with some justification to be the greatest composer ever in Hindi cinema. But if that can
be called subjective, what is inarguable is that he was the most youthful composer-and genuine youthfulness is a trait and about one's spirit rather than being about going needlessly Western or
imitating the latest fad!


Said Dev Anand once, "Dada had a paranoia of repeating himself. He thus took on very few films." Not for nothing was he the only solo composer who passed away at his peak (Jaikishan of Shankar-
Jaikishan was the other), with films like Hrishikesh Mukherjee's Mili (for which he composed the frothy 'Maine Kahaa Phoolon Se Haso To Woh Khilkhilaake Hans Diye' from a hospital
bed!) and Arjun Pandit, Sharmila Tagore's home production Tyaag and Subodh Mukerji's Deewangee (1976) on hand.


He only left the last film incomplete, as he backed out after recording one song, 'Chal Sapno Ke Sheher', which effortlessly emerged to be the best in the Ravindra Jain-completed soundtrack.
Legend has it that Dada would often be annoyed with his son, Rahul Dev (R.D.) Burman aka Pancham, for the amount of work he took on, because of the same reason. But there was a huge justification
for this plaint against his son-his experienced confidence in Pancham's basic humongous talent that he feared would be short-changed by overwork-and ultimately was!


Dada was born tough, his early life was very tough for him despite the royal moorings, and his struggle in his initial years when he came to Mumbai to be a film composer was no less. These
difficulties led to a determination to fight-and win-against the odds. With his humongous talent, visionary expertise, a native shrewdness and his learning the right lessons on the way, Dada
emerged as a champ.


So much so that in mid-1974, just a year before he passed away, and when his nurtured pet voice Kishore Kumar was at the top, Dada was battling not to stay professionally afloat but, instead, was
'fighting' with his son and his son's contemporaries Kalyanji-Anandji and Laxmikant-Pyarelal on the charts.


The exhilaration of knowing which Kishore song would top the charts in each of those weeks on Binaca Geet Mala-Dada's 'Yeh Lal Rang' (Premnagar), his son's 'Jai Jai Shiv
Shankar' (Aap Ki Kasam), Kalyanji-Anandji's 'Mera Jeevan Kora Kagaz' (Kora Kagaz) or Laxmikant-Pyarelal's 'Gaadi bula rahi hai' (Dost) accelerated the
heartbeats of excited music buffs as the countdown unveiled!


Being forever young at heart and art, Dada always blossomed in young company-Laxmikant-Pyarelal arranged some scores for him, like Meri Surat Teri Ankhen, and Kalyanji-Anandji were always
the negotiators whenever he had a tiff with his son and wanted intermediaries to settle the spats!


Pancham narrated how the six of them would frequently meet at his home and have a blast-not just all play but even helping out each other by completing their songs or solving each other's
professional difficulties. "We would complete each other's compositions in the style of that person, like if my father completed Laxmi-Pyare's song it would be in their style, and vice-versa!"
The composer admitted that other composers would be jealous of their bond, and history knows that in the early '70s, a clique of composers had sent a memorandum to the President of India, accusing
the six of "monopolistic practices"!


This was done because, between these six masters, they had then annexed eight of the ten big films being made, and the grumblers never bothered to accept that if they were doing 80 percent of the
films, the remaining 20 percent-divided between all of the complainants-were not a patch in popular appeal or consistent quality! And so, obviously, nothing came of such petty nitpicking!
For if Dada was rock-solid determined about one thing, it was his integrity and fierce passion for perfection. This explained the singular fact that he had the highest hit percentage of songs among
any composer in Hindi cinema. He would be the last man to lament about "musical degeneration"-a signature tune for every senior composer whenever trends changed and newer names replaced them. And
this had a simple reason: he preferred to give the youngsters competition!


This youthful quotient in his songs made his '40s songs (in his flop struggle phase) sound like those from the '50s-and so on for every decade! For example, does not Premnagar (1974) sound like
the Kishore-based hit scores of the early '80s?


His most loyal filmmaker and star Dev Anand shrewdly recognized this "ahead of time" quality in Dada's debut Shikari that made him go past all the top names then and home in on him for
Navketan's debut film Afsar (1950).


The association was to last for over 20 years, with musical ace after ace with the star, whether under his own banner or in outside films (Baazi, Nau Do Gyarah, Taxi Driver, Funtoosh, Jaal,
Solva Saal, Munimji, Paying Guest, Baat Ek Raat Ki, Kala Pani, Kala Bazar, Teen Devian, Manzil, Tere Ghar Ke Saamne, Guide, Jewel Thief, Prem Pujari, Gambler, Tere Mere Sapne, Yeh Gulistan
Hamara). Come Dev or his very stylized and content-driven younger brother Vijay Anand, Dada's resonance with forward-thinking directors had to be exemplary!


Check how Dada handled Guru Dutt's visions as much in the commercial Baazi as in his middle-of-the-road phase in Pyaasa and his self-indulgent one in Kagaz Ke Phool. The
subject could be anything from musical (Abhimaan) to comedy (Chalti Ka Naam Gaadi, Chupke Chupke) to romance (Aradhana, Ishq Par Zor Nahin) to a thriller (Sharmeelee),
ditto the budgets, filmmakers, stars and lyricists-the versatile maestro delivered with them all.
Connection with all listeners was a must for Dada. He reportedly told his assistant Jaidev, "A song should be so simple that even your servant should want to sing it!" Jaidev never followed these
golden words, and his career graph is there for all to see, despite the critical glory.


And since Dada mostly composed the melody first (and was open to rejection if it made sense), he would insist on great writing. He recognized the genius of Anand Bakshi, then a struggler, for
Kagaz Ke Phool, when Guru Dutt vetoed him. From Aradhana a decade later, Dada unleashed a hit parade with the lyricist!


And this is probably also the reason why Dada chose to mentor singers like Asha Bhosle and Kishore Kumar who were waiting in the wings for many years in the Lata-Geeta-Rafi-Mukesh-Talat-Manna
supremacy era, yet he never really introduced a major singer. But he knew where to dig for gold-and he got Rafi out of his plaintive and rural Punjabi twin avatars by making him a sophisticated
urban voice in the '50s through diverse films like Pyaasa, Kala Bazar and more.


And let us not forget that he was a masterful singer himself. The S.D. Burman-rendered (mostly solos) folk numbers like 'O Re Manjhi' (Bandini), 'Suno Mere Bandhu Re' or
'Prem Ke Pujari' (Prem Pujari) will always belong to that small but exclusive club of inimitable exotica in our film soundtracks that, like the rest of S.D. Burman's music, will never
age.
BOLLYWOOD NEWS
Catch us for latest Bollywood News, New Bollywood Movies update, Box office collection, New Movies Release , Bollywood News Hindi, Entertainment News, Bollywood News Today & upcoming movies 2020 and stay updated with latest hindi movies only on Bollywood Hungama.