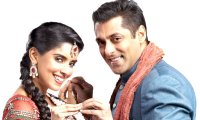 I am getting a strong sense of deja vu as I key down this piece. It was exactly nine months back that I had shared my experience of watching Dabangg in a single screen theatres after (what seemed like) ages. It was the Salman factor that had made me step out of the comfort zone of a multiplex and elbow my way through the crowd into a jam packed neighbourhood theatre. For Ready though I wanted to play conventional. The difference though was to avoid the exclusive screenings, press or preview shows and instead opt for a family outing and gauge audience reactions first hand.


So what if this meant that I would have to miss out on getting the review early; the idea was to sit with the 'multiplex junta' and see how the story unfolded, both on the screen and inside the auditorium. That Salman Khan and Anees Bazmee would be able to fetch audience in hordes when it came to single screens was a given; what I wanted to see with my own eyes was how multiplex crowds reacted beyond the 'Dhinka Chikas' and 'Character Dheelas' of the world.


Well, here is 'reflecting' on how the day went.


Wednesday, 1st June, 8:00 PM


I log into the ticketing website and choose seats that make me and my family sit right in the middle of the auditorium. Honestly, hardly 20 odd tickets had been sold at this time and while somewhere in my heart I was wondering if this was too poor a (advance) response for a film which was arriving with so much hype, I shrugged away the thought and hoped that the house would be indeed full on Friday.


Thursday, 2nd June, 11:00 PM


The buzz has started picking up for the film and colleagues start enquiring about the film. 'I would be seeing it with the 'junta'', was my response as I detailed my reasoning around that. I could sense that not just the filmy types or the gentry were interested in the film, even corporate types as well as upmarket family crowds were keen to know whether Salman had indeed managed to rock the show or not. Now that's a stark difference that I sensed from the Dabangg days because while for that film the queries that came my way were primarily from men, even women were interested this time around when it came to Ready. Hmmmm... Interesting.


Guess the decision to watch the film in a multiplex while hoping for family crowds seemed to have been working after all.


Friday, 3rd Jun, 6:00 PM


I step into PVR. No, not to watch Ready but A Strange Love Story. That's the manner in which I watch films. First I get past the ones that interest me the least so that I can reserve the best for the end and the evening (and in many cases nights) end on an upbeat note. The show begins and I realise that I am the only person in the auditorium. Oh yes, five minutes down the line I spot two couples occupying farthest and opposite corners of the auditorium. Of course they were 'ready' for some 'action'. Well, of their own!


Woh do. Unke Saath Do. Aur in sabke beech ek main!


8:15 PM


The ordeal ends and I check with my family whether they have already arrived in the shopping mall where PVR is situated. They have. But hey, now what was that? I see two kids coming my way. One is my son, another is his friend. 'Now where did he come from', is my obvious question. 'Well, your son wanted to bring his friend along too. They both were going 'Dhinkachika' at the very mention of all of us going for Ready', my wife informed.


Wonderful. So now let's get another ticket. I remember Wednesday, 1st June, 8:00 PM. Tickets were easily available then. I am least hopeful that the scenario would be the same 48 hours down the line. I check at the box office counter. Expectedly there are no spare seats anywhere close to where I was sitting. There is some random seat available in second row from the front. I just latch on to the ticket. The idea is to step into the auditorium. We will manage it inside.


We Indians are happy to 'thoda bahaut adjustment' after all, right?


9:50 PM


Four of us make our way into the auditorium. It is jam packed. As promised to me by Asin, there is 'chacha chachi', 'mama-maami', 'dada-daadi' kind of crowd trying to find their way to the allotted seats. Meanwhile promos of all shapes, sizes and forms start running one after another on the big screen. Well, this is what I call 'paisa vasool'. And Ready had not yet begun. I don't even bother about that fourth ticket that I had bought. The two kids are the ones who adjust. They are seated together on a single seat.


They are happy. And ready!


10:10 PM


The film begins. People are still finding their way to the seats.


Salman's name appears on screen. No seeti taali. I remember Dabangg.


Salman's voice is heard for the first time as he introduces other characters. No seeti taali. I feel like I am missing something.


Salman is seen for the first time gyrating to the tune of 'Character Dheela' with Zarine Khan. No seeti taali. I remember my single screen sojourn.


'Oops, galat decision toh nahi ho gaya?!' - I was already wondering.


And then the gags started. Hum Aapke Hain Kaun moments were aplenty. Asin was taking Salman for a ride. His uncles and aunties were roaming around the house just like how Barjatyas would have ordered. I can well imagine the sound of 'Aaa Haa', a la Madhuri, somewhere in the corner. It doesn't quite happen but audience start getting engaged.


Laughs begin. And it becomes a regular feature practically every second minute. Salman is busy cracking self depreciating jokes, Anees Bazmee is holding 20 characters together in a single frame, a dog a la Tuffy makes a special appearance as well, names like Welcome, No Problem, Thank You, Ready and No Entry are thrown around to remind you that you are watching a film by the man who has directed them all, there are more than just a couple of references to Hum Aapke Hain Kaun and Hum Saath Saath Hai and the laughter in the auditorium refuses to subside.


Meanwhile the kids with me are happy to occupy the aisles and dance to 'Dhinka Chika'.


'Nahi, galat decision nahi tha'!


11:30 PM


Post interval saw audience reactions turning even more uproarious. No, there aren't any seetis or taalis yet; guess for that I would have to visit a single screen theatre again. However when it came to acceptance, Salman had pretty much found acceptance from the multiplex crowd as well. The kind that merely nods in approval when Rani Mukerji gives a fiery speech in No One Killed Jessica or comes out of the screening of Phas Gaya Re Obama and says 'I think issme ek deep meaning tha', this crowd was genuinely having fun as Salman went about stepping into the house of both the 'mamajis' and teaming up with Paresh Rawal to ensure that everyone became an 'achcha insaan'.


As for the kids, they were happy to see the fatso boy scared out of hell when taken through a ride, literally so, while being forced into an amusement park by Salman. The pee jokes (of course) didn't work for anyone out there but guess gentry may have a different story to tell.


Saturday, 4th Jun, 12:45 AM


The movie ends and half the people start stepping out in order to catch the queue out of the parking lot. The other half stays back and watches the Bangkok version of 'Dhinka Chika'. Now that's rare. Generally there are only a couple of dozen odd folks who are really interested in end credit title roll.


No one leaves the theatre without a smile. They all had fun. I heard someone say - Thank You se toh far better thi. Another said - 'Second half first half se better tha'. One society type aunty dared to declare - 'I found it better than Dabangg; it was much light hearted'.


I silently nodded in approval.


I also arrived at a conclusion (the very purpose for which I had walked into a multiplex) that entertainment is not something that is the desire of single screen crowds. Even multiplex junta wants to have their fair share of 'masti' and 'mazaa'. They may not stand on their seats and start whistling or clapping at the drop of the hat (or a fall off the banana peel). However, they would be happy to acknowledge that they had some genuine fun if it indeed comes their way.


As for the seetis and taalis, I am now headed towards a single screen. It would be fun to observe the difference.
BOLLYWOOD NEWS
Catch us for latest Bollywood News, New Bollywood Movies update, Box office collection, New Movies Release , Bollywood News Hindi, Entertainment News, Bollywood News Today & upcoming movies 2020 and stay updated with latest hindi movies only on Bollywood Hungama.