One of the highly anticipated films of the year is Sanjay Dutt biopic titled Sanju starring Ranbir Kapoor in the lead. The film, helmed by Rajkumar Hirani, will tell the tale of the bad boy of Bollywood who went through craziest phases in his life in front of the limelight. From being a star kid to big Bollywood debut, from drug addiction to assault rifle possession, marriages and several affairs to the dark side of Bollywood, everything will be showcased in the upcoming film.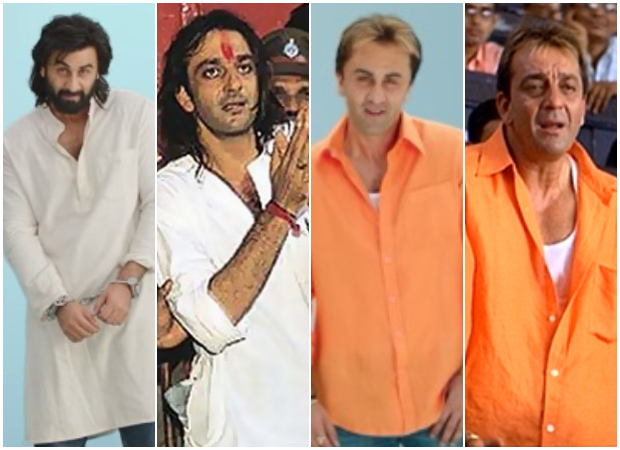 While Sanju trailer is yet to be released, the first teaser was unveiled last week which narrated the story of Sanjay Dutt. In the first few glimpses, Ranbir Kapoor's uncanny resemblance to Sanjay Dutt has left every surprised and intrigued. We collected all the looks from the film and set it up with the real-life Sanjay Dutt's looks. The resemblance is startling and shows how much effort and research has been put in my Ranbir and Hirani together.
1. 1980-1983: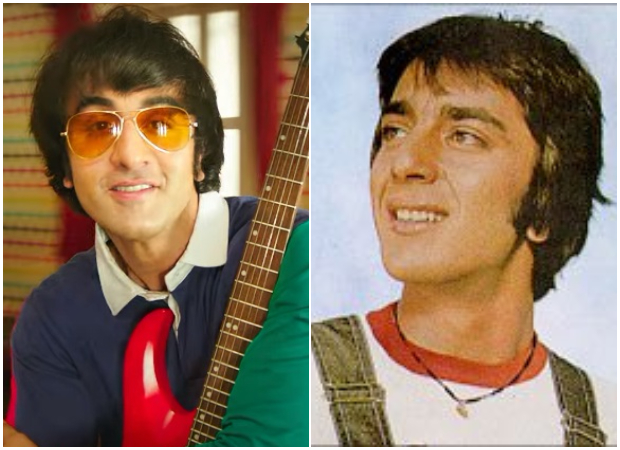 This was early times when Sanjay Dutt made his debut in Rocky in 1976. He was merely 22 years old at the time. Just a few days before the premiere, his mom and veteran actress Nargis Dutt passed away after a prolonged battle with cancer. This left the Dutts in shock and soon the phase of his drug addiction began. After spending five months in jail for drug possession, he made his comeback with Subhash Ghai's Vidhaata in the year 1982. A few years later, he was sent to a rehabilitation center when the drug use went out of control.
2. 1985-1993: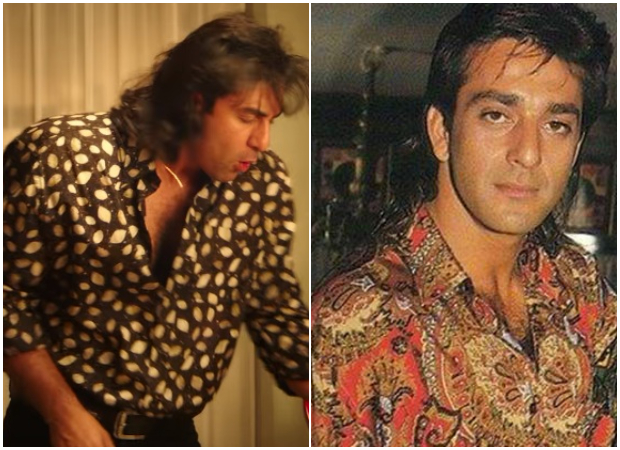 These were the years when Sanjay Dutt had signed several movies back to back. His looks changed but he continued doing films as his doped phase and rehab continued for years. In the year 1991, Sanjay chose to star Saajan with Salman Khan and Madhuri Dixit which was something different from action genre he was usually seen in. The film and songs became a huge hit and audience got to see a different side to Bollywood's bad boy.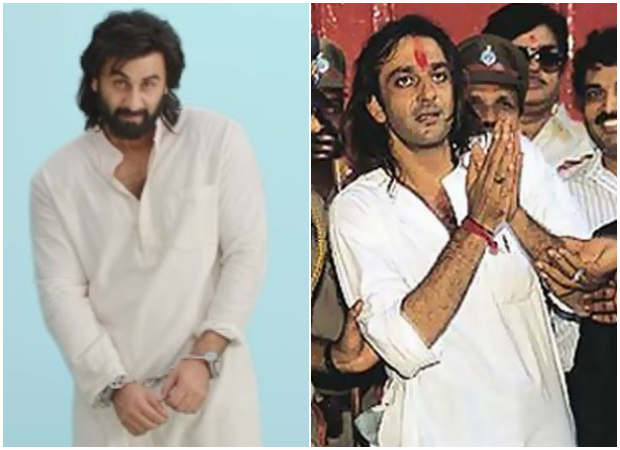 Around the same time, he was arrested for illegal possession of assault rifle. His name was involved in the 1993 serial blasts in Mumbai when he was allegedly accused of accepting weapons and explosives from the underworld. He was granted bail by the Supreme Court.
3. 1995-1998:
This is when Sanjay Dutt revamped his image and got very muscular. He, then, went onto star in every action and dark gritty movies possible.Though the changed look and long hair became a huge craze, his movies did decent at the box office.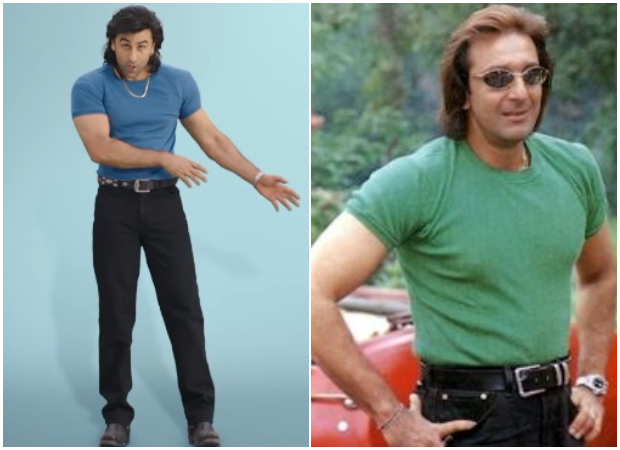 The long hair, the well-built body, tight t-shirts and denims with boots were back in fashion due to Sanjay Dutt.
4. 2000-2002:
Sanjay Dutt, over the years, had experimented with several looks. While the actor continued to be muscular, this was the phase when he donned beards and goatee. The year 2000 saw Sanjay Dutt win his Filmfare Award & a Star Screen Award for Best Actor for his immensely appreciated role in Vaastav: The Reality. He, then, starred in several box office successes.
5. 2003-2008: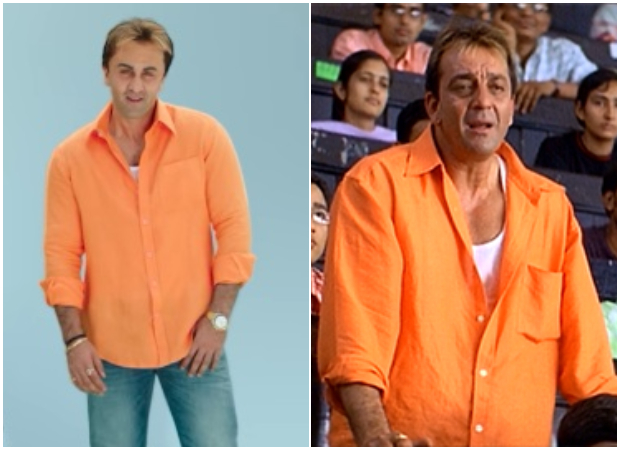 This phase was definitely one of the most crucial times in his life. Sanjay Dutt had an image makeover when he starred in Rajkumar Hirani's directorial debut Munna Bhai M.B.B.S. Not only did the audience love the film, it was a box office success. Then, he went onto star in the sequel Lage Raho Munna Bhai. He starred in Shootout at Lokhandwala, Total Dhamaal, Dus, Zinda in these years. 
Around this time, the TADA court had found Sanjay Dutt guilty under Arms Act but acquitted him under TADA. In July 2007, he was convicted by the court and was given six-year jail term. On August 2, 2007, the actor was again arrested and taken to Yerwada prison in Pune. He was granted bail by Supreme Court on August 20, 2007.
6. 2009- 2013: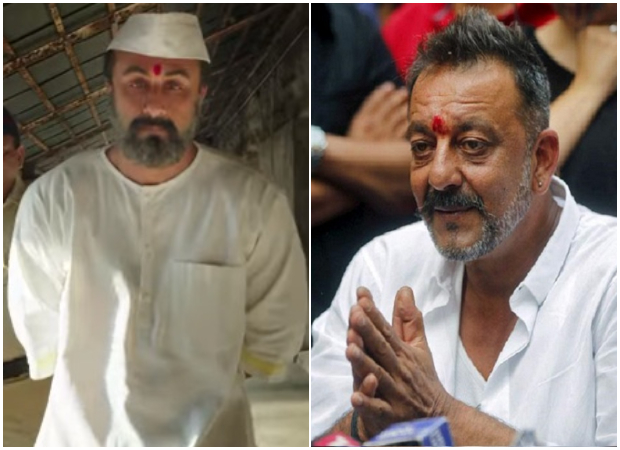 While Sanjay Dutt was basking in the success of his films, the actor knew the verdict in the Arms Act case won't be in his favour. On March 21, 2013, Supreme Court had sentenced Sanjay Dutt to five years in jail and asked him to surrender within four weeks. The 23-year-old trial was in regards to the possession of an AK-56 rifle and his connection with the 1993 Mumbai blasts. He held a press conference when he broke down in front of the media. He said that he would serve the sentence.
7. 2014- Present: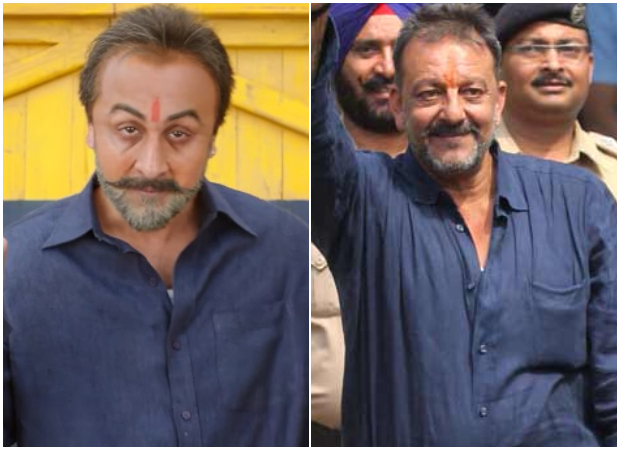 After back and forth between lawyers and the court, On May 16, 2013, he surrendered and was taken to Yerwada Prison in Pune.  The actor was released from prison after nearly three years on 25th Feb 2016. He was released 103 days early on the grounds of good conduct. Since then, Sanjay Dutt has made his comeback in Omung Kumar's Bhoomi which released in 2017. The actor has many films in the pipeline including Saheb Biwi Aur Gangster 3, Torbaaz, Kalank and Panipat.
While Sanjay Dutt's life has been like a roll coaster, Ranbir Kapoor starrer Sanju promises to show everything on big screen. The official synopsis of Sanju reads, "Few lives in our times are as dramatic and enigmatic as the saga of Sanjay Dutt. Coming from a family of cinema legends, he himself became a film star, and then saw dizzying heights and darkest depths: adulation of diehard fans, unending battles with various addictions, brushes with the underworld, prison terms, loss of loved ones, and the haunting speculation that he might or might not be a terrorist.
Sanju is in turns a hilarious and heartbreaking exploration of one man's battle against his own wild self and the formidable external forces trying to crush him. It depicts the journey of a man through everything that life can throw at him. Some true stories leave you thinking "did this really happen?" This is one such unbelievable story that happens to be true."
Written and directed by Rajkumar Hirani, Sanju will also stars an ensemble cast in addition to Ranbir Kapoor which includes Anushka Sharma, Paresh Rawal, Sonam Kapoor, Dia Mirza, Karishma Tanna, Manisha Koirala, Jim Sarbh, Vicky Kaushal and Boman Irani in pivotal roles.
Produced by Vinod Chopra Films and Rajkumar Hirani Films in association with Fox star studios, Sanju is all set to be released on June 29, 2018.
BOLLYWOOD NEWS