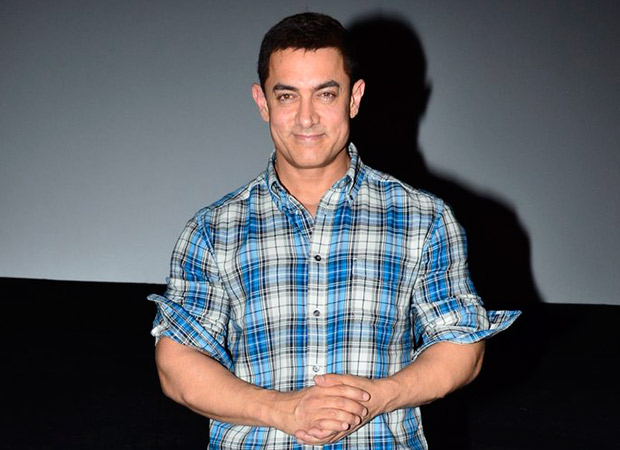 Dangal is receiving a massive critical and commercial response all across the world. I met a jubilant team Dangal for a video interview in Delhi recently. Aamir Khan was obviously happy but in his trademark manner he was extremely level headed. The emotion that best described his demeanour was.. 'Relaxed'. Dangal has been a difficult film to make both during filming and even apart from that. Aamir shed light on why he believes that a script is the be all and end all for any movie; he spoke about the experience of working with the entire Dangal team and also excitedly shared his thoughts on the prospect of working with mega star Mr Amitabh Bachchan.
Have you ever received such sort of unanimous critical and audience response for any of your movies?
I feel very fortunate that some of my films have been loved by most like Lagaan had a very strong response like this, 3 Idiots was entirely unanimous response, Taare Zameen Par was unanimous, sabhi ko pasand aayi thi. I feel very happy that this film which is made of so much love, people are really owning it, itna pyaar de rahe hai toh hamein behad khushi ho rahi hai.
Salman says, "If Aamir Khan thinks Lagaan is his best film then Dangal is better than that"…
He really loved the film; he called me up and spoke to me. The way he was talking about each aspect of the film, the production design, each one's acting, Nitesh sir's work as a director, the dialogues, he loved every aspect of the film. I was very happy to hear him.
And he hates you professionally now?
No, he loves me!!! (laughs)
Many would say how can an actor like you, a superstar, be so giving? What you do in the climax, many of the superstars will never ever think of doing it. You did this in Rang De Basanti as well, yeh itha bada dil aapka kahan se hota hai?
I feel mera dil bada hai but in examples mein, it's not my bada dil making me do that, it is not my generosity that's making me do that. It is my love for the script. Main koi sacrifice nahi kar raha hoon, mere dil pe patthar rakh ke… aise nahi kar raha hoon. I love the scene the way it is, jaise likha gaya hai wahi mujhe pasand hai aur wahi hona chaiye. Mujhe khushi ho rahi hai woh karne mein, usme mujhe sacrifice nahi lag raha hai na mujhe usme apna baddapan lag raha hai. Mujhe toh realize bhi nahi hota, Rang De… ke baad mujhe logo ne bol climax toh aap pe hi nahi hai, maine kahan "Hain?" (Laughs) Toh maine kaha nahi nahi main hoon na climax mein. Toh unhone kaha par mic pe toh woh hai, I said toh mic pe kya hota hai? Hum sab apna apna kar rahe hai, requirement hai jo. Isme mein bhi mujhe realize nahi hota ke main piche hoon. I think it's a very important thing I am not there in the climax, not in the middle of the action.
Rakesh Mehra Ji said that I went to Aamir with a refurbished script (Of Rang De Basanti) to Aamir Khan which had meatier things for him but Aamir said I want what you narrated to me in the first instance. Considering the industry we are in there are certain pressures, audience ka pressure, distributors and exhibitors yeh chahte hai, there are a lot of things. Somehow you break the norms.
Yeah! I don't feel that way, I feel you have to be honest with the story.  If that comes to me instinctively then it's not even a second thought for me. Woh question bhi mere dimaag mein nahi aata, sawaal bhi nahi uthta.
What was Mahavir Singh Phogat ji's reaction to you? We spoke to him and he was moved, especially about the transformation, he said main abhi unse seekhna chahunhga ke weight kaise lose karna hai.
He was much moved and hugged me after watching the film; he had tears in his eyes. He was very happy and I remember when they were watching the film, Fatima, me and Sanya were standing at the door and watching the reaction. We could see Geeta very clearly; Mahavir ji was at back, so I wasn't able to see him properly. Funny thing is when she was watching Fatima fight, which essentially is she is watching herself and she knows she has won commonwealth, usme koi doubt nahi hai woh cheez ho chuki hai 2010 mein uske baawajud she was so tensed and nervous ke ab kya hoga, uske pata hai kya hoga still she was nervous and when the five pointer started in the end she started clapping and in the last move, she started clapping.
You've always said that box-office record you're not keen about, you're more interested about the way it is affecting the people. Somehow it is important, the box-office for the industry in general, lot of people down the entire chain, be it daily wagers and a lot of other people, it is a boost in their life as well; in that context how important is the success of the film?
In that context box-office success of every film is important. As a person from the industry who is very emotionally invested in our business and work, I would want every film to do well. I am really happy to know that Dangal is doing so well which is also very good for everyone. Like previously Sultan has done before this and a lot of other films too.
Somehow you've always been setting a precedent – Rs. 100 crores, Rs. 200 and Rs. 300 crores, do you think Dangal will cross PK?
I don't know (Laughs!) The thing is that I am not a very good trade analyst. So I'll leave that to Komal, Taran Adarsh and other trade analysts.
In fact there are people within the industry who know that Aamir ko ek ek rupee ka hisaab pata hoga…
That's a misconception. Actually I am least interested in the business side of it. I am a creative person and for me the intensity of love for my work is far important than the numbers. If I was interested in money I would be doing four films a year and 10 ads. I don't do that. So it doesn't matter what my words speak, it doesn't matter what I say, it matters what my actions are. So if money was what importance to me I would be leading a totally different life. So for me what important is how much I enjoy my work and how much my audience enjoy my work.
We spoke to Sakshi ji before the release and I asked her that any film of Aamir Khan if she wanted to be cast opposite him she said Qayamat Se Qayamat Tak, song and dance is what she missed in the film...
Sakshi ji ko main bahut kuch bol chuka already. Actually I would have loved to have done a number of films with Sakshi having now worked with her. Of course Juhi is a fantastic co-star, she is very special to me, and we started our careers together.  I think Sakshi would have been wonderful in QSQT, Fanaa and I would say Talaash. I toh feel she should be in all my films.
Can you briefly tell us something about Thugs Of Hindostan?  What exactly is the film all about?
Well, it's too early to speak about that, but I would like to say that it's like a big spectacle; it's a big action adventure film. For me it's special because I am getting to work with Mr. Bachchan for the first time. I am such a big fan of his and I am so looking forward working with him as a colleague as a co-actor, as somebody who is a part of the team. I really want to walk with him on a journey.
In fact Nitesh Tiwari said he wants to work with you again, the sort of bonding you guys had is fantastic…
It was a real pleasure working with him. Apart from being so creative, as a writer, as a film maker he is a wonderful human being also. To be a good director you have to be a good leader, sometimes people think good leader means you have to shout at people, that is not my opinion, I feel a good leader is someone who is naturally a good leader and who people are happy to follow, that is a good leader and Nitesh sir has that quality. Everyone loves him, everyone wants to follow him and without him showing the authority even once, not even once so that's the real quality of a real leader, Gandhi ji, kisiko daanta nahi tha Gandhi ji ne, people naturally wanted to follow him. That's the quality of a real leader. I won't be missing these people because I have no plans of staying far from them. What I will miss is the fantastic opportunity to eat and drink whatever I wanted. Kuch bhi kha sakta tha main, woh jo eating-orgy karwayi hai Nitesh ji ne that I'll miss the most.