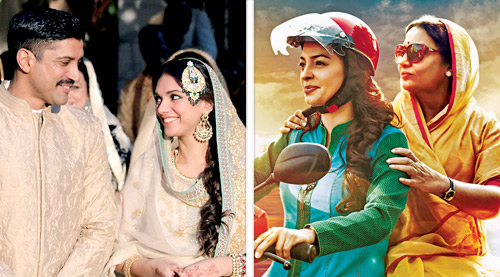 The world of Hindi films keeps changing in content, marketing and promotions, business strategies, economics and so on. What remains constant, perhaps, is the much-maligned

audience that at the end of the day, just wants a buffet spread of diverse entertainment worth the time and money they need to invest in a movie watched with family or friends.


This benign entity called audience, however, turns ruthless if someone tries to pull a fast one on them, tries taking them for granted or feels that they can be swayed by the media. For years now,

ever since the multiplex boom made watching cinema a luxury rather than a weekly family outing, the audiences have sent clear-cut signals about what they want-and clearer signals on what they do

not.


In that respect, yes, they have changed. But at base level-as writer Rajat Aroraa wrote way back in 2011- it's still about entertainment, entertainment and entertainment. And whatever can be given

to them within this haloed framework-fresh stories, superb music, a message, big stars, promising talent, multiple genres and sensibilities-in short, the works.


So let us have a reality check on the films that released in 2016 (and a few set for an immediate release) and see the lessons each has taught us, come blockbuster, disaster or everything in-

between.


Wazir taught us that it has always been possible to fool some of the people all the time. A miniscule quantum of viewers were bowled over by the 'suspense', without realizing that the

story (complete with some 'visible' elements from last year's disaster Roy) was not only unconvincing but completely absurd.


For starters, how did Amitabh Bachchan know that Farhan Akhtar would visit (and when he would, if so!) his child's grave in pouring rain, almost shoot himself and then see a wallet in the darkness

that Bachchan purposely dropped to get Farhan to visit him?


Chalk'n'Duster taught us what Subhash Ghai said at his peak, "Ideas do not make films. Scripts do!" An important message, for the umpteenth time, was lost here because of a silly

script that wasted senior artistes of calibre.


Jugni and Chauranga taught us that the hyping of wrong elements (like individual songs being sung by A.R. Rahman and Vishal Bhardwaj in the first film, or all the

accolades from Film Festivals on the posters of the second) could not make for success in small films when it never worked in bigger ones. Small films worked only on intrinsic merit.





Airlift was the ultimate proof that stories of substance, if well-scripted and made, were sure-fire passports to great success. It taught us the importance of good music that was

eminently suitable for the subject and indirectly that even superstars needed the power of great songs to attract the audience. And that the audience understood that subjects like these had to be

crisp and concise, minus masala frills. It showed that single composers worked better than multiple ones, and it proved beyond doubt that honest marketing was vital as well.


Kyaa Kool Hain Hum 3 and Mastizaade taught us that no genre worked as a genre, especially when there was no novelty left in it, like with this adult comedy genre after

Grand Masti. PJs and ancient jokes did not make for scripts, and nor was the audience so sexually deprived that they would lust after such movies with their badly-etched characters and

scripts. Yes, the latter film just about recovered costs, and for that, the producers should thank Sunny Leone's draw!


Saala Khadoos taught us that a brand like Rajkumar Hirani was not enough to make audiences accept a film, or even want to watch it. Star-less films, as we all know, need a permanent

star called great music, come Rattan in 1944 or Aashiqui 2 in 2013! With no face-value, the absence of even a single good song killed all desire to watch the film. The wannabe

Hirani-like feel imparted by the director, an unattractive and misplaced title and the consequent mixed reviews together became the last straw that broke the Khadoos' back.


Sanam Teri Kasam, however, proved the reverse dictum-that music alone never made any film, if there was no other identifiable or relatable factor. There was lack of face-value here as

well.





Ghayal Once Again taught us that with some passion and effort, actors could reinvent the kind of movies they did, especially since, as in this case, the hero was also the director.

Sunny Deol was a surprise factor here more as director than an actor sans the screaming 'dialoguebaazi'. The reason why the film did not do still better were evident: no female star with a draw of

her own, GenY's rigid bias against Deol (based on his track-record from 2006) and the disappointment of a few rabid Deol-ites regarding the lack of wild fury. The lack of competition, touted as the

main reason for its success, was but a small add-on factor, otherwise so many flops would have done well down the ages!


Sanam Re taught us that smart marketing and well-promoted popular music could help a film garner a good opening vis-a-vis its face-value, a lesson that Saala Khadoos should

have learnt to help its far superior story. But Monday on, merit will decide what happens.


Fitoor taught us that overconfidence could kill any film, as happened with so many movies in the past. And that overconfidence went beyond the below-par marketing- to the dominance of

form over content. When that could happen with the biggest stars and hit songs (Jaan-E-Mann and Guzaarish to mention just two films), what price this one?


Finally, titles also are a key part of success or failure. What could possibly be attractive about Chalk'N'Duster or Saala Khadoos?


And then we have so much confusion in the small films: Sanam Teri Kasam and Sanam Re... released a week apart, Ishq Forever and Direct Ishq (both star-less movies) are

coming on the same day, Loveshhuda and Love Shagun are spaced a week from each other! And how on earth and Uttar Pradesh does the title Aligarh relate to homosexuality? Why not

have titles that show what a film is about? Or, if not, at least look attractive on their own?
BOLLYWOOD NEWS
Catch us for latest Bollywood News, New Bollywood Movies update, Box office collection, New Movies Release , Bollywood News Hindi, Entertainment News, Bollywood News Today & upcoming movies 2020 and stay updated with latest hindi movies only on Bollywood Hungama.