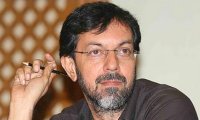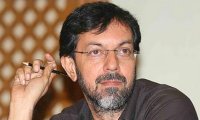 He is an actor par excellence, known for his splendid performances in films like Dil Chahta Hai, Monsoon Wedding, Corporate and
Bheja Fry but Rajat Kapoor's first love has always been direction. After directing offbeat films like Raghu Romeo, Mixed Doubles and
Mithiya, the extremely talented actor-director is back with his next directorial venture Fatso, a light hearted comic love story with a
twist.
Before I start with my interview, Rajat Kapoor makes two things very clear, one that I should refer to him as Rajat and not Sir or Rajatji and the other that I
don't ask him the regular question-'What is Fatso is all about?', as the best way to know that is to go an watch the film.
Rajat Kapoor in this candid interview speaks to Bollywood Hungama's Divya Rajani about his film most commercial film Fatso, working with his
friends, his upcoming projects and why one shouldn't use cell phones.
How did you come up with the concept of Fatso?
That is always a tough question. I don't really remember. Some things I remember like Mixed Doubles I remember exactly when I wrote it, I was in a
café at a railway station in Zurich in Geneva and all night I stayed up and I wrote the film. For Raghu Romeo I have no idea how and when I got the idea
and for Fatso also I have no idea how it all started. But once the idea comes then you start elaborating and building characters then some of the
characters take their own story forward. The idea of Fatso as such is not very novel. It is not very new that somebody dies and then comes back in
another body. It has been done before. For example, in theatre it is Girish Karnad's play Hayavadana, which I had done many years back. So maybe the idea
stayed from there. I feel that ideas keep floating, there is nothing new to say but it is just how you say it that becomes new.
Why the name change from A Rectangular Love Story to Fatso?
We called it A Rectangular Love Story because that is what the film is about as opposed to a triangular love story, of which we have seen many films.
But the producers felt that it is too English a title and Fatso might be catchier.
How did choose the cast for this film?
Actually, I didn't have such a tough time casting. Ranvir Shorey was a given, I have worked with him in Mixed Doubles and Mithiya, I know what
a wonderful actor he is and he is a very good friend of mine. The only problem was that he had to put on weight and he had to work very hard towards that. I
wasn't sure that he could put on so much weight. Purab Kohli is somebody that I have known for many years and I have always wanted to work with him. Every
time I would meet him I would say 'One day Purab I will cast you in my film.' For the role of Navin I knew that Purab was perfect as he is very good looking and
charming and has this certain sincerity and is very earnest, he just fit the bill perfectly. I wasn't 100% sure on casting Gul but I had an idea that she could be it
but after we did a make up test with her I was sure about her. For the other two roles of Yash and Tanuja, we really had to look out. We auditioned about
hundred actors for each role and finally we found Neil Bhoopalam and Gunjan Bakshi. Then there is also Brijendra Kala in the film, who is one of my favourite
actors.

How did Ranvir Shorey gain weight for the film?
By eating and not exercising. He was very happy doing that. He said that his day would start with a glass of beer first thing in the morning and then he would
start eating rice and potatoes and then ice cream after that and repeat that every hour.
Why didn't you cast your friend Vinay Pathak instead of Ranvir, he is already on the heavier side?
In fact at that time he was not fat, he had lost lots of weight and I couldn't ask him to put on more weight. Also I thought of this as a very young love story so
everybody had to be in their late 20's or look like they are in their late 20's.
Fatso has been ready since a while now, so why the delay in release?
I don't really know why the delay. These things are not in my hands. My job was to make the film and deliver. You hope that the moment the film is ready it will
be out because that is what you want. But apparently in the real world is not like that. The real world is full of market forces and viability and all these words
that one doesn't really understand. So I think the timing was not right in the last two years and they had to wait for the right time to release the film and they
feel now it is the right time. But I am just very happy that the film is coming out. To me nothing else matters. If the film does well it is ok and even if the film
doesn't do well it is ok as long as it releases.
Director Anurag Kashyap has also expressed his excitement regarding the release of Fatso.
Well Anurag is a friend. Kalki saw the film in Amsterdam at a screening and she liked it very much. Maybe Anurag heard about the film from her. Also, we are
all champions of underprivileged filmmakers and we all encourage each others victories.
Your name is associated with intelligent cinema, does that put any pressure on you as a director?
Not at all. My criterion of making a film is not that I deliver to people's expectations. I am not delivering to anybody's expectations except mine. When you
make a film to try and please somebody else then you are heading for a pitfall. That's a terrible way of making films. You have to first think- Will I like the film?
Does it excite me? Does the unfolding interest me? That is my only criteria to know whether it is working or not working as I can't preempt what some one will
like, nobody can do that. So if you make a film that you believe in, if you make a film that fits your criteria of entertainment or humour, then I think there are
enough like minded people who will respond to it. I am not saying that I don't give a shit for the audience, I am not saying that at all. But I am saying that to
reach the audience honestly you must be honest with what you are making.
Which is your next directorial venture?
It is a film called Ankhon Dekhi, we just finished shooting it in Delhi and I am very excited about this film. It is the first time that I have shot a film
outside Mumbai. Delhi is where I grew up in a very middle class family. This is exactly where we shot it, in a small house in Chandni Chowk. The film is really
mad and funny. Sanjay Mishra is the lead actor and Seema Bhargava plays his wife. Even I am acting in that film and it will release next year.
On the acting front, which are your upcoming releases?
There are two-three projects. One is called I Am 24, in which I play a guy who lies to everyone that his age is 24. Then there is this really nice film called
10ML Love which is a comedy based on Shakespeare's 'A Midsummer's Night Dream' made by first time filmmaker Sharat Katariya. The film stars
Purab Kohli, Neil Bhoopalam, Koel Puri and Tisca Copra plays my wife in the film. I am also there in Deepa Mehta's Midnights Children, which should
come out in September. I play Aadam Aziz in the film.
Some critics called your role in Agent Vinod a blink and miss role. What would you like to say about that?
It was a blink and miss role if you take a long blink. But I did the film because Sriram Raghavan is a good friend. He asked me to do it so I did it.
Why is it that you work with the same set of people like Vinay Pathak, Ranvir Shorey, Neha Dhupia and Saurabh Shukla, all the time?
As I told you my next film is with Sanjay Mishra and Seema Bhargava. In Fatso, I am working with Purab and Gul for the first time. I have made just one
film with Neha and that is Mithiya. Saurabh Shukla has made many films with Neha and me and that is his problem. In Raghu Romeo there was
Sadiya Siddiqui and Maria Goretti, in Mixed Doubles there was Konkona Sen Sharma and Koel Puri, in Fatso there is Gul.
Do you still don't own a cell phone?
That's true.
Then how do you communicate?
It is very easy actually. Cell phones are devices for people who want to have affairs and to send dirty SMS's to each other. If you don't need it for that you just
don't need it.