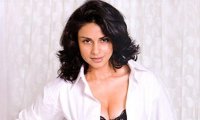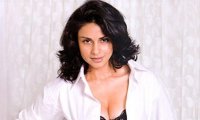 She is the perfect example of beauty with brains. After winning the coveted Miss India Universe title, Gul Panag ventured into Bollywood with Dhoop (2003). Know to be very selective about her films, she impressed one and all with her performances in films like Dor, Manorama Six Feet Under and Turning 30. Gul now returns to big screen after a year with Rajat Kapoor's 'rectangular' love story Fatso, which released yesterday.


Bollywood Hungama's Divya Rajani had a one-on-one with Gul Panag on her upcoming film Fatso starring Ranvir Shorey, Purab Kohli and Neil Bhoopalam, her interests and much more.


Gul, you have been very selective about the films you do. On what basis do you choose a film?

I am very choosy about my films because only a certain kind of film attracts me. And they are quite far and few in between. So, I'd rather do what I like to do rather than do what I don't like to do. I choose my films on the basis of the story, the director, and the concept of the film.


What's Fatso all about?

Fatso is the story of five friends one of who is very fat (played by Ranvir Shorey). It is about their friendship and love and the twist that comes in their lives one fine day.


What is your role in the film?

I play the central character of this girl called Nandini, who is the object of affection of the three boys played by Purab Kohli, Ranvir Shorey and Neil Bhoopalam. She loves Purab and also loves the other two as friends but she finds her self getting drawn to each guy one by one.


This is your second film with Purab Kohli, how the shooting experience this time?

This is actually my first film with Purab Kohli, Turning 30 was my second film with him but it is just that this film took a little longer to release. Shooting with Purab was really great. He made it all very easy for me.


You have a few kissing scenes with Purab in this film too?

Few? I think we are kissing all the time in the film. I don't think I have kissed so much in any other film as much as I have in Fatso. I have had a couple of kisses in most of my films. I have kissed Sharman, Siddharth, Abhay and Vinay in my previous films as it is something very natural. But in Fatso Purab's character and my character are a couple that is very much into PDA's. They are constantly kissing. It is like jab bhi mauka mila… they kiss. Normally in any Hindi film when they show a couple kissing it is like an event but for them it is like the most natural thing to do. I know a lot of couples like them; even I used to be like that when I was around 25 years!


This is the first time you are working with Ranvir Shorey. How was it working with him?

I have met Ranvir and Purab socially before this but this was an opportunity to spend more time with them. We were working together for 14 hours a day on an average. Ranvir is extremely talented and was somebody I was very interested in. I was very intrigued by him and wanted to get to know him better. When we started shooting, I used to wonder as to how to befriend him as I can't just go and sit next to him and say 'I want to be your friend'. But he has an incredible quality of making people very comfortable. He is a great at conversing and we both speak excellent Punjabi. I think on the first day itself he started talking to me in Punjabi and then there would be two parallel conversations one that Ranvir and I would have in Punjabi and the other with everybody else. In fact, for one scene there wasn't any clear cut dialogue. So, Rajat asked us to just add a little bit and Ranvir and I were talking in Punjabi about the situation in the scene and Rajat called action and we continued speaking in Punjabi and Rajat was like what are you guys doing and we were like 'Oh! We are so sorry'.


This is also the first time you are working with Neil Bhoopalam.

Neil was a complete surprise. I wasn't familiar with his work. He is tremendously gifted as an actor. He is one person now and the moment the director says action he transforms into this completely different person. I was like wow how does he do that.


This is Rajat Kapoor's fourth film as a director. How was he to work with?

I always wanted to work with Rajat ever since I first saw him as he just seemed as somebody who would be so wonderful to work with. I hadn't seen any of his directorial ventures till then. When he offered me this film I was like 'Arre mujhe romantic film nahi karni' because I am not a fan of romance as a genre. I revolt against that type of cinema. I feel that there is so much more going on in life and we keep making these same old boy meets girl films. I mean there is an age for it and also a phase for it. But when I heard the script, I was blown away by the subject and immediately agreed to do the film. I like Rajat as an actor; I like him as a human being and as a director as well.


Isn't it heart breaking to see your film struggle to get released in theatres?

I believe that you cannot be attached to the fruit of your labour. All you can do is doing your work to the best of your ability. My focus is on what I can do…I can do a good job of acting in the film other than that I can't do anything else.


Which are your upcoming projects?

I am doing the sequel to Ab Tak Chappan and one untitled film that I can't talk about right now. I have just finished work on it. It is set in Chandigarh and I have also helped creatively mount the film.


You were one of the first celebs to join twitter and have been tweeting regularly ever since. How do you feel has it helped you?

I like twitter. It is a great medium but it is also a very discerning medium as people can tell who you really are very quickly. It is really good if you have something very interesting to offer. There are people who have had good auras around them and they have come on twitter and have destroyed those auras by being who they are. And there are others like me, I was like this non existent human being on the fringes of Bollywood doing alternative work but twitter has given me a dimension that I didn't have earlier.


It has been a year since you got married. How did you celebrate your first anniversary?

I was working that day; I was hosting the Gadget Guru Awards in Delhi, of which, I was on the jury as well. Later that night I went to my in laws' home in Delhi and my husband and I cut a cake and I ate most of it!


What are your interests apart from acting?

I like traveling, flying, paragliding, rock climbing, reading, riding bikes and training my dogs.


Favorite Five:


Favorite Actor: Nana Patekar


Favorite Designer: Anita Dongre because she makes classic silhouettes for real women. When in doubt, always wear Anita Dongre.


Favourite Co-star: That's difficult, but I am very fond of Ranvir, Vinay, Purab and Sharman.


Favourite Movie: Hindi- Jaane Bhi Do Yaro, English- Snatch.


Favourite Book: Norwegian Wood by Haruki Murakami. Haruki Murakami was an author who was introduced to me by Abhay Deol.