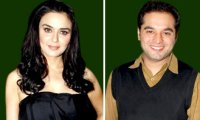 Even as Zindagi Na Milegi Dobara is a huge commercial success and has seen appreciation coming from most quarters, it was criticised by many for its unabashed promotion of Spain. However, despite the title of Preity Zinta's comeback outing being Ishkq in Paris, the makers have no such plans to make the 'city of love' as the centre-stage and make the film look like a promotional vehicle of Paris.


"Preity as well as her co-producer and director Prem (Soni) are sure that they won't be getting carried away by the artistic beauty of Paris. Both of them want to impress their audience with the story they want to tell more than anything else. After all Preity would be seen in a mainstream film four years after Jhoom Barabar Jhoom while Prem too wants to wipe away the disappointment of Main Aurr Mrs. Khanna", says their close associate.


So even as Paris forms the backdrop of the film, the makers claim that they have chosen this city since the locations and ambience of the city suits their script. However their sole agenda won't be to fill the screen with beautiful locales and in the process ignore the storyline.


"To think of it, Ishkq In Paris could have been set anywhere, be it Spain, France, Italy or Australia. Paris is just one of the many choices available to them and they chose it because Preity is in love with the city and wanted her first production to kick-start from there. Prem too was on board though he wouldn't have minded Spain either since he has lived in the city for 17 long years", a source adds.


No wonder, Prem comes in defence of excessive Spanish tourism friendly scenes in Zindagi Na Milegi Dobara.


"Personally I loved Zindagi Na Milegi Dobara. It was a beautiful film and due to my upbringing there, I could connect to it. As a filmmaker, I don't think it was promoting Spain. Having said that I am not comparing my film with theirs. Preity as well as I are sure of presenting Paris in a way that it is essential for Ishkq In Paris instead of making it seem just like a tourist spot", says Prem.


On an alternate note, he does share a line of reasoning though. "Eventually a film should work with the audience as a whole. I will not shy away from adding a locale if it enhances my scenes. As for tourism, hasn't Switzerland tourism benefited so much due to Bollywood? Today it is Spain, tomorrow it may well be Paris and day after something else. Why should be get so hung up about such matters?"