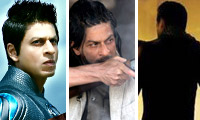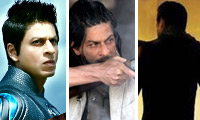 In coming months, Shah Rukh Khan, Saif Ali Khan and Salman Khan would be ready with their VFX laden action thrillers. Whether it is Ra.One or Don 2, Agent Vinod or Ek Tha Tiger - each of
them has been mounted on a huge scale. However, a film with a largely newcomer cast, Aazaan, is aiming at throwing a huge surprise by releasing much
before these three films and claiming to set up a huge challenge.


"While each of the aforementioned biggies has been in news much before it even went on floors, Aazaan quietly went about it's shooting that lasted for
close to a year. Other than the fact that it too belongs to the similar genre, that of an action thriller, Aazaan has quite a few other common
elements too. Just like Agent Vinod and Ek Tha Tiger, it too has a spy and espionage angle to it. Also, it is abound with special effects, as
is the case with Ra.One. The thrills are on the same level as Don 2", says a filmmaker who is a specialist when it comes to making slick
thrillers and has managed to catch a sneak peak of the film.


Starring newcomer Sachiin Joshi, the film has been mounted on a huge scale and boasts of multi crore budget.


"So much has been said and written about how shooting of Shah Rukh, Saif and Salman starrers have been taken to different parts of the world. Do you know
that Aazaan could pretty much be holding a record when it comes to shooting abroad? The film which deals with biological warfare, a subject hitherto
unexplored in Bollywood, has been spread across France, Morocco, China, Germany, Poland, South Africa and Thailand to name a few. It is huge by all means", a
source from the production unit adds.


Despite the fact that the film certainly looks bigger than many other Bollywood flicks that mark the launch of a newcomer, it can't be denied that with the
kind of star power that Shah Rukh, Salman or a Saif boast of, scale of a film of theirs elevates in a big way on its own.


"No one is competing with the Khans or their films here", says Sachiin, "They are huge stars and we are just starting off. But then we haven't spared any
expenses on investing in the script and making our film a visual treat. We have gone to places where no one has shot before. We have a lot to offer before
other biggies with Khans arrive. Who knows, our film could well turn out to be an unsuspecting benchmark for many to follow?"


Well, we hope the confidence is indeed well placed.