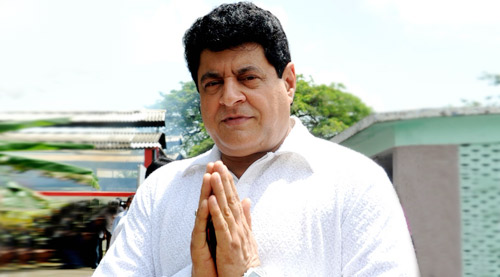 Gajendra Chauhan tells Subhash K Jha why he deserves a chance to prove himself as the FTII chairperson.


The clamour for your removal grows by the day. What is your stand on the situation?

It is almost as if all the self-appointed intellectuals of the country have nothing better to do than to prove how incapable I am of doing the job that the Indian government has given me to do. I
am currently the softest target in the media. Anyone can come and take a potshot at me. Sab log apna kaam chhod kar Gajendra Chauhan ko attack kar rahen hai. I am trending as one of the top targets
in the world. Can you believe it?


The protesters say you are not qualified for the job?

Let the government say that. I won't quit until asked to step down by the government. That's my final decision. I'd be happy to step down. The Indian government, in all its wisdom, appointed me for
the job because it found me to be qualified. I didn't ask for the job. Now that it has been given to me, I'll carry out my responsibility to the best of my abilities.


What about the ones opposing your appointment?

I am not new to dissent. When I came into the film industry people said I won't get any work. By God's grace I've been in the entertainment industry for 35 years, I've done 800-900 serials and four
of my serials are currently on air. And a number of my films are on the floors. All this I achieved without the help of any godfather.


Are you feeling pressurized and victimized?

I've to admit, yes. Sab koi toot pade hain mujh par. Lekin yeh faisla (of being the FTII chairperson) is not mine. I think I was chosen for my capability and availability. With due respects to the
people who held the post earlier, I feel I've more time to give to this job than them. And I feel those names that are said to have been superseded in my favour (Gulzar, Anupam Kher, Shyam Benegal,
Adoor Gopalkrishnan) are way too eminent and busy to devote ample time to the FTII. The job needs a person who can take up the challenges that face the FTII.


What are these challenges?

There is a whole lot of work pending at the FTII which I shall get down to doing, as soon as I am allowed to. No 'society' had been formed for a whole year. The audit report has not been tabled in
parliament last year. The housing and administrative wings have to be set in order. And can you believe this, retired personnel of the FTII have not received their pension for as far back as 1973
and 1982?!


You are ready to tackle these problems at the FTII?

Yes. But people are not allowing me. They are stuck on my past credentials. They are making issues of my presence in films like Khuli Khidki and Jungle Love. Yes, I've done these
films and I don't disown them. But there is a difference between what I do on screen and what I am in real life. And besides, these are films that were passed by the censor board and were watched
by the Indian audiences. And there were so many talented actors and technicians in these films. Khuli Khidki starred Amjad Khan Saab with me. Why would he have associated with a bad film?
And Jungle Love?

I had done another film Dancer with the same producer B Laxman. Dancer flopped. So he wanted to make another small film with me in the lead. Jungle Love was a Tarzan film with
good music. It was a hit. I am not ashamed of it. These are not sleazy films released on the sly. They were screened in the biggest of theatres. I've received terrific reviews for films like Vipin
Handa's Uff Yeh Mohabbat which introduced Twinkle Khanna, Raj Kumar Santoshi's Barsaat which introduced Bobby Deol and Suneel Darshan's Andaz. I built my movie and television
career on my own without a godfather. I was a lead actor in Rajasthani films for many years. Sadly no one is today talking about the good work that I've done outside cinema.


Like what?

For six years I was part of theatre group named Yatri. For nineteen years I was part of Hemaji's dance troupe. I did a very well received serial Ajnabee with Danny Denzongpa. It was on air
for four years. I did another serial Aparajita on Dooradarshan which was on air for five years. When I talk about these achievements the media ignores it and reverts to bashing me for
Khuli Khidki. Koi sun-na nahin chahta. Arnab Goswami claims to speak only about facts and figures. But he kept ridiculing me for a handful of my films when I've done nearly 150 films. I've
been a member of the Cine Artistes Association for 22 years. Besides this I am also a graduate from Meerut University and I specialize in CT scanning.


What is your plan of action now?

To go there (FTII) and do the work that I've been chosen for. If I fail I am willing to step down. I am a very honest man. My father used to say, 'If someone does wrong and lies I'll murder him.
But if he tells the truth I'll do everything in my power to protect him.' I give honesty priority over everything. When I was interviewed for the chairpersonship of the FTII I was quizzed about my
experience in cinema and on television. Sadly no one is talking about television at the FTII. Everyone is obsessed only with cinema.


Anupam Kher has asked you to keep quiet because you don't know about world cinema?

He is right. When I came to the film industry the acting course at the FTII had been discontinued. Or else, I'd have learnt acting from the FTII. Instead I was trained by Roshan Taneja Saab. I've
also learnt film editing from Mahendra Batra one of the best editors at the FTII. So you see. I do know about filmmaking although I may not be familiar with Woody Allen and Akira Kurosawa. But when
I'm told I am not qualified to head the FTII because I don't know about cinema it hurts. I am not the kind of person who would take on a job without being knowledgeable. There are so many
parliamentarians who don't even attend parliament. No one points an accusing finger at them. Pataa nahin Gajendra Chauhan itna sab ko kyon nazar aane laga.


Aap bataayen?

I feel I am being brutally attacked. But I feel the target is not me, it's someone else. Kahin pe nigaahen pe kahin pe nishana. In every debate on television they assure me, 'Nothing personal
against you.' Then they go on to make the most insulting personal remarks. It seems the country has nothing better to do than attack me. Please let me do my job. If I fail, I'll quit. You have my
word for it. The other day a news channel tried to provoke me by saying Anupam Kher and Rishi Kapoor were going to speak against me. I asked, 'Are they authorized to appoint me?' The channel
twisted my words to say, 'Who are they to talk about me?' My relations are being spoilt. But I am not perturbed. I will do what I have been asked to do.
BOLLYWOOD NEWS
Catch us for latest Bollywood News, New Bollywood Movies update, Box office collection, New Movies Release , Bollywood News Hindi, Entertainment News, Bollywood News Today & upcoming movies 2020 and stay updated with latest hindi movies only on Bollywood Hungama.