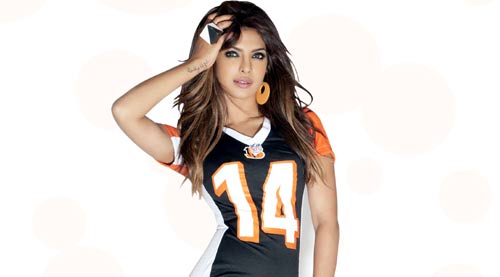 'The woman who follows the crowd will usually go no further than the crowd. The woman who walks alone is likely to find herself in places no one has ever been before' - Albert Einstein


Dear Priyanka,


I believe what Albert Einstein said goes perfectly well with the way you've chosen to carve your path. When you launched your first single 'In My City' at Mumbai's J W Marriott Hotel, I had interviewed you. Before the interview started, your father Dr Ashok Chopra gently walked in. He was unwell then. You watched him walk slowly and we didn't start the interview till he sat down. I told you that your father must be very proud since you've made a mark on the international stage and you smiled.


I would like to make a few points why we all feel that you must stay back in Hollywood. It is widely known that you were the second most searched celebrity after Leonardo Di Caprio on Google India after the Oscar Awards ceremony held on February 29. Your attire both for the Oscar awards as well as the after party was widely lauded. Hollywood was completely charmed with the grace and poise with which you carried yourself. The latest promo of 'Quantico' was aired during the Oscars and the massive popularity of Alex Parrish continues to be the talking point. You've started the shooting for 'Baywatch' opposite Dwayne Johnson. There are reports from reliable sources that you're in talks for more Hollywood projects opposite big names. Irrfan Khan is the only Indian actor in Hollywood in the recent times who has made a mark. But what you've managed to do with 'Quantico' ensures that you've made a big impact on the mainstream in the USA.


Now, let's look at your successful Bollywood stint. You've acted opposite the biggest stars. You've been part of some of the biggest hits, won a national award and earned critical acclaim for several noteworthy performances. You were appreciated for your last few performances in Dil Dhadakne Do, Bajirao Mastani and the just released Jai Gangaajal. You've won several best actress in supporting role for Bajirao Mastani. You are very good in Jai Gangaajal but I felt the movie was more of a launch pad for Prakash Jha as an actor than capitalising upon your enormous talent.


The moment an actress crosses thirty, media (many of them, not all) starts hammering them with the 'when are you getting married' salvos. I think you won't be asked this question in Hollywood. History has shown that actresses in Hollywood as they get into their thirties, start getting the best roles of their career. There are many examples where Hollywood actresses even in the late thirties are offered ultra glamorous roles. You are merely 33. Meryl Streep regularly gets nominated in best actress category and has emerged a winner too. In Bollywood, Shefali Shah will never get nominated in best actress category for her marvelous performance in Dil Dhadakne Do. You've won multiple awards in India. I am confident that you can earn a nomination as well as win an Oscar in a few years time. I'm not a blind follower of Oscar Awards. I understand they have their legitimate share of critics but still Oscars are any day way better off than any award show in India.


In many ways you've become the epitome of a strong courageous woman who has broken the shackles of the male dominated Bollywood and landed yourself on the global arena. You've spoken about pay hike for women actors and actively stood up for feminism in a dignified manner. No you've never joined the bra burning bandwagon but you've given a lot of hope to millions of young Indian girls who consider you as their idol. Now Deepika Padukone has also followed your path and is working on her first Hollywood film. Nimrat Kaur has signed a film with Manoj Night Shyamalan. I am sure there will be more actresses who'd follow suit. You've showed the way to women while the big Bollywood male stars have still not made an attempt to go global.


Priyanka, on International Women's Day, we at Bollywood Hungama on behalf of the entire India salute you and I would like to tell you- Stay Back in Hollywood to continue to inspire millions of Indians as we look upon you as our ray of hope. And yes don't forget Bollywood though!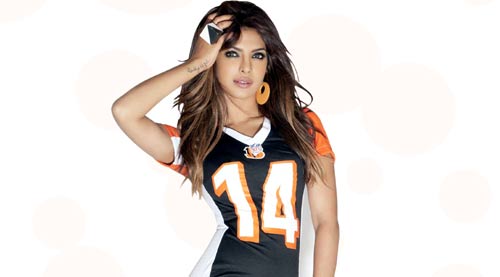 'The woman who follows the crowd will usually go no further than the crowd. The woman who walks alone is likely to find herself in places no one has ever been before' - Albert Einstein


Dear Priyanka,


I believe what Albert Einstein said goes perfectly well with the way you've chosen to carve your path. When you launched your first single 'In My City' at Mumbai's J W Marriott Hotel, I had interviewed you. Before the interview started, your father Dr Ashok Chopra gently walked in. He was unwell then. You watched him walk slowly and we didn't start the interview till he sat down. I told you that your father must be very proud since you've made a mark on the international stage and you smiled.


I would like to make a few points why we all feel that you must stay back in Hollywood. It is widely known that you were the second most searched celebrity after Leonardo Di Caprio on Google India after the Oscar Awards ceremony held on February 29. Your attire both for the Oscar awards as well as the after party was widely lauded. Hollywood was completely charmed with the grace and poise with which you carried yourself. The latest promo of 'Quantico' was aired during the Oscars and the massive popularity of Alex Parrish continues to be the talking point. You've started the shooting for 'Baywatch' opposite Dwayne Johnson. There are reports from reliable sources that you're in talks for more Hollywood projects opposite big names. Irrfan Khan is the only Indian actor in Hollywood in the recent times who has made a mark. But what you've managed to do with 'Quantico' ensures that you've made a big impact on the mainstream in the USA.


Now, let's look at your successful Bollywood stint. You've acted opposite the biggest stars. You've been part of some of the biggest hits, won a national award and earned critical acclaim for several noteworthy performances. You were appreciated for your last few performances in Dil Dhadakne Do, Bajirao Mastani and the just released Jai Gangaajal. You've won several best actress in supporting role for Bajirao Mastani. You are very good in Jai Gangaajal but I felt the movie was more of a launch pad for Prakash Jha as an actor than capitalising upon your enormous talent.


The moment an actress crosses thirty, media (many of them, not all) starts hammering them with the 'when are you getting married' salvos. I think you won't be asked this question in Hollywood. History has shown that actresses in Hollywood as they get into their thirties, start getting the best roles of their career. There are many examples where Hollywood actresses even in the late thirties are offered ultra glamorous roles. You are merely 33. Meryl Streep regularly gets nominated in best actress category and has emerged a winner too. In Bollywood, Shefali Shah will never get nominated in best actress category for her marvelous performance in Dil Dhadakne Do. You've won multiple awards in India. I am confident that you can earn a nomination as well as win an Oscar in a few years time. I'm not a blind follower of Oscar Awards. I understand they have their legitimate share of critics but still Oscars are any day way better off than any award show in India.


In many ways you've become the epitome of a strong courageous woman who has broken the shackles of the male dominated Bollywood and landed yourself on the global arena. You've spoken about pay hike for women actors and actively stood up for feminism in a dignified manner. No you've never joined the bra burning bandwagon but you've given a lot of hope to millions of young Indian girls who consider you as their idol. Now Deepika Padukone has also followed your path and is working on her first Hollywood film. Nimrat Kaur has signed a film with Manoj Night Shyamalan. I am sure there will be more actresses who'd follow suit. You've showed the way to women while the big Bollywood male stars have still not made an attempt to go global.


Priyanka, on International Women's Day, we at Bollywood Hungama on behalf of the entire India salute you and I would like to tell you- Stay Back in Hollywood to continue to inspire millions of Indians as we look upon you as our ray of hope. And yes don't forget Bollywood though!



Best Regards

Faridoon