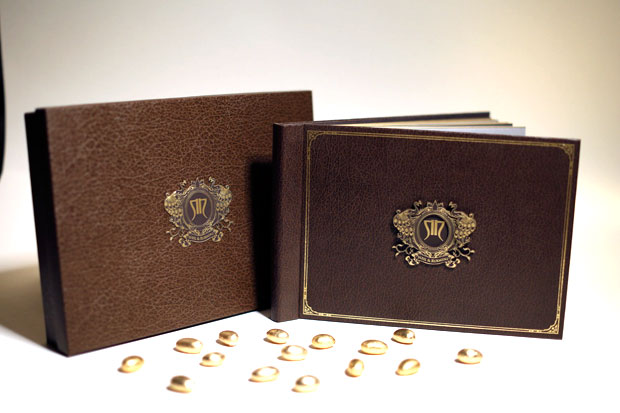 >
Towards the end of 2016, in October to be precise, Neil Nitin Mukesh and Rukmini Sahay's roka was a much talked about affair. Well now we hear that the couple is gearing for their wedding festivities that will be held in Udaipur between February 7 and February 9.
While the wedding itself will be a rather close family affair with close to 500 guests. The functions will kick start on February 7 with the engagement, followed by mehendi and sangeet a day later. The haldi, chuda and nuptial ceremony will take place on February 9. There will be a dinner and cocktail party after the wedding. The reception, to be held on February 17 at a Mumbai five star that will see the who's who of Bollywood in attendance.
But days ahead of the wedding, we've laid our hands upon the regal wedding invite that Neil and Rukimini have sent to their close family and friends. We must admit it exudes elegance and finesse. The concept is tastefully designed keeping in mind family lineage and heritage. Right from the 'NR' initials embossed on an emblem with two majestic peacocks facing one another which is surmounted on the box that carries the invite to the textured suede cushioning that holds the invite together inside the box; the Mukesh family ensured the invite becomes a lifetime memory for their guests.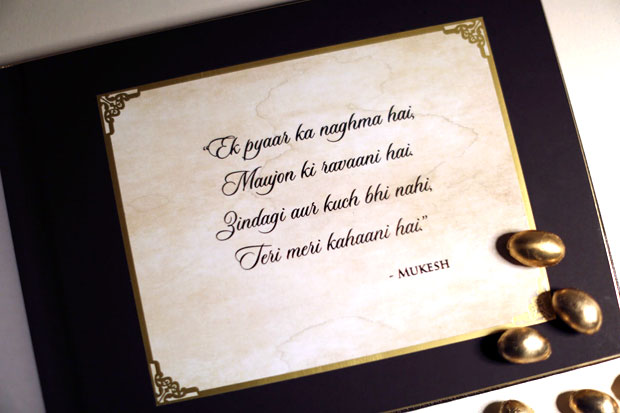 Speaking of the invite, it is curated like a coffee table book with every page speaking of a new chapter much like a 70's fairy-tale love story being narrated. In fact every function of the wedding is proclaimed by a foreword that comprises paraphrases from the evergreen songs by the erstwhile singer Mukesh. The invite opens up to beautiful lines from the film Shor which sets the tone for the forthcoming pages. The first function being the engagement has verses from Anand while Himalaya Ki Ghod Mein becomes the introduction for the mehendi and Chhalia for the sangeet. The fourth function feature a stanza from Jal Bin Machhli Nritya Bin announcing the wedding while iconic love song from Kabhi Kabhi becomes the icing on the cake for the reception.
That's not all to spread the feeling of cheer the invite has been sent out with a box of scrumptious chocolate-walnut brownies from Country Of Origin and an embossed semi-precious coin.
Commenting on the invite Neil Nitin Mukesh says, "We wanted the invite to be very personal and hence we decided to go with a compilation of memories. Everything starts and ends with Mukesh in our upbringing and the entire conceptualization for the invite came from my father and my mother. It is like a series of love ballads springing to life and I've already received so many calls from well-wishers telling me how much they have loved the thought behind the invite."