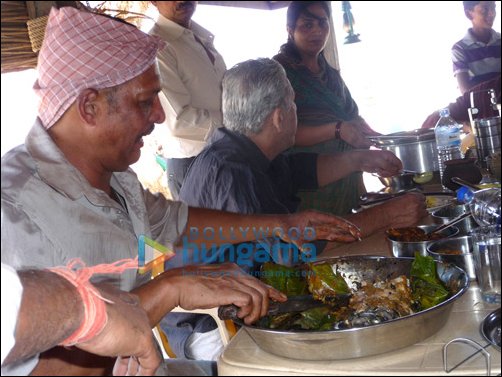 >
Nana Patekar has actually taken on the mantle of a superchef to see to it that the actors of Priyadarshan's comic
caper Malamaal Weekly 2 (produced by Percept Pictures) starring Paresh Rawal, Om Puri, Nana Patekar,
Rajpal Yadav, Shreyas Talpade, Asrani and Shakti Kapoor among others, have a taste of the traditional fish
dishes, straight out of his mother's recipe book.
Nana has learnt the traditional recipe of the mouth-watering dish, powered by his mother's traditional masala
(comprising of over 42 ingredients), which he used to cook the meal for the cast and crew on the sets.
What is interesting is that, contrary to Nana's jovial and easygoing personality, his character in Malamaal
Weekly 2 hardly speaks a word and uses his stone-faced expressions to walk off with the scene that generally
has actors of the ilk of Om Puri and Shreyas Talpade among others.
Says producer Shailendra Singh, "We wanted to look beyond the star culture, to look at a league of extraordinary
gentlemen, extraordinary actors, who would bring their own flavour and add value to the script and I think, we have
come up with the perfect cast."
Nana Patekar feels that it is Priyan's spirit that makes the vital difference. "Priyan and I had planned so many
films, but it feels so good when one film happens. More than anything else, I love to act and leave the rest to my
director. That is what happens with Priyan", enthuses Nana.