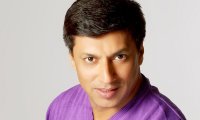 Madhur Bhandarkar has moved on to his next film. With his Dil Toh Bachcha Hai Ji keeping the Bollywood report card in green, Bhandarkar is attributing it all to some smart budgeting. While he does share some 'gyaan' on how to fool proof a film from failing at the box office, Bhandarkar also shares his thoughts with Joginder Tuteja about his next film, sequel to Dil Toh Bachcha Hai Ji and of course his most talked about film which didn't quite happen - Heroine.


2011 has been seeing mixed results at the box office with some big hyped films failing. Did that ever make you nervous about Dil Toh Bachcha Hai Ji?

I think the main thing one needs to figure out well is the budget. The USP of my films is budget and this is the reason why everyone has benefited out of that. This is something that I have kept in mind since Chandni Bar days and I haven't changed that for last 10 years.



The USP of my films is budget and this is the reason why everyone has benefited out of that

This pretty much goes in line with the statement - 'It's the budget that fails, not the film'. After all 2010 saw quite a few turkeys as well with some huge films failing.

Exactly. If you are making unusual cinema then actor and director have to control the price. The producer also has to look at the viability of a film and not just make a proposal. As I said, I always keep that in my mind. I am happy that I could make a film like Dil Toh Bachcha Hai Ji in a moderate budget. It was not a Rs. 35-40 crore film; it was made in Rs. 21-22 crore. I got good commercial success with it and I am happy with that. Fashion did Rs. 26 crores and Dil Toh Bachcha Hai Ji should cross Rs. 30 crores. I do feel though that Rs. 6-7 crores more would have been added to it had the Censors not given it an 'A' certificate.


While you are managing to make your films work due to budget why, do you think, the other filmmakers are not getting it right?

I can't say about others but my home work is very strong. I work hard on getting the paperwork right. I know what has to be shot and in how many days. I shot Dil Toh Bachcha Hai Ji in 64 days. Even for my other big film Fashion, I had given Ronnie (Screwvala) a budget and adhered to that; I never went over budget. Each of my films has made money; even Jail turned out to be a break even preposition despite not doing too well theatrically.



Even Jail turned out to be a break even preposition despite not doing too well theatrically

So what you would eventually bargain for? Commercial success or critical acclaim? At the end of the day money keeps the business going, right?
Commercial success definitely works. In any case, I have had mixed reviews and reactions with every film, whether it is Chandni Bar or Dil Toh Bachcha Hai Ji. 70% people may like my film, 30% may not. Some people say that Madhur makes only hardcore issue based cinema but then when I make a comedy, some ask me why I don't make hard hitting cinema (laughs).


That's quite a predicament…

True. I never proclaimed that Dil Toh Bachcha Hai Ji would change the language of comedy. I was always modest about it that it is about real characters and real people and would connect to contemporary audience.


So 'what next' is an obvious question here…

(Smiles) See, I make only one movie every year rather than making 3-4 films. I have to be in my comfort zone before kick starting work. I first want to get the script right rather than getting on the shoot and then write. I need time to think what I would be making next. I want to make all genres of cinema. My next could be anything - love story, thriller or a drama.



I want to make all genres of cinema

Aaah, so you are not willing to comment. Fair enough, then how about the sequel of Dil Toh Bachcha Hai Ji. Is that happening?

No, it's not happening right now. If it all it would be made, there would be two other films of mine that would come before. I know that it had an open ending and people want to see what happened to Ajay, Emraan and Omi.


Well, people also want to see Kareena working with you in Heroine.

Heroine has been shelved. It seems like meri aur Kareena ki working 'kundli' match nahi kha rahi hai (laughs). But yes, Kareena and I have a mutual liking for each other's work. If I have a good subject and idea, we will definitely work together.
BOLLYWOOD NEWS
Catch us for latest Bollywood News, New Bollywood Movies update, Box office collection, New Movies Release , Bollywood News Hindi, Entertainment News, Bollywood News Today & upcoming movies 2020 and stay updated with latest hindi movies only on Bollywood Hungama.