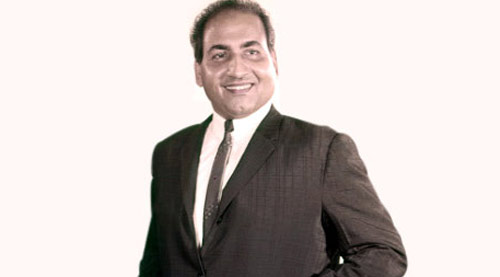 Mohammed Rafi was probably the only male playback giant who collaborated on so many songs

with his male colleagues-many generations of them! On his 35th death anniversary that falls on July 31, we look at his

personal and professional rapport with them all. For in those days, they were all professional rivals but personal

friends. And Rafi kept this kind of noble bond flying high with everyone!

We begin with the two giants with whom he sang the maximum duets and ensemble songs: Kishore Kumar and Manna Dey. From

'Duniya mein ameeron ko aaram nahin' in the 1949 Kaneez to 'Gaao senorita tum ye geet pyar ke' in

Nikamma, released three years after his death, Rafi and Kishore (incidentally a great fan and friend of Rafi's)

sang over 60 songs together, in those 'live' recording days, though two-thirds of these songs and most of their hits came

from the '70s, beginning that phase with 'Chal shuru ho jaa' in the 1970 Humjoli.

Among their best-remembered works are 'Chal kahin door' (with Lata in Doosara Aadmi), the title-song of

Yaadon Ki Baraat, 'Humko tumse ho gaya hai pyar' (with Lata and Mukesh) in Amar Akbar Anthony and the

title-song of Dostana. Rafi-Kishore also collaborated with Manna Dey in 'Band mutthi lakh ki' in Kishore's

own composition and film, Chalti Ka Naam Zindagi.

But even more interesting was the fact that Kishore permitted Rafi's voice to go on his lips as a hero in many a song,

willingly and enthusiastically! The three best-known songs are 'Ajab hai dastaan teri' (Shararat), the

strongly classical 'Man mora baanwra' from Ragini and 'Apni aadat hai sabko salaam karna' from

Pyar Diwana, released in 1972 when Kishore was said to have demoralized Rafi by replacing him at the top!

Move then to Manna Dey and we have that giant Phalke laureate telling this writer once, "Every singer was called to sing

his kind of song. Only Rafi and I were called for every kind of song! And take it from me; he was a better singer

than I was!"

Rafi and Manna were usually a part of ensemble songs with other male, female or a mix of singers, but the USP of these

compositions was generally that they were vocally challenging. In almost all the older lovelies among over 45 songs,

these twin towers of versatile male playback competed with each other, notably in the mesmerizingly classical 'Tu hai

mera prem devta' from Kalpana, the stunning 'Yeh ishq ishq hai' from Barsat Ki Raat, 'Tumhein husn

deke Khuda ne' (with Lata and Asha!) from Jabse Tumhe Dekha Hai featuring the Kapoor brothers Shammi and

Shashi and 'Main idhar jaaoon' from Palki. As we saw, this pair was a decisive pro at difficult

qawwalis, but they also excelled in the stirring 'Hoke majboor mujhe' (Haqeeqat) and 'Sarfaroshi

ki tamanna' (Shaheed) as well as fun numbers like 'Hum do deewane dil ke' from Johar Mehmood in

Goa.


Rafi was the

uncrowned czar of male playback for over two decades, and at his peak, Mukesh was his next-in-command. The 'Prince of

pathos' collaborated with him in only about a dozen songs, three of which were for bosom buddies Raj Kapoor and Rajendra

Kumar in the single film Do Jasoos, but the ones that have stayed the course are 'Saat ajoobe' (Dharam-

Veer), 'Yaaron surat pe hamari mat jaana' (Ujala) and the ensemble 'Ramaiya vastawwaiya'

(Shree 420), 'Humko tumse' (with Lata and Kishore in Amar Akbar Anthony) and the title-track of

Dil Ne Phir Yaad Kiya with Suman Kalyanpur.

Rafi was considered by many to have upstaged Talat Mahmood from his top perch with his arrival, but, the singers had a

cordial relationship all through. Among their half-a-dozen collaborations was the classic 'Gham ki andheri raat

mein' from Sushila. Rafi and Talat were also a part of 'Hoke majboor mujhe' (Haqeeqat, with

Manna Dey as mentioned and Bhupinder).

Mahendra Kapoor, on the other hand, was a self-confessed fan and student of Rafi, who had also adopted him as his guru.

Their voices had a similar tenor and the story goes that he got his major break with Yash Chopra in Dhool Ka

Phool, because the filmmaker mistook him for Rafi when he heard his song 'Chand chhupa aur taare doobe' from

Sohni Mahiwal. Nevertheless, they collaborated on a few songs, like 'Dhoom mache dhoom' from Kaala

Patthar and the ensemble qawwali 'Chandi ka badan' (with Asha Bhosle and Manna Dey) in Taj

Mahal.

Rafi, sadly, never got to share the microphone with Hemant Kumar, but the composer did employ his vocals well in some

films, and among their collaboration as singer and composer was 'Tera husn rahe mera ishq rahe' from Do

Dil. The crown was however held by Rafi's magnificent essay of 'Hum laaye hai toofan se' from Hemantda's

debut, Jagriti (1954).


On the other

hand, Rafi rendered almost five songs with Chitalkar, as composer C. Ramachandra (known to friends as Anna) billed

himself in singing. Interestingly, their first song together, the qawwali 'Jaan dena aashiqon ka kaam hai' was

again composed by Hemant Kumar, not Anna!

Among composer-singers, Rafi went on to sing with R.D. Burman as well ('Yamma yamma' from Shaan, which he

was initially reluctant to sing!) and 'Nothing is impossible' from Zakhmee with composer Bappi Lahiri

singing alongside Rafi and Kishore.

Bhupinder and Amit Kumar (Kishore's son), in a few songs ('Salaam kijiye' from Aandhi featured both),

Mukesh's son Nitin Mukesh in 'Chana zor garam' from Kranti-Rafi had more songs with each of them, and all

these singers revered him.

Shailendra Singh sang with Rafi more on Manmohan Desai's star-studded extravaganzas in a series of hits in Chacha

Bhatija, Suhaag and Naseeb, and the highlight was when Laxmikant-Pyarelal used Rafi for hero Vinod Khanna and

chose Shailendra for 'character artiste' Shammi Kapoor in the same song, 'Hum premee prem karna jaane' in

Parvarish!

Narendra Chanchal joined up for one of Rafi's last devotionals, the moving 'Toone mujhe bulaya Sherawaliye'

(Aasha), while earlier, Rafi and Aziz Nazan scored high in the Rajesh Roshan masterpiece 'Badi door se chalkar

aaye hain' in Jay-Vijay, though the popular qawwal had sung with him earlier in an ensemble number.

Yesudas was one artiste who truly regretted never singing a song with Rafi (though they both sang within the same films

Darinda, Dada and Saajan Bina Suhagan), because he was his principal idol and inspiration! The South titan

is known to sing his idol's hits like 'O duniya ke rakhwale' (Baiju Bawra) and 'Madhuban mein

Radhika' (Kohinoor) on stage as a tribute to him.

And while we must mention that Rafi got star-struck when he was summoned to sing 'Chal mere bhai' with Amitabh

Bachchan in Naseeb, youngster Udit Narayan, who considered Rafi as God, could not believe his luck when he began

his career with his role model joining him in his debut song, Rajesh Roshan's 'Mil gaya' in Unnees Bees!
BOLLYWOOD NEWS
Catch us for latest Bollywood News, New Bollywood Movies update, Box office collection, New Movies Release , Bollywood News Hindi, Entertainment News, Bollywood News Today & upcoming movies 2020 and stay updated with latest hindi movies only on Bollywood Hungama.