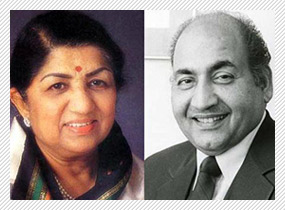 Never mind the media-hyped bad blood that has been created between Lata and Rafi's family a few days ago. Never mind also that whenever Lata Mangeshkar (who turns 83 today on September 28) and Mohammed Rafi sang separate versions of the same song (ungrammatically and mistakenly branded as 'tandems', which actually means singing together), it was invariably the Rafi version that connected or endured more.


Their 440 duets and multi-singer songs (this is the released albums figure, and at a guess there must be at least 50 more recorded but unreleased for reasons like the shelving of a film) are testimony that when both the undisputed Numero Unos in their respective fields came together, it was to add up to a musical ek aur ek gyarah.


For better or for version

And yes, there is little doubt that Lata's versions of songs as varied as 'Jiya O Jiya O Jiya Kuch Bol Do' (Jab Pyar Kisise Hota Hai), 'Aaj Kal Mein Dhal Gaya' (Beti Bete), 'Tum Mujhe Yoon Bhula Na Paaoge' (Pagla Kahin Ka) and 'Gar Tum Bhula Na Doge' (Yakeen) were technically no less, and in a few cases, even better. Yet somewhere, Rafi's innate spirituality also connected and triumphed over the ethereal tenor of Lata. But then to be fair, heroes' versions have always had an advantage, as did the male, lower scale vis-Ã -vis the higher female pitch. So Lata (or for that matter Asha Bhosle, Geeta Dutt or Suman Kalyanpur) would also lose out to male versions by even other singers like Mukesh, Talat Mahmood or Kishore Kumar.


Amazingly, it was mostly Shankar-Jaikishan who went in for these double versions with these two singers. Among the others, there were Kalyanji-Anandji ('Pardesiyon Se Na' from Jab Jab Phool Khile), Naushad (the title-track from Mere Mehboob), Laxmikant-Pyarelal ('Jab Jab Bahaar Aayi' from Taqdeer), R.D.Burman ('Waadiyaan Mera Daaman' in Abhilasha), Madan Mohan ('Teri Ankhon Ke Siva' in Chirag), Roshan ('Dil Jo Na Keh Saka' from Bheegi Raat) and more.


And the reasons for having these twin versions were not just situation-driven. Lata has revealed that Shammi Kapoor insisted on a female version of 'Ehsaan Tera Hoga' (Junglee). In an interesting aside, we must mention that the award-winning cult song from Dosti, 'Chahoonga Main Tujhe' was designed as a female song for Lata, but for certain reasons, was converted into a Rafi solo!


The chemistry

With respect to the current fracas over a reported statement by the Melody Queen about the late Colossus, we must also mention that in a 2009 interview to a national daily, Lata had declared Rafi to be the finest playback singer of all time. In her authorized autobiography, Harish Bhimani's In Search Of Lata Mangeshkar, she says that vested interests created factions and that led to the three-year Lata-Rafi rift over singers' royalties that affected film music so much in the early '60s. "It was because of our difference of opinion on just this issue that Rafi Sahab and I did not sing together for a while. But then, making up with such an honest and guileless person like Rafi Sahab also did not take too long," says Lata in the book.
And when Rafi passed away in the holy month of Ramzan in 1980, Lata is said to have told a journalist, "I cannot fathom whether the moon has set in the sky or the sun has set on the horizon of film music." Prophetic words indeed, if the changes that came on the music scene are checked out!


In the Marathi book Aathvani Rafinchyaa (Memories of Rafi) by Shridhar Kulkarni, Lata tells the author, "If you ask me who is my favourite singer, I will blindly answer 'Rafi'! This is my innermost sentiment and not because he is no more in our midst. Ours was an association of 33 years. I had recorded for the last time with Rafi for Laxmikant-Pyarelal's 'Shaher Mein Charcha Hai' from Aas Paas just two days before he passed away. No one will be able to replace Rafi!"


And the probability that she meant every word here is very high, even given her alleged moods. For which singer duo has given that sustained excellence from that cute-and-quaint fun first duet 'Chalo Ho Gayi Taiyyar' (Shaadi Se Pehle / 1947), composed by Paigankar and Karnad to their last JV (joint venture) for super-stars Dharmendra and Hema Malini? At the microphone, Lata and Rafi were as much made for each other as any real or reel-life couple.


Examine the playful banter in their first duet, with brilliant lyrics by Pt. Mukhram Sharma and we have Rafi sing 'Chalo Ho Gayi Taiyyar' (Are you ready?) and Lata replying in a hurried and gimmicky manner, 'Zara Thehero Ji Thehero Ji Thehero Ji' (Wait! Wait!). The lady keeps asking for gifts like sandals and cycles and the man keeps saying he will be give her much better things than what she asks for! With Rafi less than three years old in Hindi cinema and Lata in her debut year, the resonance was not just excellent but exemplary and Rafi gave Lata much more than she could have expected or wanted from a co-singer!


Of course, their songs just about encompass every single genre of song, so let us just enumerate instead ten truly standout duets from the duo. Drops in an ocean these, but to mix metaphors, pearls that have made the sea sparkle.


One song that lists high up in their joint innings is the Chitragupta-composed duet 'Yeh Parbaton Ke Daaere' (Vaasna/1968), easily among their best collaborations. The vocal contribution to one of Hindi cinema's most 'atmospheric' songs has to be experienced and cannot be described in prosaic lingo!


The ever-unconventional R.D.Burman got them to do a dazzling beauty, 'Nisultana Re' from Pyar Ka Mausam (1969), with Rafi going the rustic crooning way and Lata coming in separately for the bubbly segment 'Balam Babua Bedardi Sawan Aaya Aaja'. Sheer moony ecstacy was the mainstay of two songs that seem ordinary at a superficial listen but stand out for their intensity - Kalyanji Virji Shah's 'Chahe Paas Ho Chahe Door Ho' from Samrat Chandragupta (1958) and Naushad's 'Do Sitaron Ka Zameen Par Hai Milan' (Kohinoor/1960).


S.D.Burman's astounding 'Dil Pukare Aa Re' (Jewel Thief /1967) is probably one of their best-ever examples of how Lata and Rafi perfectly understood each other within a composition's demands and mood. In terms of their 'Perfect Ten on Ten' resonance, this would be an ideal front-ranker among hundreds of such numbers. Yet another such example would be that absolute sizzler of a Rajesh Roshan composition, 'Mujhe Chhoo Rahi Hai' (Swayamvar / 1980), showing how their vocal rapport was reaching a rare crescendo even as their team got cut short by the cruel blow of Rafi's death.


Statistics show that more than half of Rafi's duets were for just five composing entities - Laxmikant-Pyarelal (74), Shankar-Jaikishan (50 songs in a third of L-P's output!), Kalyanji-Anandji (38), Naushad (32) and Chitragupta (31). Perhaps these were the eight geniuses who knew best that if individually they were limitless, their collaboration was completely fathomless in depth.


Two L-P duets come in here for their sheer innovation - the dreamy chartbuster 'Jhilmil Sitaron Ka Aangan Hoga' (Jeevan Mrityu) and the uniquely-structured 'Rut Bekaraar Hai' (Roop Tera Mastana) both in 1970. Shankar-Jaikishan step in with the haunting 'Awaaz Dekar Humein Tum Bulaao' (Professor / 1963) and Roshan contributes with the gooseflesh-inducing 'Jo Vaada Kiya Woh Nibhana Padega' (Taj Mahal / 1963). And we would round off this list with the 'Kuhu Kuhu Bole Koyaliya' from the 1958 modest-budget Suvarna Sundari, where these highly-trained artistes competed with each other to show their 'Indian classical' comfort zone in a stunning shower of raag-daari.


Hindi film music would be incomplete even if Lata and Rafi had been whatever they are but never sung with each other. But come to think of it, so would both of them!
BOLLYWOOD NEWS
Catch us for latest Bollywood News, New Bollywood Movies update, Box office collection, New Movies Release , Bollywood News Hindi, Entertainment News, Bollywood News Today & upcoming movies 2020 and stay updated with latest hindi movies only on Bollywood Hungama.