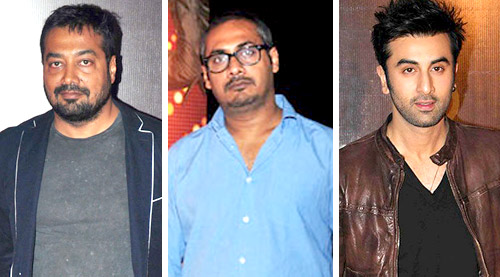 Like experts say when any man-made calamity strikes: it was a disaster waiting to happen.

Arguably the biggest cinematic cataclysm since films began, and without doubt in the last 20 years, Anurag Kashyap's Bombay Velvet is now the catastrophe supreme to hit an industry already beleaguered by flops galore, and media-branded hits, all of which have lost money.

The sick part is that with corporate culture coming in, no one loses money from his own pocket, and so such tottering monoliths are actually green-lit, bank-rolled, made and released! Worse, the actual producer usually (but mercifully it is not true in this case) makes a fat profit, leaving the corporate entity and private distributors tearing their hair!

Why do I use the phrase "Waiting to happen"? It is simply because a director, whose highest-grossing directorial is Gangs Of Wasseypur with a lifetime collection of Rs. 25 crores, was allowed to purvey a star-studded extravaganza that would probably cost anything from Rs. 80-100 crores (never mind the final budget of Rs. 120 cr. because of re-shooting and other Anurag-ian matters!). As of now, BV might match or surpass the lifetime collection of GOW by a whisker, the monumentally vital difference being in its projected target audience and thus its production budget!

Like a seasoned filmmaker quoted from a line in one of his own films, "If a man used to a Fiat is told to drive a Mercedes, he is going to have a mishap!" Zero credentials as a commercial filmmaker (the IQ level of mainstream makers has to be far higher by definition than the brigade that purveys arty, niche cinema) and Anurag's fatheaded script (from what we can judge now) should have set the alarms ringing at Fox Star Studios. Of course, we cannot really blame Phantom, Anurag's banner, where his producer partners are largely his proteges.

Plus, when a director has never handled true-blue stars (Amitabh Bachchan in a short film and a disastrous television serial notwithstanding) and openly professed aversion to them as well as mainstream cinema decides to make a starry, 'masala' movie, it is dead certain that things will go wrong. Unless, like with the films of a Basu Chaterjee, the stars themselves take a pay cut because they and their skills are going to be shown in a new light, that too, a realistic, wholesome one. Which was not at all the case here!

And so we come to the crux: this is the second mishap Ranbir Kapoor (till now considered the biggest young star to come after Hrithik Roshan and in the top league that is placed below the six superstars) has had with the Kashyap fraternity- Anurag and his brother Abhinav Kashyap of Besharam 'fame'. These two filmmakers have given the star his two career-biggest setbacks.


As a close observer who would remain anonymous states, "The process of sucking up to big names began for Anurag Kashyap after his professed remarks against Amitabh Bachchan and Karan Johar, and then turning a full 180 degrees, courting them and beguiling them into working with him! After that, he tried this with more top names, obvious enough to go unnamed, and then managed to sell himself as a master storyteller to Ranbir Kapoor."

But exhibitor Akshaye Rathi points a crucial difference between the two Kashyap brothers - that Abhinav never had any malafide intentions. "His intentions in Besharam were to make a proper mainstream film. He went wrong in the execution, that's all, and let's face it, the biggest and best of filmmakers give flops."

Rathi points out that the film opened to a good Rs. 21-plus crore two years ago. "It was Gandhi Jayanti, and the combo of the Dabangg director and Yeh Jawaani Hai Deewani hero, plus a couple of hit songs was hot!" After that, however, the demerits took over, and the film tanked.

Ranbir Kapoor himself compared the two brothers by stating that Abhinav was more mass-oriented, making films with proper heroes and entertaining elements, while Anurag "liked to tell good stories."

However, the latter part has been clearly disproved. As Rathi points out, "After signing a big star, going to Sri Lanka to build these sets, and hiring talents like a French editor and then wasting all their collective talent and the moneys paid to them, you cannot make a niche film in 100 crore! People are not so gray or mean in real life as they are shown in Kashyap's films, and the world is a nicer place. On the other hand, every era and time has its own set of problems in real life, and as always, people want escapism and entertainment when they go to watch a film. And Bombay Velvet lacked that."

The Kapoor train, therefore, has been strongly derailed by the Kashyaps and the intentions barely make a difference to Ranbir's commercial reality. In between Besharam and Bombay Velvet, Ranbir Kapoor unfortunately had another calamity in Roy (lifetime collection Rs. 44 crore for a big film riding on Ranbir, even though his was only a special appearance), and the declining graph from YJHD to BV sees Ranbir's star status at flashpoint.

Trade analyst Vinod Mirani feels that "All stars have a series of flops. It will take Ranbir Kapoor just one hit to bounce back, as he has a strong fan following!" But others are not so sure. "It will take him a while to recover his commercial standing that had come with Barfi! and Yeh Jawaani Hai Deewani," feels another observer.

Maybe the lesson to be learnt here is that while stars do not lose their clout after even a hat-trick of flops, their individual films are actually dependent on the directors, more than on their starry clout. This is an old maxim, but still not appreciated in a star-driven world.

Conclusion: It is a coincidence that the two Kashyaps-for completely diverse reasons- may have momentarily harmed Ranbir Kapoor's track record, but not his star status. But the actor must carefully, if necessary cold-bloodedly, avoid such blunders in future.
BOLLYWOOD NEWS
Catch us for latest Bollywood News, New Bollywood Movies update, Box office collection, New Movies Release , Bollywood News Hindi, Entertainment News, Bollywood News Today & upcoming movies 2020 and stay updated with latest hindi movies only on Bollywood Hungama.