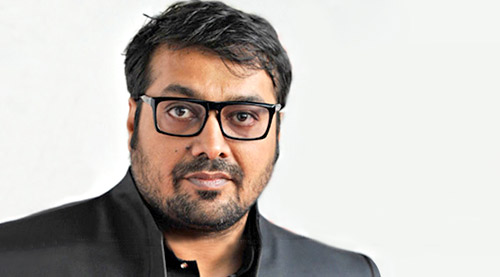 It's too early to decide the fate of Bombay Velvet but one thing is for sure, a lot of people out there want the film to bomb! And I am talking about the people who haven't seen it yet.

Over the years, filmmaker Anurag Kashyap has managed to gather quite a few haters on the social media. I tried asking them a simple question.

Why exactly do you hate him?
Ummm Ummm apne aapko bahaut samjhta hai!
Sell out hai... bik chukka hai!
Karan Johar ko gaali deta tha, ab uska dost ban gaya! Kalki ne bhi usko chodh diya!

There were a few random answers but I still didn't get a real answer, why the hell do YOU hate him?

I understand he is not the most media friendly person. I had tried to get in touch with him a couple of times but he never bothered to reply. Finally one day we came face to face when he was promoting Bombay Talkies and I had to interview him. He said, "Oh so you are Rohit Khilnani!" I just smiled and said yes, that's me! I still don't know if he meant, "Oh! It's you!!" Or was it something pleasant like "Oh! Finally we meet". He gave me a good interview then and a couple of times after that. That's all I care about. It's okay if he doesn't reply to my messages.

Most people on twitter follow the herd mentality. So if a few didn't like Bombay Velvet then almost everyone on the social networking site will start abusing it, some of them have seen it and a lot of them haven't. All you have to do is join the bandwagon of haters since their target for the day is decided.

Everyone wants to tweet and get retweeted and a reply like 'Oh you are so funny' makes his or her day!

Yes, Bombay Velvet isn't all that great but it's not like an unbearable watch like a RGV Ki Aag. Okay it's not like Black Friday and nor is it as gripping as Ugly. So basically this time Kashyap didn't entertain you as much as he did the last time or the first time. Is that reason enough to blindly join the #IHateAnuragKashyap club?

Yes, it's not the wisest decision to give him a Rs. 100 cr to make this film but not that it's ethically wrong or illegal or some kind of a crime like it's made out to be. It's just a bad business decision.

He has proved time and again that he is a brilliant filmmaker so I guess this time he wanted to try out something big. So what if he doesn't become a big shot with this one. Should he not accept that money and continue to make small films?

Which reputed filmmaker has not disappointed? All of them have! 99% of filmmakers disappoint at some point or the other. (1% is Raju Hirani BTW. Many would say he plays in safe territory, which is also not wrong).

All the actors have acted well in Bombay Velvet. Yes critics were not happy with the end product and nor were lot of other people. Is that unusual? World over filmmakers are trying to woo critics and audiences and I am sure it's a tough job to please everyone.

It's entirely up to you if you want to watch Bombay Velvet or stay away. Movie critics have reviewed it so you can follow the critic whom you believe in. What we should not do is pull each other down like crabs.

Hate is a very strong word! If you really hate someone you better have a dam good reason!

'Hatred makes us all ugly'- Laurell K. Hamilton.
BOLLYWOOD NEWS
Catch us for latest Bollywood News, New Bollywood Movies update, Box office collection, New Movies Release , Bollywood News Hindi, Entertainment News, Bollywood News Today & upcoming movies 2020 and stay updated with latest hindi movies only on Bollywood Hungama.