Actors Kajol and Bobby Deol joined a panel discussion on customized employment for people with disabilities at The Gateway School in Mumbai. The discussion delved into the crucial issue of employment opportunities for PWDs and was graced by some of the most prominent figures in the industry, including distinguished Member of Parliament Mahesh Jethmalani, along with experts - Meena Bhatnagar, Timothy Riesen, and Tricia Jones-Parikn.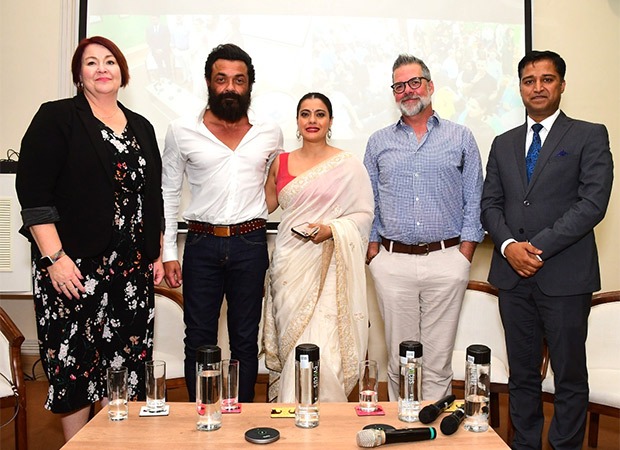 Kajol and Bobby Deol join the Gateway School of Mumbai for a panel discussion on employment rights of people with disability
At the panel discussion, the speakers shared their valuable insights and experiences on the challenges faced by PWDs in accessing employment opportunities and the importance of inclusive hiring practices in promoting diversity and creating a dynamic workforce. They emphasized the urgent need for greater inclusivity and accessibility across all facets of society, calling for a paradigm shift in the way we view and engage with persons with disabilities.
Bobby Deol, an advisory board member and a strong advocate for Gateway shared his perspective on the matter saying, "My journey with special needs education began with Yuvraj, a young movie buff who found solace in my conversations during times of distress. I formed a special connection with Yuvraj, and became close friends with Indira Bodani, the Founder of The Gateway School of Mumbai. Today, they hold a very special place in my heart, and we have become like family. As an actor, I realized the potential of using my influence to support and inspire children with special needs. I believe that people in show business hold a unique position to connect with kids and make a positive impact on their lives. Children are naturally drawn to the entertainment industry, and I wanted to leverage that excitement to promote inclusivity and support for children with disabilities. Indira Bodani's dedication to making a positive impact on society inspired me to join the cause."
He continued, "Through my association with the school, I have seen how the right support can transform children into confident young adults with incredible capabilities. It's heartwarming to be a part of their family and see them thrive. The Gateway School is a remarkable institution that provides tremendous strength and confidence to kids with special needs. As a parent, I'm aware that kids with disabilities require special attention and care, and I'm happy to see how this school is helping them grow and realize their potential. I believe that other schools should follow The Gateway School's example and create more support systems for people with disabilities. I'm blown away by the school's initiatives to provide custom jobs for Persons with Disabilities, recognizing their abilities and promoting inclusivity. It's essential for us to understand and contribute towards making society a better place for everyone. Indira Bodani's efforts are truly remarkable, and I'm proud to be associated with this incredible cause."
Kajol who is also a strong advocate for education and equal rights for all, added, "When I was 18, I met an extraordinary helper who worked with me for 10 years. But it was only later that I found out she had a child with disabilities. Seeing her manage her responsibilities was both heartwarming and heartbreaking, and it gave me a firsthand look at how disabilities affect families and society's attitudes towards them. That's why I was thrilled when I heard about The Gateway School of Mumbai and its initiative to create an inclusive environment. Creating a compassionate society is not just relevant but vital, and as parents, we must teach our children to see beyond race, gender, ability, or any other differences and treat every person with dignity and respect. Unfortunately, our education system falls short in this regard, prioritizing memorization over critical thinking and grading students solely based on their ability to recite textbook content."
"My son keeps asking me why do you keep sending me to school everyday, and I answered, 'The reason that I'm sending you to school is not for you to get good marks, is not for you to learn different subjects, but to understand society to integrate yourself into a good society, to understand what everybody is like, that there are different kinds of people in this world that you're going to meet.' When I was in school, I couldn't comprehend the purpose of Moral Science classes. However, I now recognize the significance of teaching children about society as a whole. We must have programs that integrate people with disabilities into our schools, and from a young age, children should learn that it's natural to interact, play, and learn alongside them. It's time to embrace inclusivity and recognize that people with disabilities are a part of our society, not apart from it," she concluded.
With the help of this discussion, The Gateway School of Mumbai and GivingPi aims to create a shared vision to empower students with the skills they need to lead fulfilling, productive lives and become active contributors to their community.
Also Read: When Kajol is wearing a sleek, simple green suit, it's difficult to keep our eyes off of her
BOLLYWOOD NEWS - LIVE UPDATES
Catch us for latest Bollywood News, New Bollywood Movies update, Box office collection, New Movies Release , Bollywood News Hindi, Entertainment News, Bollywood Live News Today & Upcoming Movies 2023 and stay updated with latest hindi movies only on Bollywood Hungama.