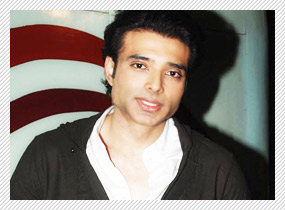 While the whole world is going ga-ga about Ek Tha Tiger and it's supposed Rs. 200 crore collection and more, there is yet another Tiger who is slowly but surely making his presence felt in Hollywood - Uday Chopra. I have to give it to this man! Coming from the most illustrious and rich families in Bollywood (read - super rich), climbing the ladder of success wasn't easy for Uday. He admits, "I realised that acting isn't going to get me so far and I needed to do something to take my family business forward. I could've done that in India but what's the point? My dad started this and my brother took it further. It was my turn now." While 99 out of 100 men would've preferred to stick in the family run established business in Bollywood, the youngest Chopra took a detour and set his eyes in Hollywood. Uday enrolled himself at UCLA and learned the ropes of making it happen in tinsel town but little did he know that a three month short course was about to get him Olivia Wilde and Nicole Kidman in his newly formed YRF Entertainment. There's more and I'll let Uday do the talking!


So when exactly did you decide that enough is enough in India for you?

About two years ago, I realised that acting is not going to get me so far. If I am happy with just being in that space of an actor, I can keep getting work. Some movies will do well and some may not do well, etc. but my head was a little bit more ambitious. I'm not going to be happy with just this level of failure and success. That's when the first thought came of 'what-to-do-next?'. My father created this company and my brother took it this far. I can't take it beyond by just sitting here in India. I felt I need to go out and do something small but the possibilities are endless. I've grown up watching English movies. If I have to confess, my first language is English (laughs). If The Dark Knight Rises and Cocktail releases on the same day, I will go and watch TDKR. That's how I am. I love English movies ever since I was a kid. It was Hollywood calling. L.A was calling me.


You started off as a school boy becoming a professional in three months and got your first Hollywood film titled 'The Longest Week'. Wow!

I wanted to re-educate myself before I went to L.A. I joined a short course, a three month program at UCLA. It was fun because I had enough time for my meetings too. Not to forget, Saturday and Sundays are off (laughs). I met lots of people and had lots of meetings and slowly but surely understood how the Hollywood agents and agencies work. I was sure that I can definitely do something out there. The first thing I did in the U.S. is got a lawyer. That's a must do before your first step in Hollywood. Everyone does it (laughs). I met this agent from W.M.E. and came across a script. It was titled 'The Longest Week'.


But I'm sure funding wasn't your only agenda as a Hollywood producer?

We had a good conversation. He too understood that I was a serious guy in the business. The film had Jason Bateman and Olivia Wilde already attached. The film was ready to go on floor when half their financing fell through. Financing wasn't a problem for me but what took me by surprise was the script. It was funny, and with that money if I was getting Jason and Olivia, wow (laughs)! I decided to fully fund this film. It was a win-win situation. But I wanted to be on the sets as a creative producer and just not fund it. So we started off in New York after meeting the director Peter Glanz and his producing partner.


Ok, seriously, you can't stop thinking about Olivia Wilde, can you?

Olivia Wilde is so beautiful man! I've had dinner with her and she had no idea what was going on in my head. As a person, she is even more beautiful. After having done Tron and Cowboys And Aliens, she is considered to be a biggie out there. I've heard horror stories of how actors behave but trust me, how chilled out these Hollywood actors are. Even our actors aren't that chilled out! These guys are stars and they had no make-up van. They were agreeable to it. Can you believe it!? It costs a lot of money but I wanted to give them their due. I've seen Olivia Wilde sit on the pavement and do her hair and make-up. Jason Bateman standing in the line for his turn to eat food. Unbelievable!


And have you met Nicole Kidman, your actress from your second film Grace of Monaco?

I haven't yet met Nicole Kidman. I have met the director Olivier Dahan and his producing partner in Paris. We were supposed to do the reading but that'll happen once the leading man's role is finalised. I am flying to Chicago and I hope the reading happens in L.A. and not Paris (laughs). Probably that's when I'll be meeting Nicole Kidman. Can't wait!


Are you still biting your fingers? Two A-list actresses in your first two films in Hollywood.

I really don't think I've done much more than anybody else could've done. I'm sure anybody else could've got the money on the table too to produce both these films. But I guess it's also to do with destiny. Yes, I am working with the A-list actors in Hollywood and that's a boon but there's ten times more hard work and commitment given. I'm still a rookie there. So it's a long road ahead of me. I am really saying 'wow' to myself. I thought I'll go there and find writers and will go in production going. I came back after a month with two films. I am proud of YRF Entertainment - my production company set up in Hollywood.


Click here to read the first part of this feature
BOLLYWOOD NEWS
Catch us for latest Bollywood News, New Bollywood Movies update, Box office collection, New Movies Release , Bollywood News Hindi, Entertainment News, Bollywood News Today & upcoming movies 2020 and stay updated with latest hindi movies only on Bollywood Hungama.