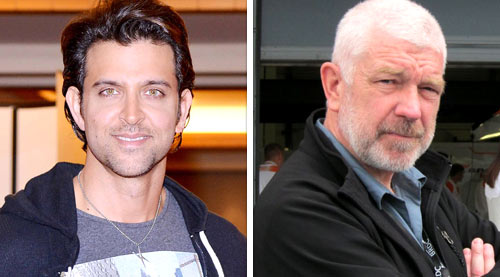 Andy Armstrong, the man behind quite a few action sequences in Hollywood blockbusters, had his first stint with Bollywood when Bang Bang came calling. Even though the film has ended its run in India, the action director has fond memories about working on the film, and especially his collaboration with Hrithik Roshan. So much so that now he is looking forward to yet another action saga where he can call the shots with Hrithik in frame.

To be responsible for action in a biggie like Bang Bang must indeed be a high, right Andy?
Yes, all movies, large or small are always an exciting challenge. The most enticing element of Bang Bang in reality was that Sid (Siddharth Anand) and Hrithik wanted to break away from the style of action traditionally done in Bollywood movies. Sid was very interested when I said that I would like to bring a new more Hollywood/Bollywood hybrid approach to the style and look of the action.

In fact quite a few of your Hollywood counterparts have collaborated with Bollywood films on action. For you to be surpassing such effort from the past and bringing on something unique must have been a challenge?
Yes, I feel others have come from Hollywood and brought some of their methods to Bollywood but I don't feel they have always succeeded in actually changing the look and feel of the action. I think in order to do that there has to be a concise and deliberate plan to merge styles and in many cases design, execute and shoot the action in a very different way. I feel we achieved this.

In the whole affair, did you ever feel that the kind of budget in hand for Bang Bang was a fraction of what you must have been used to in Hollywood?
No, I don't feel that the budget was much of a constraint really. In fact Fox Star were incredibly supportive of the way I wanted to do things and the Head of foreign production in Hollywood, Tommy Imperato and the Head of Fox Star in India are both real movie makers with an understanding and passion for movies and so were incredibly supportive of all my efforts. It was a superb working environment and although some overall budget numbers were obviously lower than on some of the major Hollywood blockbusters I have done, the constraints were no tougher. We basically had what we needed to make the movie we wanted to make.

In terms of designing, choreographing and executing action for Bang Bang, what kind of collaboration did you have with Hrithik?
A huge amount of collaboration with Hrithik is one of the main reasons the action was what it was! Working with Hrithik is like having a movie star AND his stunt man all rolled into one! He is a superb athlete and as good at performing these action scenes as any stunt man working in the world today. He is also someone who understands movies and the process of making action work convincingly. I would love to do another movie with him because when I have someone like him to work with, my horizons are immediately broader and the scope of what's possible greater.

Some of the most special action sequences in the film are those involving car chases in the narrow streets, the highway sequence, the one in the sea and then of course the whole pre-climax and then the climax. Any favorites?
Wow, a tough question! All these action sequences become my children and so it's really tough to choose between them. I am extremely proud of the Delhi alley car chase because I feel a chase in that sort of environment had never really been done before in an Indian movie but some of the car crashes we did in Abu Dhabi were as spectacular as anything in some of the largest Hollywood movies I have done and have ever been done. So yes, those too I am particularly fond of as well as the fact we performed the first ever motorcycle back-flip - while a car crashed under in - done in the world. And then finally the water skiing behind the Grumman Albatross seaplane had never ever been attempted before so that's pretty special to me. So I haven't really answered your question but I love them all.

Are there any special action sequences that you have envisaged next?
Yes, many. But you'll have to wait till you see them at the movies!
BOLLYWOOD NEWS
Catch us for latest Bollywood News, New Bollywood Movies update, Box office collection, New Movies Release , Bollywood News Hindi, Entertainment News, Bollywood News Today & upcoming movies 2020 and stay updated with latest hindi movies only on Bollywood Hungama.