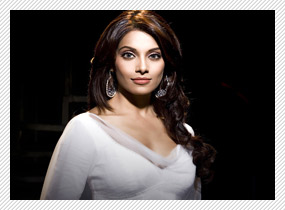 It was Ajnabee that got me going ga-ga over Bipasha Basu. Yes, she was tall, dusky and beautiful. A rare mix back then, and even now, when it came to actresses in Bollywood. But today I recall my first meeting with her in person in London. I was a fan, hell yea! Dressed in a beautiful designer outfit, Bipasha waits for me in her hotel room. I put on my best suit and spike my hair, all to impress her. Yes, I was living in denial! Two knocks on her door. The door opens and there she was with her irresistible glamour, charm and sumptuous smile. But there are multiple dimensions to every super-heroine. Yes, I call her by that name. So you may see her in a saree clad Bengali woman or in a floral knee length dress seducing the hero or get a shock of your life to see her in a 'Goth' look. Whatever the role, Basu pulls it off with bounce. Every time I see her onscreen and off, she gets the 'sexy' back. With the recent success of Raaz 3, the bong babe is bouncing and how! And it is with that same excitement that she answers questions put forth by her Twitter fans! All Bipasha fans, this one's for you!


Would you play the love interest of Casper: The Friendly Ghost?

(Laughs) What a question! I don't want to be the love interest of the 'friendly' Casper. And by the way, I don't even like friendly ghosts (laughs). I really get petrified of ghosts, be it any. And I really can't get friendly with Casper (laughs).


Rumor says that you have signed Bejoy's next.

I can't talk about Bejoy Nambiar's movie right now. As of now I am elated with the success of Raaz 3 and trying to enjoy the box office success of my film. In time to come, I will let you know of my future movies I've signed.


You love working in thriller movies, don't you?

Thriller movies have always worked for me. Whenever I have chosen to do this particular genre, I have given my 100% and it's done magic at the box office. But at the same time I am scared of psychological thrillers. It's spooky. Imagine going back home after a day's shoot and trying to sleep (laughs).


How do you rate Emraan Hashmi's growth as an actor?

This is my second film with him. I was a part of his first film called Footpath. Emraan brings a lot of conviction to every part he is playing. He is the man who connects with the masses. He says the most bizarre lines with utmost conviction. I liked him in Aawarapan and The Dirty Picture. He understands characters and he isn't a hero that wants to be heroic every time he is onscreen. He makes for an interesting cinema and understands the character graph pretty well. That's why he is where he is today.


What is Bipasha craving for now?

Bipasha Basu craves for a meatier role in the parameters of a commercially entertaining cinema. I am really looking at box office successes with great quality roles. I want my films to make money and I don't want to be an eye-candy.


Is there a possibility of seeing Bipasha Basu sharing screen space with newcomers?

I'd love to work with Ranbir Kapoor again. You never know! Something might happen soon. Ranbir is a very progressive, he isn't a stereo-typical actor and his growth has been very interesting. I'd like to work with Imran and Shahid in the future too, and with all new actors who are a film or two old. It'll be fun to share screen space with them.


You've done every genre possible in Hindi films. Will you be trying something out of the box?

Raaz 3 was out of the box cinema. I mean, you tell me, which film director makes such genres in the first place? It's a credible horror genre with a human drama. There is a realism factor in Raaz 3. There is great technique used for Raaz 3. I have tried to deliver the most honest performance in years and it has garnered me great results. Vikram is an emotional person but he definitely knows how to scare people. We have enough people making comedies and dramas. It's time to try something different once in a while. Such films are Vikram's forte.


Will you act in and as Nati Binodini?

I think Nati Binodini will be great. I would love to do Nati Binodini. If I'm not mistaken, Rituparno Ghosh wanted to make this film with me. I'd love to do another Bengali film. Let's see hopefully something interesting comes up and someone writes a good Nati Binodini, then why not!


Both Raaz 3 and Aatma are similar genres, aren't they?

Aatma and Raaz 3 are completely different genres. Raaz 3 was just like a human drama with the elements of fear. Aatma is a psychological thriller. It looks completely different. We have a European crew shooting Aatma. Raaz 3 and Aatma have different human stories. The way to scare people is different in both movies. But both share the supernatural space.


You've worked with Nawazuddin in Aatma. He is explosive, isn't he?

Nawaz is excellent. When I talk about Aatma, I can keep on talking about him. Some of the scenes I've done with him were beyond acting. I mean, I can't tell you how he has acted in a few emotional scenes. It's touching! He is one of the finest actors we have in our industry. When two honest actors work together, it always creates good cinema. I loved working with Nawazuddin.


Would you do a film based on a musical ever?

I'd love to be a part of something fresh, new and exciting, yes; I'd love to be a part of a full-on musical film. I've loved Chicago and Moulin Rouge. I am a fan!


If you were to star in your own film again, which one would it be?

I wouldn't like to re-do any of my films. Whatever has happened has happened and I wouldn't like to go back and recreate anything. I'd rather do new things.


You've got the best body in the business. What's the 'raaz'?

I can feel that I am very fit. I can't say I have the best body. I am a person who really from the heart preaches fitness and everybody in the business respects that aspect about me. The three 'raaz' to have a good body is - love yourself, work out every day and lead a disciplined life.
BOLLYWOOD NEWS
Catch us for latest Bollywood News, New Bollywood Movies update, Box office collection, New Movies Release , Bollywood News Hindi, Entertainment News, Bollywood News Today & upcoming movies 2020 and stay updated with latest hindi movies only on Bollywood Hungama.