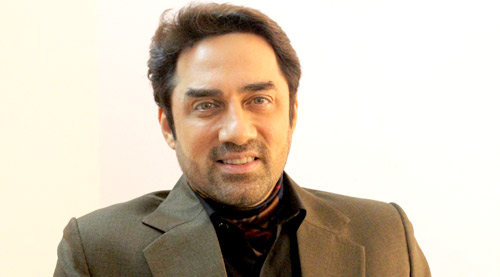 Faissal Khan is Aamir Khan's younger brother. He is the script doctor at Aamir Khan Productions and is also having a movie releasing today (Chinaar-Dastaan-E-Ishq). When

I interviewed him, he seemed genuinely at ease. But life has been tough for Faissal. Tougher than what it is for others. Being nurtured in the tall shadow of a superstar brother isn't easy.

Comparisons are ominous. The family life was fraught with ups-n-downs coupled with health issues. The important thing is that Faissal has bounced back. When I spoke to him, he seemed upbeat. He

didn't have grievances. He is upset with the producers of Chinar-Dastan-E-Ishq but that's justified as they are trying to cash-in on Aamir's popularity to promote their film. Apart from that

he seems sorted. And most importantly, positive. Let's bring you some highlights from this interview.


After Mela, I think Chinar Dastaan-e-Ishq is a film of yours that has made some noise…

There have been some other films in which I worked after Mela. After Mela didn't do well, I didn't get any offer from big banners. I tried searching work and after 6 months, I decided

to do small films. Few of them released and even made profits. Some films stopped mid way due to various reasons. After a point, I stopped getting work altogether. I also did a TV Show in between

called 'Aandhi'. Later, I gave up acting and joined Aamir Khan Productions as a script doctor. I used to sit for narrations with Aamir. After many years, suddenly a director expressed a

desire that he wants only me for his film.



There's also a 'Special Thanks to Aamir Khan' note in Chinar Dastaan-e-Ishq…

I'd like to clarify on this aspect. Aamir Khan is not associated with this film at all. It's a mistake by the producers and I don't agree with them. I am upset since they are trying to use Aamir's

name to sell their film. It's not ethical. I also felt that naming their banner 'AKP Films' is unjustified. I spoke to Aamir and clarified that I am not in agreement with the ways of the makers.

When I quizzed them as to why they put Aamir's name, they told me that they have a friend who's also called Aamir Khan and they are thanking that person! Also, I believe that each film has a 'janam

kundli'. You put any big name but if the film is not good, it won't work. For instance, Salman produced Hero and even a sung a song. Yet, the film didn't work. And I gave this same example

to the producers to put forward my point



In a newspaper interview, you revealed that you are doing a film called Mental Khan. You added that Salman chickened out of using the term 'Mental' for his film Jai Ho but I won't chicken

out. Reportedly, people close to Salman were very upset with you…

Actually, the interviewer told me that 'Salman backed out from calling his film Mental'. So I said, 'But I won't back out'. This is how I put my point! I never said 'chickened out'. I

respect Salman and his work. I even clarified with Salman.


You acted in Qayamat Se Qayamat Tak as well…

Yes, I was one of the goons in a scene. Actually, the first time I acted was in the film Pyar Ka Mausam as a child artist. Aamir was called to give the shot. But he was acting pricey like
most stars! My uncle tried to persuade him but he refused to co-operate. So a car was sent from Panvel to fetch me from Bandra. And I instantly gave the shot. My uncle was very happy though later,
I also started troubling my uncle! As an assistant director, I've been taught that you have to help the film. So I have picked up lights, trunks etc. And for the role of an extra, sometimes the
director tells us AD's to act so as to avoid the hassle of calling an actor. That's how I made an appearance in Qayamat Se Qayamat Tak. I also was told to put a coat and have ice-cream for a
scene in Jo Jeeta Wohi Sikandar.


A film of Aamir you wish you had done?

I'd say Ghulam because it's one of the very few action films done by Aamir. And I am an action hero by nature! I like doing action and find romantic scenes very tough.


Rate Aamir on a scale of 1 to 10 as an actor

8


Rate Aamir on a scale of 1 to 10 as a producer?

10 on 10! He takes care of the unit a lot. He makes the film for creative satisfaction. Other producers might compromise or try to save costs but Aamir won't do that. Even when he was making
Lagaan, he didn't think much about commerce. He goes all out to make a good product.


Rate Aamir on a scale of 1 to 10 as a TV host?

He cries too much! Actually, he gets involved in the problems of the people a lot. That shouldn't happen I feel. So I'll rate him 6!


And how much would you rate him as a brother?

As a brother, I'll rate him very high and give him 9 ½!


If you could go back in time when Mela is going on floors, what change would you like to bring in it so that it can become a success?

There was a very good sequence and a song between me and Aamir in Mela which was cut by Dharmesh Darshan as the film was getting too long. The scene, between me, Aamir, Viju Khote, Razak
Khan and Twinkle Khanna, would have raised loads of laughs in theatre. Mela was a comic film but viewers didn't roll down the floor with laughter. If that scene was kept and if audience ek
baar khul ke has deti, then it would have been a different story. Trust me, that scene made a very big difference to the film. And regarding the song, it was called 'Chori Chori Hum Gori Se Pyar
Karenge' and after it was removed from Mela, it was used in this film called Love Guru or something and that song became such a huge hit and it was cut from Mela. I even
went to meet Dharmesh and told him that 'You are cutting all the aces from the film'.


Any director you'd love to work with?

I'd love to work with A R Murugadoss and Rohit Shetty as they make action films. I'd also like to work with Rajkumar Hirani as he makes sensitive films.


If a book is written on your life, what do you think it should be called?

I haven't thought of it but I am thinking of writing a book. Maybe the book can be called 'Those 99 Days' or something because I went through really tough times at that point. When I left my house,
I didn't have anything with me. I had bought second hand clothes from the streets. I didn't have money. I had just left the house because of the problems I had to go through. I didn't have a car
and used to roam around on a cycle.


What was your mother's reaction when you came back?

My mother obviously wanted me to come back. No one wanted this situation to arise. I don't blame anyone for it. Maybe it was supposed to happen! Like, this film Chinar Dastaan-e-Ishq was to
be done by some other actor. But it came to me. After so many years, somebody tracked me down even though there was a perception that I had a mental condition. And I don't know why this all
happened. I believe in destiny and also God. I pray to Allah regularly. To answer your question, my mother was very happy when I returned. We are all glad that we are back together.
BOLLYWOOD NEWS
Catch us for latest Bollywood News, New Bollywood Movies update, Box office collection, New Movies Release , Bollywood News Hindi, Entertainment News, Bollywood News Today & upcoming movies 2020 and stay updated with latest hindi movies only on Bollywood Hungama.