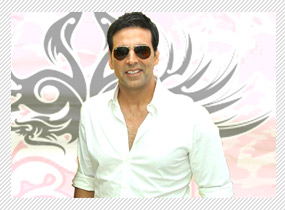 Boss releases today and as expected, the 'Boss' of the moment, Akshay Kumar, is as calm and composed as ever. On the eve of the film's release, in the midst of all the frantic noise around him, Akshay Kumar takes a breather and gets talking about his third release of the year.
When it comes to Boss, the first thing that comes to mind is a central protagonist who indeed rules the world with his confidence and attitude. Is this the true essence of Boss?
That is indeed one man's vision of Boss. However mine would have to be - a man that listened to his Father, a man that woke up with the crows and exercised his body by morning and exercised his authority by nightfall. A person in charge of his life, of his organization and of his responsibilities. He rules his world, nobody else's, but be dammed any man that stands in his way! I would say that is true to my film, to me as a Boss of my life and to my very first Boss in my life.
"I never get comfortable" – Akshay Kumar
Please continue...
To me, Boss means - 'B' honest or be a fool to your own society, 'O'wn your life and lead others to a better one, 'S'urrender your ego since your father raised you from love and not from success, 'S'ustain goodness at all times unless pushed beyond all manner of submission; then by all means 'kick ass'. With these traits, there is not an employee out there that wouldn't fold their hands and bless the day they were employed. At least I hope that's what my staff think anyway (winks).
You are not someone who gets easily flattered by people around you. So when a title like Boss came your way, which put you on a pedestal, was it tough to resist the temptation and say 'yes' in one go?
My friend, you know me so well. One of the things in life I find hardest is accepting a compliment. Everyone around me complains about how I always change the subject the second someone tries to say anything remotely flattering about me or my work. So making a film titled Boss is about as 'high & mighty' as I have ever gotten.
You in particular seem to be really enjoying your time in front of the camera in this film by playing a part that is loud, vibrant, outrageous, outspoken and down to earth honest. Is this your character sketch?
You have pretty much summed it up; I might as well go home and let you finish the rest of this interview now (winks). Yes my dear, I am loud, but then who listens to a Boss that whispers control. I am vibrant, but who acknowledges anyone that comes across as a dull as a rock. I am outrageous, I am a man who controls my world, I can't be boring myself along the way, now can I? I am outspoken as who would respect a push over. And yes, I am down to earth honest, because no one cares for a man whose ego is bigger than their behinds. But most importantly, I am a Son who is longing for his Father's understanding.
Please elaborate.
This film is far more than just a story; it is a lesson in life. There are always two sides to every coin and two sides to every scenario. The Boss is always right, but only because his Boss is always right. Just depends on who you think is your Boss!
Well, as a Boss, you did pick up Ronit Roy as the main villain in the film. Your fight to finish in the film's climax is being much talked about.
It had to be a fair fight. We needed an actor who could play a villainous hero's role. He needed to act his way through every scene and make you want to hate him. He needed to have the strength to control every situation. He needed the shoulders and the aggression to fight me. Ronit Roy was a superb choice; he has done himself and his career proud in this film. I couldn't have asked for a more honest fight from this man.
Your last film Once Upon Ay Time In Mumbai Dobaara couldn't fight it out till the end though and that due to many reasons other than the content itself. Was it too disheartening for you and Ekta Kapoor?
Well, I know she is full on into her next project as am I and I have no doubt that she will come back with powerful greatness. It will take way more than one film to set any of us back, hence the reason we make so many. Our lives don't depend on one working. Our lives are formed by many films, some great, some epic and some merely to be remembered as lessons.
Still, for someone like you who has been in the industry for over 20 years, isn't it easy to see what direction is a film headed, once the First Look is out? In that perspective, doesn't Boss make you feel a lot comfortable?
No matter how well one week is going, fate always has its own agenda the following week. So as much as I am enjoying the positive energy right now, I pray it doesn't end, but I am also prepared that it might. So NO, I never get comfortable, never!
BOLLYWOOD NEWS - LIVE UPDATES
Catch us for latest Bollywood News, New Bollywood Movies update, Box office collection, New Movies Release , Bollywood News Hindi, Entertainment News, Bollywood Live News Today & upcoming movies 2022 and stay updated with latest hindi movies only on Bollywood Hungama.