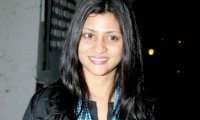 Konkona Sen Sharma has had an impressive thirty films that she has done to her credit. She has been felicitated with over ten awards which even includes the prestigious National Award.


Her latest tryst with films is with Vinay Shukla's latest venture, Mirch. The film is all set to release on the 10th of December next week. The film has an impressive cast of Shreyas Talpade, Shahana Goswami, Boman Irani, Konkana Sen Sharma, Arunoday Singh and even Prem Chopra amongst others. The film revolves around four separate stories that are interlinked to each other, at a deeper level the film is about gender equality in relationships.


In this succinct interview, BollywoodHungama gets in conversation with Konkana Sen Sharma on her latest film, married life, adultery and her mom Aparna Sen.


How's married life?

Well honestly it doesn't feel very different because my husband and I were living together for 3 years before we got married, so in that sense it's not very different. It's still early days though (laughs) you can ask me after a few years.


What motivated you in taking up the film Mirch?

I liked the script of the film, I've known Vinay Shukla the director quite well, and he had directed this film called Godmother which I liked. Mirch is about a young couple Arunoday Singh and Shahana Goswami... both of them have done a very good job. Arunoday plays a struggling filmmaker who is trying to sell a few ideas to a film producer, but the producer is only interested in something saucy and sexy. The stories in the film spread across time which is thematically linked. It all deals with women's sexuality which is done in a very funny and a light hearted way; it's not a serious discourse on femininity or sexuality. Vinay comes up with these four stories which we take part in. I'm in two of those stories and Raima is in 2 of the other stories as well.


So what was your character like in the film?

Like I said the stories in the film spreads across time, in one on of those stories I actually play a Rajasthani Queen in the 17th or the 18th century who is married to a much older king. She is much younger and she is not satisfied sexually at all, and she is interested in a man her age where she sets out to seduce him, keeping in mind the frame work and the context. Obviously she can't send him a dirty message; it's very witty and ingenious about the way they come up with it to actually have an affair. So its very tongue in cheek and it's funny.



In one on of those stories I actually play a Rajasthani Queen in the 17th or the 18th century

What was it like to work with director Vinay Shukla and the Production team?

It was great working with them; we shot the film in Rajasthan and some of it in Bombay because they're two different stories. The other story that has a contemporary setting was shot in Bombay. Like I said I've seen Vinay Shukla's work and I like him very much and we got along very well, so for us actually it was quite easy to work together. I enjoyed myself.


What's your take on adultery?

Well I don't think it's nice to betray somebody you love; I don't think that's a nice thing or the right thing to do. If you love somebody you wouldn't want to betray them, having said that there are a lot of circumstances. I think monogamy is difficult to demand. I don't have a discourse on adultery.



I think monogamy is difficult to demand

Some of the characters in the film appear to be monogamous going by the promos; do you think women are such in reality?

No I don't think that human beings are monogamous by nature, I think that they can be attracted to more than one person the same time. However I think that people do have to honor their commitments, because that's the right thing to do. I don't think that women are more promiscuous or men are more promiscuous. I think that promiscuity is something that everybody comes across their lives and some people can give into it and some don't.


How was it working with the likes of Ila Arun and others?

Oh it was wonderful working with her, I like her very much, she's very funny and has excellent taste, she sings very well. In fact we kept each other company during shoot. It was great fun working with even Arunoday. Unfortunately I didn't get to interact with Shahana Goswami and Raima Sen or even Shreyas Talpade, but they're all excellent actors it was an amazing cast. I did get to act with Boman Irani and I was very thrilled since I am a big fan of his.


Was playing the role of a Rajasthani Queen challenging for you?

I think what used to get me very nervous every time was that I had to wear a lot of real jewelry. Since I was playing a Rajasthani Queen, we got real jewelry from Amrapali and I was wearing it all the time. I had bodyguards around me all the time because I was just wearing lakhs and lakhs worth of jewelry. That made me very nervous.


What's your outlook on the music of the film?

Oh the music is great! I heard it recently and I loved the music and I hope the people will like it as well.


Since you haven't done a role like this before, was it difficult to get into the skin of the actor?

I didn't have to do anything crazy to get into the skin of the character, I read the part and I talked to the director and I thankfully managed to do it.



At the end of this year there's a film called Iti Mrinalini

Does your mom Aparna help you to prepare for a role before you start any film?

Not usually but, unless I ask her for help. Definitely for her own film and sometimes I ask her for a particular film which I find difficult. If I need her advice then of course I take her help otherwise I won't.


And finally, any projects lined up for the near future?

The future is vast, well in the near future at the end of this year there's a film called Iti Mrinalini that Aparna Sen has directed so that should release, I'm looking forward to that.
BOLLYWOOD NEWS
Catch us for latest Bollywood News, New Bollywood Movies update, Box office collection, New Movies Release , Bollywood News Hindi, Entertainment News, Bollywood News Today & upcoming movies 2020 and stay updated with latest hindi movies only on Bollywood Hungama.