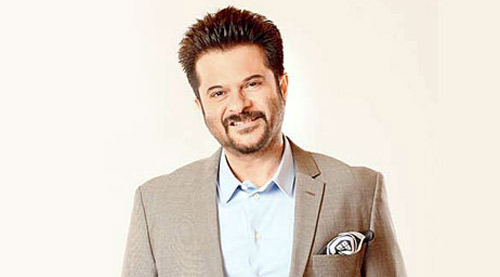 As the ageless Anil Kapoor turns a year older on December 24, he shares some beauty tips with his fans friends and admirers and also his future plans on this

warm chat with Subhash K Jha.

Anil, aapke khubsoorti ka kya raaz hai?
Ha ha! I don't think I've done anything special to look the way I do. It's just self-discipline. When I was younger my co-stars would make fun of me for not having enough fun after

shooting. But I don't think it's important to party till the wee hours to be happy in life. I was very happy shooting and spending time with my family, I still am. I guess that inner peace

shows on my face. I never compromise on my work.

Are you saying you never let your hair down?
Of course I set aside days when I just throw all caution to the winds, take a holiday, eat the forbidden food - with my wife's permission - just chill. But there have been times when

during a party at home I am suddenly found to be missing because I've an early-morning shooting. 'Kahaan hai, Anil?... He's gone to sleep.' When I am working I never compromise on

my sleeping hours and food habits.

You sound like a health freak?
I am not fanatical about my health. Somewhere, I also feel I am blessed because I come from a healthy stock. My Dad and my grandfather were not actors and yet they looked after

themselves and lived a full life.

But Boney and his son Arjun were overweight and so was Sonam?
That was because they didn't look after themselves earlier. I always believed that one has to look ones best if one is an actor because audiences pay money to watch one's movies. But I

was never into muscle-building. Only fitness! If you are fit you feel good about yourself. Also it's important to maintain positivity in your mindset. Never get into a negative line of

thinking. And you must always have something to look forward to every morning. In my 35 years' career I've always had something to look forward to. Motivation is life, frustration is

death.


You sound too good to be true?
I must be good, na? I can't fake it for so many years.

So how does it feel to be a year older?
I don't believe in celebrating my birthday. Not with cakes and singing, etc. Since my birthday falls a day before Christmas I celebrate Christmas instead of my birthday.

Why the coyness about your birthday?
Not coy. But I still cringe when I think of all those birthday parties on the sets where everyone would stand around singing. It was so embarrassing.

You were recently seen having a great time on Kapil Sharma's show?
The reaction was terrific. I had gone just to have fun. And I made sure I did that. We also released the DVD of the full series of '24' and announced plans to adapt another American

serial. I had no plans of announcing 'Modern Family' on Kapil's show. It was not 100 percent pukka then. But because of my long relationship with LA and 20th Century Fox I could

informally announce that I was doing 'Modern Family'. The official announcement will happen soon.

You also said on Kapil's show that Mr Bachchan should become the President of India?
That was just a joke. I think Mr Bachchan wants to be only an actor. I also belong to that school of thought.

Will you be acting in Modern Family?
To be honest with you, I haven't given this a serious thought. Right now my entire focus is on second season of '24'. I don't know if I will be in it. But I'll always be there for anyone who

needs me on the sets.

We didn't see you in any film in 2014?
That's because I was shooting for my serial '24' in 2013. The films were on hold. 2014 is the year when I got down to shooting two films Anees Bazmee's Welcome Back and Zoya

Akhtar's Dil Dhadkne Do. So the fruits of my labour in 2014 will be apparent in 2015. You will see me in these two films. And the second season of '24'!


What is the progress on '24' season 2?
It's work in progress. 6-7 episodes have already been written. I've just finished Welcome Back with producer Firoz Nadiadwala who has gone through seven years of a

professional low. His films like Power were shelved. Firoz did Satyagraha with Prakash Jha which didn't do well. Welcome Back should be Firoz's comeback film. All

of us, director Anees Bazmee, John Abraham, Nana Patekar worked for Firoz's sake. Under the given circumstances we've all done our best. I am happy the film is complete. We've

worked under trying circumstances. Hopefully this film will pull Firoz out of the financial mess.

And Zoya's film?
I am not allowed to talk about it. But Zoya's is a completely different world from Welcome Back. Anees Bazmee belongs to the old school of filmmaking. Zoya is new school. I am

very comfortable in both.

Actor, producer, singer....When are you turning director?
To be honest , the thought does cross my mind these days. Maybe soon.

Are you happy with your daughter Sonam's progress?
Very much so. In 2014 she did Khoobsurat which was a success. In 2015 she has Dolly Ki Doli which is looking good. Sonam has come into her own. She has found her

niche. But she still has a long way to go. She has that hunger in her to excel that I did. That's what keeps every creative artiste going. Sonam is looking very happy dancing to her songs.

What about your son Harshvardhan?
He's working in Rakeysh Mehra's film in Rajasthan. He doesn't speak to me much at the moment. He is in that work mode where he only wants to focus in his character. He is coming

back in January.

Your thoughts on the year?
2014 was hectic. 2015 will be one of the most exciting years of my life. I've great plans for 2016 and 2017. Yes, I've already planned many things for the next three years.
BOLLYWOOD NEWS
Catch us for latest Bollywood News, New Bollywood Movies update, Box office collection, New Movies Release , Bollywood News Hindi, Entertainment News, Bollywood News Today & upcoming movies 2020 and stay updated with latest hindi movies only on Bollywood Hungama.