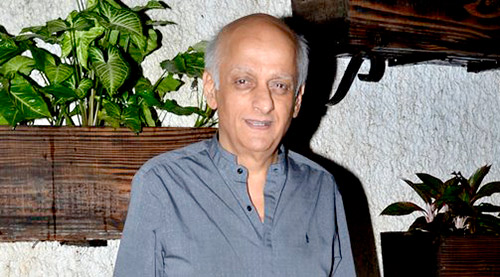 The fearless man of Bollywood, Mukesh Bhatt, in a hard hitting interview with Bollywood Hungama's Faridoon Shahryar, hit back at the
archaic manner in which the newly anointed Censor Board is hacking movies. The latest victim is Anushka Sharma's NH10 which has been refused a certification
due to cuss words. Mr. Bhatt also speaks about the unjust demands made by stars on the film sets and why everyone needs to work together for the common good of the
industry.


You recently met Minister of State for Information and Broadcasting Rajyavardhan Rathore, who expressed displeasure over the banning of certain words and
expressions in films. However, still the films keep facing problems. NH10, for instance, is having trouble getting a release...

Well, let me begin by saying that the banning of 28 words came as a rude shock to the industry, more so, because it came from a member of our own fraternity. It also
raised questions that whether such ban is justified in films having adult content. There was a panic in the industry. Hence, I, as the President of The Film &
Television Producers Guild of India, led a delegation of important senior film producers and directors and we went to the I&B ministry. Mr Rathore told me without
mincing his words that, we are not here for any kind of censorship. We are here for film certification. Censorship is a redundant word in today's times. In fact, the
board should be called 'Film Rating' and not 'Film Certification Board'.This was music to my ears. I felt so relieved that here is a young minister who's talking the
language of today and that's the need of the hour. He further added,we are here to facilitate and not to curb or cut your wings. Let us attempt to strengthen the
bond between the ministry and the film fraternity. We then came back. Meanwhile, Anushka applied for a certificate for NH10. To my horror, I found out
yesterday, that, they have refused to certify the film due to the cuss words and violence. How can you refuse certificates? I understand if you give some cuts which
is also not acceptable especially if you are giving the film an 'Adults' certificate. I want to ask the CBFC and also the ministry, that, as a 61-year-old, don't I
have the fundamental right to see the film the way I want to see, especially in a closed domain of a cinema hall? I am not watching it on a public platform or on
television which is exposed to families and children. I have a censor restriction in my own system. I am a father, grandmother, son etc. I know what films should be
and should not be seen by children.


Today we are in the digital space. Children todayare exposed to anything and everything. The Censors have banned this film calledFifty Shades Of Grey. 70% of
the youth of this country have seen the film. So what kind of censorship are we talking about? It's a regressive mindset.


Don't you feel shortchanged and cheated since you just had this meeting with Mr. Rathore?

Exactly, and I want to know where I stand. Anushka is going to the court, that's what I've heard. Delhi is talking something else while the ground reality is totally
different. How can a producer live in this kind of uncertainties? When we begin a movie, we know that certain things can be passed in films. But when the film is
ready for release, the government changes. The new bureaucrats come with their own diktats and interpretations of guidelines. The poor filmmaker is caught unawares
and has no idea what to do. We are investing crores of rupees and we want to know where we stand. That's why it is important for us to go the court and ask the
guidelines of the parameters on which we have to function. You can't have double standards.


Do you think that the film industry somewhere has never been united and hence it is not taken seriously...Why is it that it is always Mukesh or Mahesh Bhatt stand
up for industry's causes while others conveniently stay silent?

People are scared and I wonder why. Are you doing something wrong? If your answer is No, then why are you scared?


But the fact is that most of the battles of other people are fought by you and your brother, Mahesh Bhatt.

No, we are not fighting somebody else's battles. I am the President of the Film & Producer's TV Guild of India. It's my responsibility to protect my fraternity. We
are living in total uncertainty today. The CBFC should be apolitical body. It should have an independent status so that it doesn't get manipulated.


Are we really living in a democratic country? I feel as if we are living in a police state. In a democracy, there has to be a freedom of expression. But the censors
are telling filmmakers to cut 28 words from their films. If we agree, tomorrow they might tell us to add some 28 words. Then, they'll order us to wear particular
kind of clothes, not wear particular kind of clothes etc. In short, they are not trying to control the minds of the writers. Very soon, the film industry in India,
which boasts of being the only industry that competes with Hollywood, will become as backward as Pakistani film industry.


The CBFC Chief Pahlaj Nihalani is talking about double meaning dialogues and also the so-called incorrect depiction of women in our films. However, it's ironic he
himself has helmed films that boasted of songs like 'Khada Hai'...

The government wants a stooge. They will not keep someone who has a conscience and a voice of his own. They want someone who agrees with their voice and agendas.
That's why I insist that the Censor Board should be free from political interference. While we love our similarities, we must also learn to respect our differences.
That's the sign of a healthy democratic country, as long as I am not doing something that is anti-national or something of that sort.


Films of Vishesh Films often boast of sensual and sexual content. Do you have the apprehensions that even your films will face cuts from the Censor Board?

We have come from the dark days. In the 70s, action was allowed in films only for 90 feet of the reel. Can you imagine how ridiculous it was? Suppose you and I are
fighting, and if 90 feet got over and I haven't completed the blow, I have to cut it halfway. That kind of regressive thinking was present! Our censorship has
evolved a lot since then. But, today, if you are talking about the young India that the Prime Minister talks about, but on the other hand, I am sorry to say this but
our country is moving backward, not forward.


I recently interviewed Irrfan Khan and he said, "Looking at the way the present Censor Board is functioning, I doubt if Haider would have got a release
today".

Yes, thank God such films released before. Today, they wouldn't have been in good shape because the mindset now is completely reverse.


So is the industry finally united?

Yes, it is because our survival is at stake. Everyone- actors, producers, directors, cinematographers, editors, writers, spot boys, light men - any sane minded
person will be standing for the injustice meted out to us as we are talking about our freedom of expression. You are censoring our minds, telling what to think and
what not to think. And this is not acceptable to the Indian youth.


You have also raised your voice against the taxation on films. China, I believe, levies just 5% of tax on movies.

Yes, and in India it's almost 50-60%. The taxation on a film is as high as on tobacco and alcohol. I want to ask the government - are we a sinned industry or a
creative industry? Yet, we are surviving and even then, they are still trying to kill.


But would you like to appeal to the government on these issues and to take Bollywood more seriously?

We are screaming. Let's hope they hear it. On their priority list, we don't exist. In the budget, the words 'film industry' is not even mentioning by our honorable
Finance Minister. He talks about Yoga and Ayurveda, but he doesn't talk about the important part of the nation called 'Bollywood'. On one hand, you call us the
cultural ambassadors of the country. On the other hand, you don't even mention about our industry in the budget.


And this time, a lot of film personalities are in the government...

What's the point? His master's voice!


And Mr. Modi himself is a theatre fan...

We are trying to reach out to him. We heard that he is a creative, progressive person. But how do I meet him? There are so many roadblocks. Even if I get to meet him
for 15 minutes, I am sure he'll realize that what I am talking is right, and I am talking about partnering with the government, the way it is in China. This way, the
government can earn more revenue. We'll also benefit. It'll also encourage tourism, high on the priority list of government. We also have a scheme for 'Make In
India'. But how do we do that?


Recently, Sadhvi Prachi called for a boycott of films starring Khans and that their posters should be torn and set to fire.

This is a barbaric way of thinking. They are not worth discussing. The less we speak about them, the better.


You recently made some interesting comments on the star system and how the cost of the film goes up as the producers have to pay obscene amount of money to the
staff of the stars...

There's a lot of wastage happening in our industry. All the pandering is being done because of the corporates which came in. I am sorry to say this but they didn't
feel the pinch as they were not paying from their pockets. It's humiliating that you pay a guy, who just holds a glass of water, more money than your Chartered
Accountant. The time has come today where the satellite market has crashed. The economic reality of the industry is changing. So, we better try to curtail wastage.
There are certain things you cannot compromise with, which are seen within the parameters of the frame of a film. What is spent inside the film is okay, but not what
is spent outside of it. And paying the staff of an actor comprises the outside, and with it, also dealing with the whims, fancies and arrogance of a star. And this
madness has started only in the last 5 years. For 95 years, we never had to face all these issues. In short, self-discipline is the need of the hour.


I believe you had come up with guidelines on this issue few months back...

Yes, but unfortunately nobody followed it. Our own producers didn't pay heed. But now, every producer is bleeding. Hence, I am hopeful that this time, there will be
some correction, because, this way the industry cannot function. It's a guaranteed way of shutting it down. So, better wake up now than never.
BOLLYWOOD NEWS
Catch us for latest Bollywood News, New Bollywood Movies update, Box office collection, New Movies Release , Bollywood News Hindi, Entertainment News, Bollywood News Today & upcoming movies 2020 and stay updated with latest hindi movies only on Bollywood Hungama.