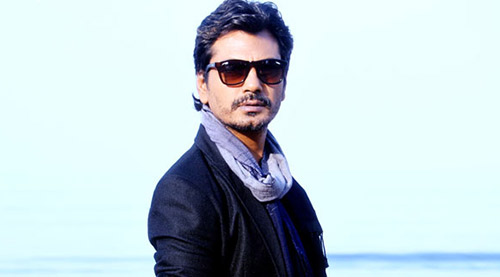 The very famous American author Napoleon Hill once said that "Patience, persistence and perspiration make an unbeatable combination for success". Little did he know that, there will be a man in Bollywood who will not only live by the saying, but his entire life will be a dedication to this saying. We are indeed talking about the one and only Nawazuddin Siddiqui, the latest flagship bearer of Bollywood, who, with his true-to-life performances onscreen has made everyone stand up and take notice. If the array of awards (including a prestigious National Award) in his shelf is any indication then Bollywood indeed has yet another actor included in the exclusive list of 'power packed performers'.



Satish Sundaresan of Bollywood Hungama caught up with the man, wherein he not only spoke about the success of his latest film Badlapur, but also the A-Z of his life, which has made him what he is today.



Nawazbhai, to start with, heartiest congrats on the smashing success of Badlapur. What's the feeling right now?

The feeling is very positive and encouraging. The film being such a runaway hit, despite the ongoing world cup speaks a lot about the film. I didn't expect the film to be appreciated so much... It's appreciated much more than Gangs of Wasseypur.



Did you ever expect that the film will be such a smash hit?
Not at all. We were feeling that, since the film is such a hard hitting film and that too, with an 'Adult' certification, there could have been a 'cut' in the audience. But despite all this, the response of the film is extremely superlative.



Looking back, what made you sign the film? Did you have any apprehensions about the film?
I said yes to the film in just one go. And the total credit goes to none other than Sriram and his narration. He explained the full film in just one line 'There are two characters who change in the end'.



How difficult was it to portray a character who can put even the chameleon to shame when it came to changing colours?
In the real sense of the word, the character that I played was really very difficult. Here is a character who kills a woman and her kid. Yet, as the film grows, there were people who were clapping for his scenes, loving him as much as they hate him. It was a very complex character with different layers. No one could actually decipher as to what was running in his mind. Towards the end, the very same chameleon character gets transformed and adopts the path of honesty and purity. All in all, it wasn't a total white or a total black character.



What kind of homework did you do for the role?

I didn't do much of homework. All that I did was I executed the instruction as given by Sriram Raghavan. Every scene of mine was closely monitored by Sriram and improvised accordingly as and where needed.





You must have been flooded with compliments galore. Whose compliment touched your heart and whose compliment matters the most to you?
Lots of people complimented me on my performance and my character. Amidst all this, there was an auto rickshaw guy who told me as to 'Saab, your character in the film is so effortless that it just doesn't seem, like that you are acting. You just seem like one of the common people. Even though your character in the film is cunning; still, it invoked laughter".



Any negative feedback so far?

Thank God, there has been no negative feedback so far ...



Can you recall any memorable scene while shooting for the film?

The action scenes were really a challenge for me. Even though the fights were choreographed, the director told us to use raw fights so as to get the raw feel. And then the scene in which cop asks me "Jingha machli khaane ke liye tu itna door aata hai…" The viewers could only see my back, but the fact was that I was almost crying during that scene!



Is there any scene in the film which you feel that you could have performed much better?

The scene in which I tell Huma Qureshi's character that, I am going to die after one year. I think that, this scene just could have been done a bit better.



Your character in the film withholds a secret for a whopping 15 years. Have you ever concealed a secret for a long time?
My life is a very easy life. The complications are only in my characters which I play on screen.



Many actors in Bollywood have some superstition or the other. What about you?

Not at all. I move on from the film after the last day of the film's shooting.



Do you go through what the critics have to say about you and your performance?

There are many critics who have always supported me, purely on the basis of my work. I always go through their feedback about me and performances about my film.



What's more important to you: critics or the B-O figures?

Frankly speaking and also realistically speaking... the BO figures never are in the hands of the actors. I personally feel that critics and the BO figures are important in their respective places.


The film saw your love-hate relationship with your mother. How has been your relation with your real life mother?

There was a time when I was struggling and was without work. That's why the frustration crept inside me. My mother had written a letter to me once stating 'Kachre ke dher ki bhi jagah badalti hai. Tum toh insaan ho. Tumhara bhi din aayega. These words brough back the confidence and the positivity inside me to settle for nothing but success.


How did you react when you worked with Aamir Khan both the times: Sarfarosh: when you were a part of the crowd and Talaash: when your towering performance overpowered the other actors' parts?

It really felt great to see everyone appreciating me and my performances. I can proudly say that, whatever I am today is purely because of my hard work and sincerity with which I perform.


Is it true that there are no theaters in your village and your parents travel as much 40km from the village to Muzaffarnagar to see your films?

Yes, it's very true. There was a theater which was built, but, even that got shut down.


There were talks about you doing a Hollywood film…

I have been offered many roles in Hollywood, but, due to my prior work commitments, I wasn't able to pick them up. I have done a film by Garth Davis, which also has Nicole Kidman, even though I do not have my scenes with her.


Is it true that your parents still do farming?

Yes, very much.


There was a scene in Gangs Of Wasseypur, wherein the girl tells you to take permission before touching her, which also had occurred to you in real life. Do you always come up with such improvisations and real life incidents to your directors?

Only if the director wants inputs in the scene, I give the inputs. Otherwise, I do not interfere. For example: in Badlapur, the scene when I talk of going to Bangkok, I limp while walking. That limping was done impromptu, which even Sriram Raghavan approved of and was happy about the same.


What has been the turning point of your life?

Undoubtedly... it has to be Gangs of Wasseypur.


During your struggling days, were there times when you faced rejections? How do they react when they see you now?

I do not hold any grudges against anyone. Today, I feel great when the very same people, who had rejected me once, are appreciating me today. I feel very good when they appreciate me. I whole heartedly accept and reciprocate the respect which they give me today. I do not believe in taking badla on anyone.


Is it true that you even played one of the dhobis in an ad with Sachin Tendulkar?

It's indeed true that I played a dhobi in the ad. I was a part of the crowd which consisted of 4-5 other actors including the likes of Rajpal, me, and also the late Ashraf (who passed away a few days back)... We did this ad when there was no work and also in order to earn a quick buck. The funny part of the shooting was that, whenever the camera was on us, we used to look away from the camera and start looking at each other, so that no one should recognize us... the students of NSD while doing side roles! (Laughs).


What's your immediate reaction when you hear the following:

Budhana:

Milking the cows


Gurukul Kangri

The first time I stepped out of my village to go out city, Gurukul Kangri was the name of the institution from where I did my graduation.


SCME Petrochemicals

(a bit stunned) The very moment I hear the name, I get scared as I was the Chief Chemist out there and used to do electrical tests with full concentration. A bit of distraction could have proved very dangerous in those tests.


Watchman

While I was working as a watchman, I remember the blazing sun under which I used to stand, bearing all the tormenting heat for as much as 8-9 hours at a stretch!


Prashant Bhargava

The first experimental director of my life, who made me experiment with acting.


Sakshi Theatre Group

I remember me getting chaai for all the senior actors.


Lastly, Nawaaz... what are your upcoming films?

I have Raees, Bajrangi Bhaijaan, Mountain Man and an out and out comedy film named Dhoomketu.
BOLLYWOOD NEWS
Catch us for latest Bollywood News, New Bollywood Movies update, Box office collection, New Movies Release , Bollywood News Hindi, Entertainment News, Bollywood News Today & upcoming movies 2020 and stay updated with latest hindi movies only on Bollywood Hungama.