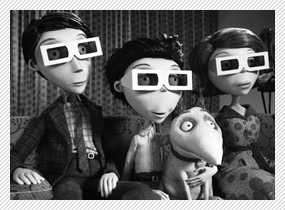 Prime Focus World teamed up with Walt Disney Pictures and renowned filmmaker Tim Burton, to convert his latest claymation film, Frankenweenie, a monochrome comedy horror film to stereoscopic 3D. Richard Baker, senior stereographer, Prime Focus London, led Prime Focus's global production facilities to deliver the entire 3D conversion of the film. Talking about the 3D stereoscopic conversion of the film, Richard says. "3D shouldn't be a window into the screen; you need to feel surrounded by the movie to become truly immersed in the story. This was central to our planning when creating the 3D and the depth script. We had the opportunity to exaggerate the scale and depth much more than we would on a live-action film to really heighten dramatic moments. We were also able to combat the miniaturizations of the puppets by using depth as a creative tool." Stephen Mascarenhas, Senior Vice President, View-Dâ"¢, led the production team in India, talking about Prime Focus's propriety 3D conversion tool View -Dâ"¢, Stephen says, "It is a set of tools created that rides on Fusion a compositing software, it facilitates the 3D conversion process with which you can work quicker as compared to any other tech available right now." Over fifteen hundred artists worked hard to convert 2500 shots for the film, an endeavor that has never been attempted before for a clay animation film. Bollywood Hungama's Philip Bode catches up with Richard and Stephen at Prime Focus's Mumbai office to talk about, devising a robust production pipeline, attention to detail and the creative challenges with resurrecting, Frankenweenie.
"There are more static cameras and longer shots involved"
Richard: Initially, we passed on some test shots to Tim in IMAX in north London, from which he really liked the stereoscopic work done on the shots, so he would come in once every couple of weeks where I would show him completed scenes, as per the edit which would comprise of a hundred or so shots in it. Some projects require a different pipeline design, as varied projects have specific intricacies that need to be followed; being flexible we can tailor the production pipeline design according to a project at hand. For Frankenweenie, Prime Focus' London and Indian based arms worked on the project where all the rotoscopy work was done in India. With being a stop-motion animation film, there are more static cameras and longer shots involved; this gave us a real good opportunity to delve into the 3D.
"It was requisite for us to tweak our pipeline"
Stephen: Since this wasn't a conventional film, this was an experience and it was our first animation product in which this had to be looked at being executed in a specific manner. It was requisite for us to tweak our pipeline to make certain of the quality that the producer and Tim Burton desired. Everything was looked at with multiple quality check rounds, for example; there was a time we were cleaning up some dirt visible in a shot, and the clients actually asked us to put it back. This left us a bit baffled but that's what they wanted, as it was the details that was well thought through.
"I have seen a new version sent back from India in four hours time"
Richard: As you are looking at the scenes for longer, we emphasized on sculpting out the elements to an eye level in the rotoscopy process which was complex, you see this with the character's nicely shaped foreheads. Depth maps were made after the rotoscopy phase which gave us the ability to manipulate the image where we could pull and push things as needed. It might sound clichéd but, I have looked at shots at 10 am in London and I have seen a new version sent back from India in four hours time, so it might sound like another room upstairs. We've had the privilege of creatively supervising the project as well, unlike the other films we've worked on such Wrath Of The Titans where a client supervisor works closely with the director and on this project, I'm that person, so for Disney and Tim to put that kind of faith into us was an honor for us all.

"A lot of technicality comes into play when it comes to finessing a shot"
Stephen: With the majority of work churned out from India, we would ensure that the rotoscopy process is carried out going by the client specification, in-which Richard gives us the creative nod to go ahead and strive for the creative standards set. We did three test shots for Frankenweenie to get the look right as this has never been attempted before since it is a claymation movie. A lot of technicality comes into play when it comes to finessing a shot, to give it that absolute clean perfect look. That's the final stage of actually getting your frames and your characters cleaned up. About 1500 artists got on the bandwagon comprising of the Rotoscopy team, the Conversion team and the Clean Up painters. Here at Prime Focus we are able to amalgamate the whole concept of different people coming together, and we're not restricted by our boundaries.
"Tim would only approve the stereoscopic work done and not the composition of the shot or other elements"
Richard: With Frankenweenie being a stop-motion animation film made in black and white, proved to be more challenging technically. With this you get a bit of strobing in the shots, like victor's legs which were black in the film against a lighter background. If the character moves really fast we experience a lot of strobing in the scene. To counter this, we might apply camera blur and track the shot, or apply motion blur to the character. It was a hell lot of fun but creatively this was more challenging, with the type of characters and their peculiar faces we managed to play up certain aspects through rotoscopy, it was challenging for us across all the departments involved. Every shot in effect was approved by Tim, if we change anything, he would approve it all over again, he would only approve the stereoscopic work done and not the composition of the shot, the background or other elements that make up a shot. The challenge for us was to make it exactly what it was, when it was lit with the shot, we were to make it identical to the original plates provided.
"We had to stick to what was planned"
Stephen: This was a new experience for us and rather new style of 3D stereoscopic conversion on a stop-motion animation film. It's a different space altogether, as compared to what we have experienced with the twenty odd live action films that are visual effects based. There were a lot of intricacies involved, things like pixel-to-pixel matching to the original plates which were shot. For us to be able to find and meet that creative requirement, based on it being a stop-motion animation film and the kind of story that is being narrated in 3D, there were many things that were needed to be kept in mind from a creative point and the director's point as well. In a normal VFX or element based film there are many variations that we could play with that could add value to the shots, such as creating elements like rain, snowfall etc. Although, in this film we had to stick to what was planned. To be able to stick to the creative resolve meted out was most challenging.
BOLLYWOOD NEWS
Catch us for latest Bollywood News, New Bollywood Movies update, Box office collection, New Movies Release , Bollywood News Hindi, Entertainment News, Bollywood News Today & upcoming movies 2020 and stay updated with latest hindi movies only on Bollywood Hungama.