The season of comebacks in the Korean music industry is always exciting. K-pop group ATEEZ is set to make their second comeback this year with 'ZERO: FEVER Part.1' album. The group, that consists of eight members: Hongjoong, Seonghwa, Yunho, Yeosang, San, Mingi, Wooyoung, and Jongho, will begin the new era today. Ahead of the comeback, the group dropped the last set of concept pictures only adding to the excitement.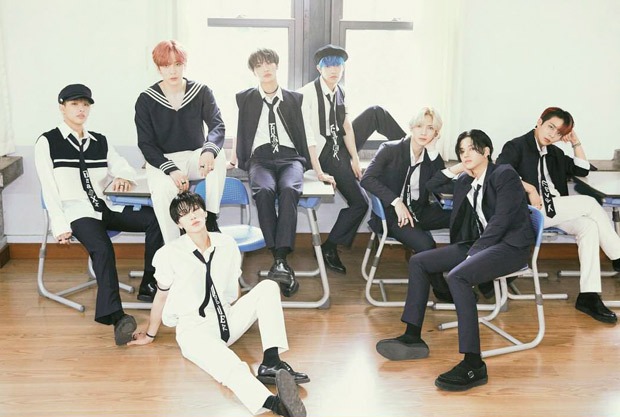 The teasers started to drop at the beginning of this month with anime-style photos that gave an insight into what the new era is all about. Since the 'Treasure' album series had already hinted that dimensions and time travel, the new era pretty much summed up that this might be the prequel. Fans called ATINY have been very clear on the fact that even if theories are decyphered, the music videos are open to interpretations which makes the group's comeback even more exciting. The storylines are intriguing in K-pop space and when a rising group brings new flavour with their concepts, it totally adds to their excitement.
Known as the monster rookies, ATEEZ made their debut on October 24, 2018, with 'Treasure EP. 1: All to Zero'. They have become one of the groups to watch out for. Their growth in the industry has been gradual. The promotional campaign ahead of the release of the album proved that this album is bigger than anyone anticipated. Two different versions of music videos have been teased and fans were asked to vote for their favourite ones for it to become the title track - 'Inception' and 'Thanxx'.
The sixteen-minute diary film also gave a peek into what can be expected from this series. Since their previous era was focused on Pirates, from the looks of it, it seemed like they are set to fight their alter-egos. There were looking for the treasure and something that they valued the most but have completely lost it. In the course finding the light, this is how their new journey begins as the travel back in time in order to find each other and find happiness.
Bollywood Hungama spoke to the fanclub ATEEZ_India ahead of the comeback and what they have been expecting from this era. "Initially, over time since debut ATEEZ has ALWAYS had something in their titles that would connect with their future comebacks which honestly just as it sounds, feels mindblowing as well WHEN we realize what it was," the fan club said. "For one as an example, Chorus of 'Say My Name' includes them saying 'bulleo bulleo' in the backtrack which later turned out to be the main catch line of their title 'ANSWER'! And it's no mystery that they have been following a whole storyline which surely is never explained openly but is open-ended for fans to make up 'theories' for what and where the storyline is going."
Speaking of the prequel series and multi-dimensions, they further said, "From debut till the near end of the Treasure Album series' era the plot went usually after them trying to look for and finding their Treasure while somewhere it got meddled with time travel/multi-dimensions where now eventually we are going back in time. In today's comeback showcase as well the boys confirmed that this 'ZERO: FEVER pt. 1' era is a prequel to the Treasure Series! Hence this era and it's content is well expected to give us a much more clear idea about the whole storyline about how it all started as in what IS the treasure? This era can be guessed as a well fresh summery concept with the boys as young as ever ready to take on their fate right ahead. Anyhow, even without the theories, it's amazing how their music videos are well-made enough that it can be viewed and enjoyed as a single standing mv by itself as well as, as per the fan-made assumptions/theories that make sense to plenty!"
Since this is easily one of the anticipated comebacks from the fourth-generation K-pop group, the excitement is real. Speaking of how fans were involved in voting for the title track, ATEEZ India said, "This comeback too like last year we had the option to vote between two tracks to choose which one we ATINYs want as the title track for them to promote. Making things easier with a whole bunch of performance previews released to choose from. BUT this time they also gave us the liberty to choose from one 'storyline' through which each of the titles follows - 'INCEPTION' being about dreaming ahead and achieving them while 'THANXX' being more about growing up at one's own pace and doing want they want a way out and away from society's judgements. It is also believed that last year's voting between 'WAVE' & 'ILLUSION' also have a part in how the storyline is going, as in ATINYs themselves chose ATEEZ's path. Another fascinating thing about this era was how they approached the fans as well for the storylines in question by holding another weeklong 'STORY-LINE EVENT' where fans from all around the world were told to make up stories including any or all of the animated scenarios with short statements that were released for each member including a special being called as 'The Man in the Black Fedora' who is unknown of for now but is seen in MVs like 'Wonderland', etc. and later appeared in the 'Diary Film" handing Hongjoong the hourglass that went backward."
If this doesn't add to the excitement, we don't know what will. Coming back to the 'ZERO: FEVER Part.1' album, it will drop on July 29 at 6 p.m. KST (2:30 IST).
BOLLYWOOD NEWS
Catch us for latest Bollywood News, New Bollywood Movies update, Box office collection, New Movies Release , Bollywood News Hindi, Entertainment News, Bollywood News Today & upcoming movies 2020 and stay updated with latest hindi movies only on Bollywood Hungama.