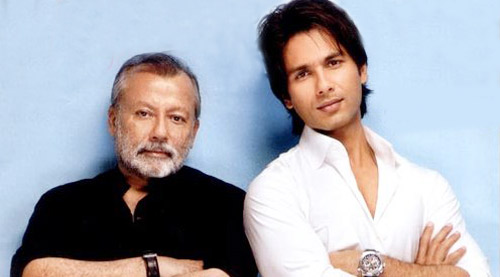 For the first time, papa Pankaj Kapur will be seen with son Shahid Kapoor (and for good measure daughter Sanah Kapur) in Shaandaar. While Shahid was in the film from day
one as he had green-lit the basic idea by Vikas Bahl, his sister Sanah (in what is her debut) came in later.


And Vikas loves to narrate how he had pitched the concept to Pankaj about bringing Shahid and him on screen, and Pankaj simply told him, "All that will not do! First show me a script!" Vikas felt
as if he was giving "an examination" when he met Pankaj, but the choosy actor liked the story enough to come on board.


The piquant part is that Pankaj plays Alia Bhatt's and daughter Sanah Kapur's father, not his real son's dad! And that is the beauty of actors in Hindi films, who may or may not play real father
and son when they come together on screen!


Since the industry is known for its dominant credo of 'Actor's son too turns actor' even if he is a MBA or more from the best universities abroad, we have had a zillion examples of father and son
coming together, starting with the industry's first family-the Kapoors.


So many Kapoors!

The oldest case known is of Prithiviraj Kapoor's father Dewan Bashwanath Kapoor also played a cameo role in his only film appearance in Raj Kapoor's Awara (1951). Both father and son played
judges but had no relationship within the film. However, as in real life, Raj Kapoor played the title-role of Prithviraj's son, and his childhood was essayed by Prithviraj's youngest son Shashi
Kapoor. In a unique case, Raj's elder son Randhir Kapoor was there as well as a kid under a lamp in the credit titles!


Prithviraj was also seen as father to his second son Shammi Kapoor in Rajkumar (1964) and Janwar (1965). And the Awara and Janwar on-screen confrontations were indeed
memorable.


History was repeated when in Shree 420 (1955), Randhir, Rishi Kapoor and even Raj's daughter Ritu played three kids walking on the road during the song 'Pyar Hua Ikraar Hua'.
Symbolically, the kids were seen when the lines 'Main Na Rahoongi / Tum Na Rahoge / Phir Bhi Rahengi Nishaniyaan' came! Now, if that was not a stroke of inspirational genius from Raj and
lyricist Shailendra, what was it?


In Mera Naam Joker (1970), Raj wanted Randhir to play his childhood, but as his elder son was too fat then, he decided to cast his younger son Rishi, and this wonderful performance won the
latter a National award for Best Child Actor!


Later, Randhir got a unique double debut as director and hero in Kal Aaj Aur Kal (1971), in which Prithviraj, Raj and Randhir played three successive generations, while Raj and Randhir again
played father and son in Dharam Karam (1975).


The Kapoor baap-beta saga did not end here: Raj Kapoor and Randhir Kapoor played themselves in a party song in Naseeb (1981), the Manmohan Desai blockbuster in which Rishi Kapoor was
a leading man, and never shared a frame with his father.


Shashi Kapoor had Kunal Kapoor play his son in Vijeta (1984), but Kunal was an unrelated character in Shashi's next production, Utsav (1985). In Paap Aur Punya (1984), Karan
Kapoor, Shashi's second son, played his childhood. As the film had Shashi in a dual role, Karan too played twins-he was 12 then. Later, both Kunal and Karan also appeared in Shashi's Junoon
(1979).


And finally, it was Rishi's turn to play father-to son Ranbir Kapoor- in the 2013 fiasco Besharam.


The Deols and the Bachchans

After the Kapoors, it was the Deols and Bachchans who made it a habit of coming together in-film.


Interestingly, the father-and-younger son pair of Dharmendra and Bobby Deol made it first-in Manmohan Desai's Dharam-Veer (1977). Of course, they never came together on screen, for Bobby
played his father in childhood, a 'strong' child cutting a log with an axe! This, we are told, was a spontaneously decided walk-on part!


As adults, Dharmendra played Sunny Deol's father in Sunny (1982) and Vardi (1989), minus any scenes together, but they came together in Sultanat (1986) and Kshatriya
(1993) as full-on baap-beta. They even had no blood ties in Saveray Wali Gaadi (1986).


Later, the ever-grounded Deols bowed to the wishes of their fans and came up with three and a half films in the millennium to gratify those that wished to see all of them together on screen-in the
serious Apne (2007) and the rambunctious Yamla Pagla Deewana (2011) and its 2013 sequel, Yamla Pagla Deewana 2. The 'half' film we refer to is Sunny Deol's Singh Saab The
Great (2013 again) in which his father and brother made cameos in a song!


As for the Bachchans, they did the maximum work together, even to the extent of reversing their real roles in their home production Paa (2009) in which Abhishek Bachchan played the helpless
doctor-father of a Progeria (an aging disease)-affected teenager, played by Amitabh Bachchan!


They packed a wallop as father and son in Sarkar (2005) and did alright in its sequel Sarkar Raj (2008), were an entertaining father and a serious son in Kabhi Alvida Na Kehna
(2006), played an unrelated grimy cop and a con-man in Bunty Aur Babli (2005), played completely unconnected roles in Jhoom Barabar Jhoom (2009), and made cameos together in Om
Shanti Om (2007).


In Ek Ajanabee (2005) and Shootout At Lokhandwala (2007), they had no frame together. And the senior Bachchan-in a cameo-played Abhishek's grandfather in Delhi-6 (2009)!
Other on-screen father-sons:

Dev Anand and Suniel Anand in Dev's production Anand Aur Anand (1984), Sunil Dutt with son Sanjay Dutt in Kshatriya (1993) and Munna Bhai MBBS (2003), Rajendra Kumar and Kumar
Gaurav in Love Story (1981) and Phool (1993) were later examples. Of course, the two Dutts played father and son in Rocky (1981) as well, but shared no frame as Dutt only had a
cameo. Rajendra Kumar also co-starred with his son in Star (1982) and Lovers (1983) without being his parent on screen.


Jeetendra, in a cameo, played father to son Tusshar in Kuch To Hai (2003), and Vinod Khanna was producer as well as reel father to son Akshaye Khanna in the 1997 Himalayputra. They
shared frames, but without any distinguishing quality of interactions.


Another older example was of veteran Balraj Sahni playing father to his real son Parikshat Sahni in Pavitra Papi while Kishore Kumar and Amit Kumar (in a rare on-screen appearance) played
father and son in Badhti Ka Naam Dadhi (1979).


Estranged 'on screen'

Dilip Kumar is shown narrating to reel grandson Kunal Goswami the saga of his reel martyr father Manoj Kumar's life in Kranti. Rakesh Roshan and Hrithik Roshan appeared as father and son in
their blockbusters Koi...Mil Gaya (2003) and Krrish (2006) but the senior Roshan was there only in flashbacks. Hrithik also played a child in a fleeting appearance in his father's
home production Aap Ke Deewane (1980) and again in Bhagwan Dada (1986), but they were not shown in their real-life relationship.


Feroz Khan appeared, interestingly, as a don unconnected with son Fardeen Khan in both their films together-Feroz's production Janasheen and Ek Khiladi Ek Haseena, and in the former,
he was Fardeen's mentor as well. A similar turn came recently when Sooraj Pancholi owed a debt to his childhood benefactor, a criminal portrayed by his real father Aditya Pancholi, in this year's
Hero. Mithun Chakraborty, too, was shown as Mahaskshay's senior in their 2013 home production Enemmy (2014).
BOLLYWOOD NEWS
Catch us for latest Bollywood News, New Bollywood Movies update, Box office collection, New Movies Release , Bollywood News Hindi, Entertainment News, Bollywood News Today & upcoming movies 2020 and stay updated with latest hindi movies only on Bollywood Hungama.