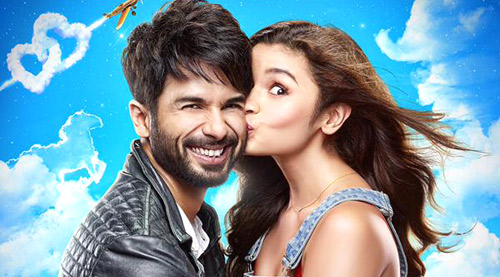 The very good looking lead pair in this enormously disappointing film ironically and pompously calling itself Shaandaar, are insomniacs. To prove it, they even get a ravaged remix version of the classic number 'Neend Na Mujhko Aaye' playing in the background as Shahid and Alia (that's our goodlooking Jodi) go fishing, dancing, and generally faffing around to fob off sleep-challenged ennui.


I have a foolproof solution for all insomniacs. Watch Shaandaar. Repeatedly in a loop. Sleep guaranteed.


Outwardly the film has everything going for it. The director of Queen Vikas Bahl helming the hijinks as two ridiculously ostentatious business families gather for a destination wedding in a European idyll. It must have cost them a bomb. To make the film, I mean.


It couldn't have been easy to cart the large cast of bimbos, bimbettes, toy boy and joy girls who go 'PP' (Pairi paina) and 'LOL' and 'OMG' to prove how ridiculously cartoonish they aspire to a European destination for a film that must have seemed smart on paper….very smart. After all some of the best writing talents including the highly-regarded Anvita Dutt are part of this endeavour. Then there is the cast, from the 23-year old baby of the family Alia Bhatt to the monstrously tyrannical matriarch Sushma Seth who terrorizes the family. Then one day she just dies. And the entire family gathers to laugh over her dead body and do a Jaane Bhi Do Yaaro with her corpse.


Ha ha.


No, that's not a spoiler. It's a declaration of the plot's bankruptcy. The narrative is so bereft of any genuine inspiration that it repeatedly resorts to gimmicks to explain its convulsive movements. There are two lengthy episodes of animation where we see Pankaj Kapoor's character much younger, and doing what Naseeruddin Shah did in Shekhar Kapoor's Masoom. Bringing home to his hostile family a child born out of wedlock.


In a highly ironical twist of fate, Naseer's baritone provides the voiceover for the Masoom sections of the plot. I am not sure if director Vikas Bahl was aware of the irony involved in getting Naseeruddin Shah to do the commentary in the Masoom section. The film seems exceptionally devoid of self-directed humour. It sets off to create a giggly grandiosity at the cost of the vulgar wedding revelers and soon becomes a casualty of its own ongoing joke about loud Sindhis and louder socialite.


The gags don't know how and when to stop themselves. The characters designed to be over-the-top trip over their own clever attempts to show how cool 'dumb' can be.





Shahid Kapoor is the wedding organizer who soon becomes the resident Mr Fix-it at the marriage venue. His ongoing war of words with his love interest's screen-father Pankaj Kapoor would have been interesting if they had anything funny or insightful to say to each other or if the script offered any valuable insight into the mind and heart of the over-possessive father of the bride. Pankaj Kapoor should have been told that heckling the man who wants to marry your daughter is not enough to make you the desi Steve Martin.


Sadly the conversations are all designed to reach a high-point without negotiating any recognizable routes to a coherent and logical argument. The over-weight bride (newcomer Sanaah Kapoor, agreeable) makes a statement on a marriage of convenience. But with the supporting characters being excessively caricatural Sanaah's efforts go to ….er, waist.


And stay there.


Pulling in its stomach, the narrative tries to be sexy sinewy and seductive. But the feverish urge to be fab cannot hide the flab. The creaking groaning plot, like travelers with to much luggage, ends up being more anorexic and wheezy than agile and athletic. By the time we get to the mid-point there is no more story to be told. We know everything that Shaandaar has to offer about direction-less destination weddings.


And direction-less movies about direction-less destination weddings.


It's time to bring on more irrelevances, like an episode showing Karan Johar doing a sangeet rapid fire with the bridal couple. Fans of the director (he has a huge following, we are told) would be happy to know the sneer that Karan so insouciantly brandished in Bombay Velvet is still in place.


Thank God, some things never change… like Indian cinema's attitude to gay men. Why do films even the ones by the supposedly liberated and progressive directors (Vikas Bahl was meant to be one of those after Queen) show homosexuals with limp wrists and aspirations only to make women's clothes? And why do overweight women have to be ridiculed so merciless?


The Qawwalli where the plump bride's future husband (whose 8 ½ packs serve as an ongoing joke in this fable of the feeble) calls her names is not poignant even as a sign of male chauvinism giftwrapped in machismo.


It's just plainly obnoxious to have women either playing a witch (Sushma Seth), a bitch (Niki Aneja, back after years when she first played Anil Kapoor's heroine in Mr Azaad, a victim (Sanaah Kapoor) or a waif (Alia Bhatt).





There is no room for subtlety in Shaandaar, not in the lives of the rich and hedonistic characters. And not in the creative bandwidth of the team that has put this larger-than-life look at a wedding, a wedding planner, and guests who seem to think excess is a sign of success.


Zoya Akhtar satirized the rich Indian business class in Dil Dhadkane Do with far more tongue-in-cheek humour. In Shaandaar director Vikas Bahl doesn't have much meat in the plot to work on. He ends up chewing on a bony game-plan that relies desperately on star appeal for effect.


Alia and Shahid make a good looking couple. And that's about all we can say about their sketchy characters, one a wedding planner, the other a sleepless dreamer, both insomniacs and hopelessly in love with their characters' quirks. Alia and Shahid get able support from Pankaj Kapoor and Sushma Seth. But the other actors seem to hang around the plot hoping they look cool enough for a comedy that aims to be urbane and cool. Sanjay Kapoor as the bridegroom's Sindhi brother seems more concerned about getting the accent rather than offering any genuine laughs.


Shaandaar is so awfully written and indifferently directed it puts you off destination weddings forever.


The next time you think of Big Fat Wedding, you may get nightmarish visions of the bride bursting out of her seams in her Sabyasachi finery.


Gym-wale dulhaniya le jayenge.
BOLLYWOOD NEWS
Catch us for latest Bollywood News, New Bollywood Movies update, Box office collection, New Movies Release , Bollywood News Hindi, Entertainment News, Bollywood News Today & upcoming movies 2020 and stay updated with latest hindi movies only on Bollywood Hungama.