We have often seen film personalities donning many hats, like that of actor-producer, or actor-director, or actor-writer-producer, etc. Shabbir Boxwala stands out in this regard. He was the production designer as well as the co-screenplay writer in two significant films of the 90s, Mohra (1994) and Gupt (1997), both of which were directed by Rajiv Rai.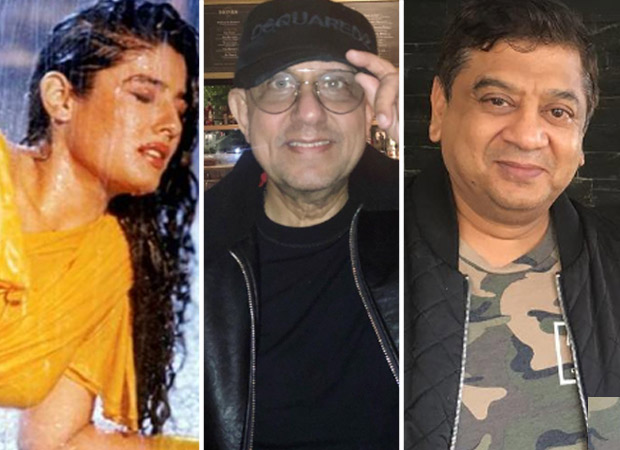 EXCLUSIVE: "Raveena Tandon was apprehensive about signing Mohra as there was a peck in the 'Tip Tip Barsa Paani' song. She said that her father won't appreciate it. To which Rajiv Rai said, 'Don't show the film to your dad'!" – Shabbir Boxwala
In a Bollywood Hungama exclusive interview, Shabbir Boxwala, who recently also produced the online blockbuster Shershaah (2021), went down memory lane and spoke about his journey, the experience of working on Mohra and Gupt, and a lot more.
You were a production designer as well as a co-writer of Mohra and Gupt. This is a very unusual combo. Could you tell us about your journey?
From my last name, you can guess that my family was in the business of making boxes. After high school, I was a little confused about what to do. During that time, I met Rajiv Rai through Jackie Shroff, whom I knew. Rajiv had signed Jackie for Yudh (1985). We became instant friends and we used to hang out together. I went on his sets a couple of times. That's when I was exposed to the film world. We used to watch movies but I never knew what goes behind making a film. Hence, it was exciting to see the shoot happening at Ballard Pier or seeing Hema Malini for the first time! I had always looked up to her while growing up. That's how I got interested in this business.
Meanwhile, I went to the USA and studied fashion design. I also worked with my close cousins, who were into the fashion business in the USA. Rajiv knew them as well and he used to visit us. This was when he was disillusioned as Yudh took a lot of time to make. Though it was highly appreciated, it didn't start at the box office the way it should have. We used to discuss what he was going to do next.
Meanwhile, I got mugged once in New York. It shook me and hence, I returned. I was not quite inclined towards my family business either. On the other hand, Rajiv had started work on Tridev (1989). I used to go and hang out on the sets and watch. He gave me a proposal one day as to why don't I professionally take this up since I love this world so much. I realized that this offer has come on a golden platter. After all, Trimurti Films at that time was such a big organization. It was akin to what Yash Raj Films is today. Most of the top directors had worked with them from Subhash Ghai to Yash Chopra to Vijay Anand. Hence, I took up the offer. My first film officially was Vishwatma (1992). Rajiv's dad was a producer but he would never go to the sets. So, I was filling in his shoes!
During the making of Vishwatma, I used to keep giving suggestions to Rajiv on the script. He remarked that I have a knack for screenplay writing. This Rajiv and I wrote Mohra's script together. I also helped him with the production design, though the art director was Bijon Das Gupta.
Divya Bharti was the original choice for the role of the female lead in Mohra. After her demise, how did Raveena Tandon come on board?
Raveena had met Rajiv. She knew that it was a good project but she was apprehensive, as there was a peck in the 'Tip Tip Barsa Paani' song. She said that her father won't appreciate it. To which Rajiv said, 'Don't show the film to your dad' (laughs)! Finally, she agreed.
She must be proud of the film. 'Tip Tip Barsa Paani' and 'Tu Cheez Badi Hai Mast Mast' took her to another level.
Yes. Also, she became to be known as the 'Mast Mast' girl, just like Anil Kapoor got associated with 'Jhakaas' after Yudh or Sidharth Malhotra is now known as 'Shershaah of Bollywood'!
Did you ever visit cinema halls to check the reaction?
Oh yes. I had never seen such a craze. We had come up with caps bearing Mohra's logo. I took these caps and went to Novelty Cinema, Mumbai, to distribute it, where the film was playing. And there was a riot to get hold of these caps. This was the time when the movie had already garnered a lot of frenzy among the public. I didn't know what to do so. So, I just threw it towards the public and went away!
Believe it or not, there was so much demand and crowd for the tickets that the ticket window at Novelty broke!
Mohra was a blockbuster. In today's times, its collections would have been more than Rs. 200 crores…
Yes, easily. It was one of the biggest money-spinners. People who distributed it laughed all the way to the bank. Yusuf Shaikh was a young lad then. He distributed the film in Gujarat. God knows how much money he made!
I believe the premiere of the film was held at Novelty Cinema…
Yes. I remember Akshay Kumar's brother-in-law and sister had graced the screening. Akshay was a bit upset. He felt that the title was biased towards Suniel and that he got a raw deal. However, we reasoned that he had an equally important role. And through that one song, 'Tu Cheez Badi Hai Mast Mast', the amount of money he made is mind-boggling. He did shows in every nook and corner!
A lot is spoken about 'Tu Cheez Badi Hai Mast Mast' and 'Tip Tip Barsa Paani'. However, a gem in Mohra's album was 'Aye Kaash Kahin Aisa Hota'. It's an underrated song…
Anand ji's thought behind 'Aye Kaash Kahin' was that 'Bhagwan ne humein do aankhein di hai, do kaan diye hai aur do haath diye hai. Lekin dil kyun ek hi diya hai? Do dil hote toh ek dil toot jaata toh mushkil nahi hoti jeene mein'. The thoughts that these writers had, you can't find it now.
How was Gupt conceptualized?
Rajiv had seen this play called 'The Mousetrap'. It's the oldest running play. He dared me to guess the murderer! This is how he came up with the idea of Gupt and then we started to write. We were sure from the very start that we are going to have the girl as the killer as it was very unusual for that time. The closest person to you is the one whom you'll least suspect to be the culprit. Around this idea, we start developing the screenplay.
So you mean there was no alternate ending ever?
No.
I believe Bobby Deol broke his leg during the shoot…
After completing the first schedule of Gupt, Bobby went to shoot for Barsaat (1995). This is when Sunny Deol decided to shoot the entry scene of Bobby Deol, riding a horse. It was supposed to be a heroic, massy entry sequence. Sadly, while shooting it, Bobby broke his leg. We had completed shooting for 'Duniya Haseeno Ka Mela' by then. We were building our next set. I got a call from his team to inform us about his injury. The set was half ready and we dismantled it. For six months, the shoot came to a halt. During that period, Bobby and I became very close friends. Every night, we used to hang out. We also both found our respective wives in those six months (laughs)! He met Tanya while I met my wife Khadija.
View this post on Instagram
How did Kajol and Manisha Koirala came on board?
When we signed Kajol and Manisha for Gupt, they were acknowledged as very good actors. But they were not huge stars. It was only later that Dilwale Dulhania Le Jayenge (1995) was released. Meanwhile, we were mixing in Madras at Prasad Labs. For the first time, a lot of digital work of the film happened in Gupt. We took a month to cut the trailers. So, we were there and Mr Prasad invited us to see the trial of Mani Ratnam's film Bombay (1994), which starred Manisha. We saw the film and were blown away. We realized that we have got another superstar in our film (laughs)! And this is what happened once Bombay was released. It was a career-defining film for her. As a result, Gupt became quite hot. There was a fight among distributors. Bobby also had a big name in the industry as he was Dharmendra's son and Sunny's brother.
Even the songs were a hit and it must have played a part in enhancing the buzz…
Yes. We adopted a very unique strategy. There was this music channel. The management of that channel loved Gupt's promos so much that they signed a deal with us. As part of this deal, for one whole day, only the songs of Gupt were played. From hereon, the songs caught on like wild fire!
Hence, the songs were chartbusters; the cast was very young and fresh. Also, Rahul Nanda designed the posters beautifully. He also feels that it is one of his best works.
Is it true that Manisha Koirala ate chhole with onion, and then performed a romantic with Bobby Deol?
It was not Manisha. There was this actor who played Manisha's uncle. He was an American citizen who was Rajiv's sister's friend. So, Rajiv had to take him. He was doing a scene with Manisha. The unit members played a prank on him. He was told, 'Tu onion kha le. Josh aa jaayega tere mein'! So, he ate a lot of onions. The scene was set in a classroom. The moment that actor opened his mouth to speak, Manisha got a bad odour. She was angry and said, 'Who the hell is this guy?'! That was her first scene in the film.
The college track was fun to shoot. We used to jokingly tell Manisha and Kajol that 'Aap log students nahi, teachers lag rahe ho'. They'd be like 'Shut up' (laughs)!
As per IMDb trivia, Kajol and Manisha Koirala were not on talking terms. Is that true?
No. They were both cordial with each other.
The songs are wonderful compositions but visually too, they were shot very well…
We had done a very rigorous recce for Gupt. We wanted each location to be unique. Then, it was a big trend to shoot abroad. We made sure we shot the whole film in India. Credit also goes to cinematographer Ashok Mehta and the way he shot these locations. Rajiv and I travelled for almost a month in the South of India. Then we conceived a song in the desert. For the scenes shot in Manali, so many people asked me 'In which country did you shoot?'! So, the look of the film is amazing.
There were reports that some viewers coming out of a show of Gupt would tell the patrons of the next show about the killer, to spoil the fun!
Yes. It was crazy. All these things, we used to hear. However, we were so restricted with our moments that we couldn't enjoy. We couldn't market it further as our frame of mind was different.
Nevertheless, most people respected it and wouldn't tell about the suspense. With the shock that they experienced, they wanted their friends and family members to experience the suspense first-hand. However, there were a few mischief mongers.
Why do you say that you couldn't enjoy the positive response of Gupt?
We were under threat. While on one hand, we were getting positive reports of the film while on the other hand, we were getting calls from the gangsters.
After Gupt, we had planned another film with a bigger scale than scale. We had met Kajol and she was on. Sadly, it couldn't happen after Gulshan Kumar's assassination. 1997 was the worst year ever for the industry. Everybody was terrified. They attacked some prominent personalities. Rajiv Rai was one of them and he escaped an assassination attempt. The investigating officer asked us to remain away from the country for a while. He was already struggling over the schooling of his autistic son. And then, this happened. Hence, he was quite disturbed.
Anyway, he left the country and so did I. I was newly married then. I went to London and USA. We were told to be away for 2-3 months. Rajiv, however, stayed for a longer period. It took around 2 years for things to settle down.
Meanwhile, I met Aishwarya Rai Bachchan's mother. She bounced off Dil Ka Rishta (2003) to me. This is how I decided to start my own production house.
There were reports that you and Rajiv Rai are planning a sequel to Gupt?
There were rumours about it. But we had never planned a sequel ever.
Also Read: 28 Years of Mohra EXCLUSIVE: "An actor had commented during the making of Mohra that 'Do 50% non-heroes ko le liya hai iss film mein'. Akshay Kumar and Suniel Shetty were very ANGRY over this remark" – Shabbir Boxwala
BOLLYWOOD NEWS - LIVE UPDATES
Catch us for latest Bollywood News, New Bollywood Movies update, Box office collection, New Movies Release , Bollywood News Hindi, Entertainment News, Bollywood Live News Today & upcoming movies 2022 and stay updated with latest hindi movies only on Bollywood Hungama.