Drishyam released in 2015, and was loved for its story, tight script, performances and of course for the fact that the characters had Pav Bhaji! While the lead actors of the film – Ajay Devgn, Tabu, Shriya Saran and Ishita Dutta – went on to do many movies and even gave several interviews over the years, not much was spoken about Mrunal Jadhav. She played the youngest daughter of Ajay in the film, named Anu. She now features in Drishyam 2 as well and the makers have been kind enough to make her a part of the promotional activities.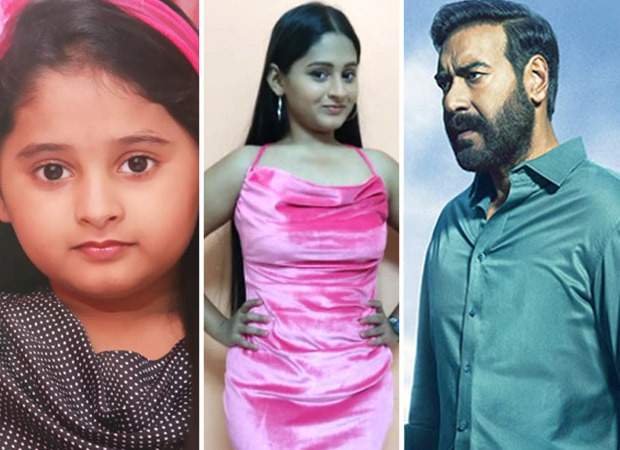 EXCLUSIVE: Mrunal Jadhav reveals how her life changed after Drishyam: "I couldn't go and play anywhere as people would mob me. My mother stopped taking me in local trains. I last travelled by public transport when I was in Class 4 or 5"
Bollywood Hungama exclusively spoke to the talented actress, currently 17 years old, about how she entered this field, experience of working on Drishyam and how she juggles acting and studying for 12th standard at Mumbai's Ruia College.
How did you get a chance to act in films?
Honestly, I had no idea I was interested in acting! One day, I was in my school, Balmohan Vidyamandir. There's a large mirror at the entrance of our gate. I was standing in front of it and began talking to myself; it's a childhood habit. The assistant of our teacher, Vidya tai Patwardhan, saw me. He took me to Vidya tai, who's an established actor. Through her, I got a chance to do my first ad, which was for Maggi noodles. From there on, I automatically began getting work.
Which was your first film?
It was in Marathi called Vees Mhanje Vees (2015). I was in the first standard when I acted in this movie. I got a chance to do it thanks to her. Then I worked in Lai Bhaari (2014).
Was your family supportive of your decision to act in films?
I still remember I had called my mother when Vidya tai told me that I have been selected for the Maggi ad. She couldn't believe it and felt I was joking (laughs)! Later she found out and she and my father, who's a cop, both supported me completely. It's all thanks to their support that I am able to pursue a career in acting.
Did you visit cinema halls to check the audience's reaction during Drishyam?
No, I didn't. But wherever I went, people began recognizing me and they would click my pictures. I had to roam around wearing a mask and this was in the pre-COVID era! And yet, people would recognize me through my voice. I couldn't go and play anywhere as people would mob me. My mother stopped taking me in local trains. I last travelled by public transport when I was in Class 4 or 5. Mujhe khelne nahin milta tha aur bahar ghoomne nahin milta tha. I used to wonder ki kyun kaam kiya maine iss film mein! Although later, I realized that I shouldn't think this way as Drishyam gave me a lot. As they say, kuch paane ke liye kuch khona padta hai. Today, I see so many actors struggling to enter the industry and here, I have got this golden chance. So I am grateful for it. But to answer your question, I didn't visit theatres during Drishyam and later, I stopped going to cinemas although my father insisted that I should see my films amid the audience in the cinema hall.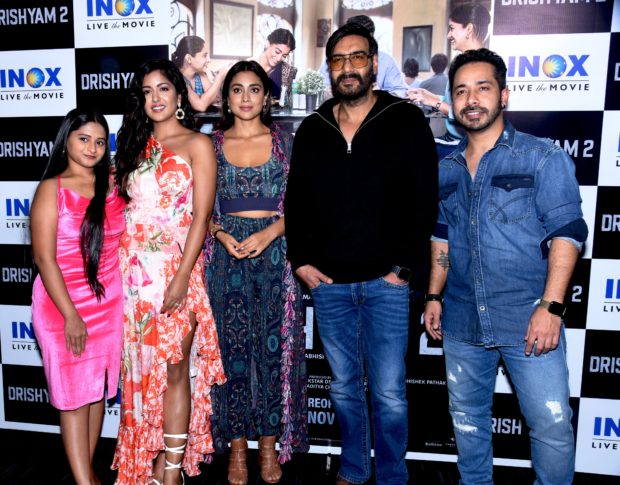 How did the school management cope with your fan craze?
My teachers had made it clear that if I am in the school uniform, the parents of other children or anyone else will not be allowed to click my pictures, especially without the permission of my parents. During picnics, one teacher would stay with me round the clock, fearing that if she is left alone, someone might come and click a picture with her. And that's not all. People would come to my house to meet me!
How did they find your address?
Since I am a policeman's daughter, it became easier for people to find out where I live. Even today, they come to see me.
Did anyone from the industry call you to praise your performance in Drishyam? And did you get more film offers?
A prominent Marathi director, Sanjay Jadhav, called my mother and told her that he liked my work. I got several Marathi offers. As for Hindi, I can't recollect the name of the film. But it starred Sanjay Dutt. I had gone for its script reading. That movie never got made. I did some Marathi films like Andya Cha Funda (2017), Me Pan Sachin (2019) and Bhaybheet (2020). Later, I didn't take up a film offers as I wanted to concentrate on my 10th boards. In the same period, Covid happened. Then when I was in 11th, I was offered Drishyam 2.
This time, how did you juggle shooting and studies?
Again, it was easy. There was only one exam left and I managed to work around it. Also, it was last year in September that I was told to go on a fruit diet to lose weight for the film. I was 62 kgs then and now, I am 45 kgs. During the lockdown, I was at home and had gained weight. The fruit diet began in October 2021 and I was told to lose weight before the film went on floors in January 2022. The team insisted that this is the best way to lose weight. For three months, I had nothing but just fruits.
Didn't you have the urge to eat fried food and sweets?
Of course, I had but I was determined to lose weight. Hence, I was able to control the urge.
View this post on Instagram
How was it working with Ajay Devgn, Shriya Saran and Ishita Dutta for Drishyam 2?
It was very nice. They are all very sweet.
And how was the experience of working with Tabu and Akshaye Khanna?
Tabu ma'am is very funny. During breaks, she used to crack jokes. As for Akshaye sir, I didn't interact with him much. Both he and Ajay sir don't talk much.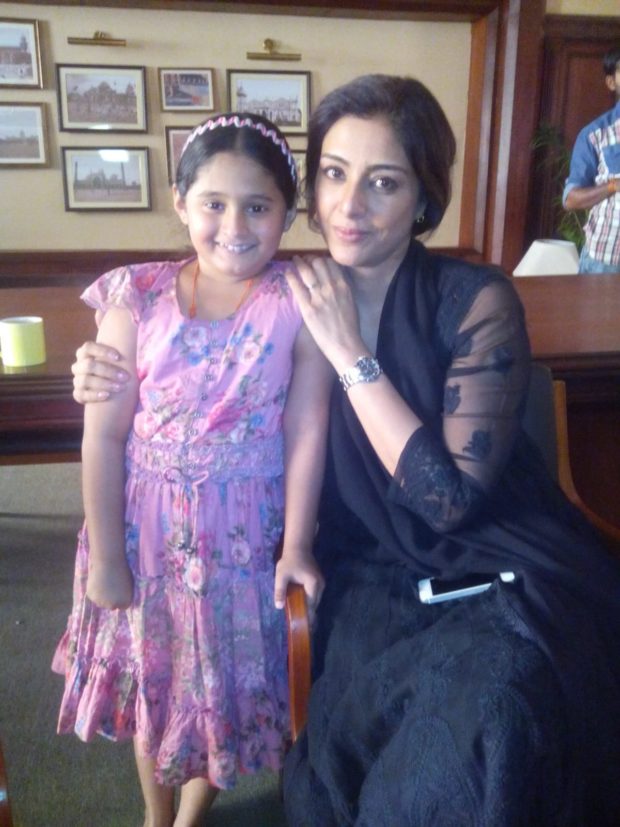 But Ajay Devgn is known to be a prankster. Did he play any pranks on you or anyone else on the sets?
No, he neither played a prank on me nor did I see him playing any prank. Also, I was busy with my studies on the sets. Hence, I am not aware.
You were recently seen promoting Drishyam 2 on 'The Kapil Sharma Show'. Can you tell us about your experience?
It was great. We had a blast for those two hours. My cheeks were hurting after a point as we were continuously laughing. Initially, I was a little scared that I might goof up since it was my first time on such a big TV show. Thankfully, all went well.
Did you talk to Kapil Sharma?
Yes, I did. He was like 'Tum toh bahut badi ho gayi ho'! In fact, everyone reacts that way. In their mind, my Drishyam avatar is etched and hence, they are taken aback when they see me in real. Even my friends in college reacted the same way. They told me 'Humein laga nahin tha ki tum hamare age ki ho. Humein toh laga ki tum abhi bhi choti ho'! Even today, I get calls for child actor roles in Marathi serials. My mother then informs that I am a college student now! I guess they forget that Drishyam came as many as 7 years ago.
View this post on Instagram
You and the other actors also attended the Pani Puri festival at R City Mall recently. Did you enjoy gorging on Pani Puris?
Oh yes. It was nice. I like it when the Pani Puri is spicy. I can have lots of it.
Did Ajay Devgn also have Pani Puri?
I think he had only one piece.
What next after Drishyam 2?
Right now, I am concentrating on my 12th boards. It'll be held in February 2023. So I won't take any offer until March or April.
Do you plan to continue your studies after 12th?
Absolutely. It's important. I have two options in mind. I'd either opt for BMM or I'd take up fashion design.
This reminds me, you seem to have great taste in styling, evident by the clothes you have worn for Drishyam 2's promotions. Who does your styling?
I have a makeup and hair team. But clothes are all my choice. I usually buy from the market in Dadar. I see videos of other actors and then decide. Like I saw some previous episodes of 'The Kapil Sharma Show' to get an idea of what kind of clothes I should wear on the show. I also make sure that I am comfortable in the clothing that I wear.
Do you like watching films in general? Who are the actors you'd like to work with?
I love watching films of Bollywood, Marathi and the ones from down South. But there's no particular favourite actor as such. All of them are wonderful and I'll get a chance to learn something or the other from them. My mother was happy I worked with Ajay sir. She has always liked him. She also wishes that I work with Akshay Kumar sir. I love the fact that Akshay sir is so health-conscious.
Is there any recent film you saw that you enjoyed a lot?
I saw KGF - Chapter 2 (2022). It was terrific.
Will you be open to working in a South film?
Yes, why not? In fact, I worked with a South director, Deepak Naidu, on a Marathi film, Bhaybheet.
Do you get fan mails on Instagram as well?
Yes, I get several messages. Most people remark that I have grown up a lot and they complement that I have become quite beautiful. Nobody has troubled me so far, thankfully. I just opened Instagram, 4-5 months ago. I didn't even have a cell phone before.
Tell us about your friends. How do they react to the fact that you are a movie actor?
They have always been kind, be it school friends or college pals. When I started college, we had online classes. My classmates saw my dp and realized I am the one who acted in Drishyam. They reached out to me and told me that they liked my work a lot. Then, we met when I participated in the college drama and they were quite lovely. They even joke 'Tum toh ab badi actor ban gayi ho. Pata nahin humse baat karogi ya nahin'! They actually felt that I'll have a lot of attitude since I act in movies. But I don't believe so. I have always maintained that it's thanks to the public that we get fame. Then why would I show attitude to them? Public humein banati bhi hai aur public humein girati bhi hai. My mother has always taught me that I should always talk to everyone respectfully.
Also Read: Vatsal Sheth reviews Ajay Devgn-starrer Drishyam 2; says, "one of the best films I've seen"
BOLLYWOOD NEWS - LIVE UPDATES
Catch us for latest Bollywood News, New Bollywood Movies update, Box office collection, New Movies Release , Bollywood News Hindi, Entertainment News, Bollywood Live News Today & Upcoming Movies 2023 and stay updated with latest hindi movies only on Bollywood Hungama.